Where in the world is Mitt Romney's money?
President Barack Obama's re-election campaign launched a new webpage designed to answer that question and attack the presumptive GOP nominee for putting his wealth in offshore accounts. "Mitt Romney has invested his money around the world, from the Cayman Islands to Ireland to Australia," the website reads. "We don't know if he's using these accounts to avoid paying his fair share in taxes, but we do know that in 2010, Romney's tax rate was a startlingly low 13.9%."
The Associated Press reported in January that Romney has up to $32 million in accounts overseas. The webpage features a large infographic tracking the locations of these accounts and the amounts of money they contain, though as of now, most of the locations on the map display ominous question marks rather than account balances. It also provides social media links urging readers to call on Romney to return his money to the United States.
The infographic is the latest interactive tool the Obama campaign has created to highlight Romney's wealth. In April, the campaign debuted a calculator allowing voters to compare their tax rates to Romney's, swiping at his relatively low 13.9 percent rate.
See the map below: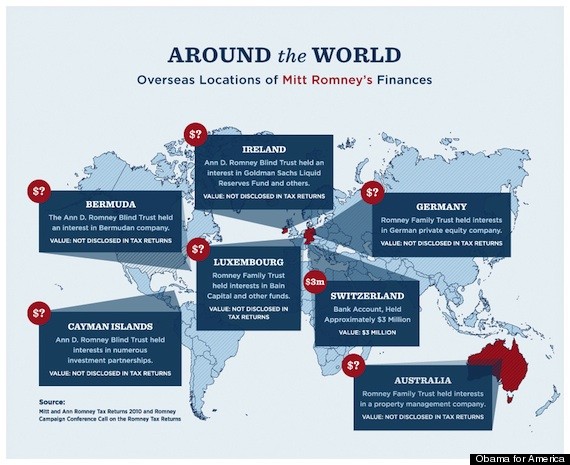 For a larger map image, click here.
BEFORE YOU GO