After packing up the small tent city pitched in Grand Circus Park in November, members of Occupy Detroit have been pursuing lower-profile projects, fighting foreclosure and fixing up houses around the city. But on Tuesday, the group plans to step back into the spotlight with a daylong series of actions timed to coincide with Occupy Wall Street movement actions in New York City and around the country.
May 1, known as International Workers Day, more recently has been a day to push for immigrant rights in the United States. Occupy Detroit is tapping into both traditions with a May Day call to action: "Legalize, Unionize, Organize to fight the 1 percent and defend the 99 percent."
Activists are planning to meet Tuesday morning in Clark Park in Southwest Detroit, the recent site of a mass student walkout at Western International High School. Occupiers are taking up the students' cause, a push to stop school closures and improve public education.
They're also demanding better public transit and plan to march by the Rosa Parks Transit Center before rallying in Grand Circus Park, the site of the group's original encampment in October. Members plan to "re-occupy" the park with a new tent city for one night.
Occupy Detroit members are promising "a massive gathering of laborers, immigrants, students and more." Around 200 people eventually joined the day's actions as demonstrators moved from Clark Park to Michigan Central Station to the Patrick V. McNamara Building to Grand Circus Park.
At its peak, around 4 p.m., the gathering at the park attracted about 500 people. As of 7 p.m. the crowd had dwindled to about 75 people, and Occupy Detroit began holding a general assembly.
For a full recap and updates, see below.
05/01/2012 6:57 PM EDT
Campers Intend To Stay
About 15 members of Occupy Detroit have decided to stay the night in Grand Circus Park, despite warnings from police.
"We're making a statement standing up for our right to assemble," said Josh Ashatz, 27, of Detroit. "This isn't a '1984' Orwellian society. We have a right to stay in our public park and assemble as a community."
05/01/2012 4:38 PM EDT
Friction With Police Over Tents
Several people tried to set up a pop-up tent, but police on horseback stepped in and told them to stop. The tent-pitchers have moved to another location and are trying again.
The crowd "mic checked" the cops: "You might be able to stop us from setting up our tents, but you won't be able to stop us from taking back our power."
Occupy Detroit had a notably good relationship with city police last fall, but campers had a permit to sleep in Grand Circus Park. They left once the permit expired.
05/01/2012 4:28 PM EDT
Liberating Pingree
The statue of 19th-century Detroit Mayor Hazen S. Pingree in Grand Circus Park is now sporting a sash that reads "Liberation."
05/01/2012 4:26 PM EDT
Bystander Reaction
Marlon Davis, a Detroit resident, watched the crowd of marchers as it entered Grand Circus Park. He said he liked what the gathering was trying to achieve.
"Ain't no jobs out here. All the houses are messed up and the economy," he said. "At least they're trying to get some order back in this community."
-- David Sands
05/01/2012 4:14 PM EDT
Tents Going Up In Park
05/01/2012 3:50 PM EDT
Occupy Detroit Arrives In Grand Circus Park
@ nwarikoo :

Chanting "Whose park? Our park," protesters with Occupy Detroit are now entering Grand Circus Park, site of encampment last fall.
05/01/2012 3:28 PM EDT
'To Hell With Those Bankers!'
Abayomi Azikiwe, editor of the Pan-African News Wire and member of the Michigan Emergency Committee Against War & Injustice (MECAWI) spoke to marchers, now assembled outside the Patrick V. McNamara federal building in downtown Detroit.
"For the last 10 years they've been telling us about terrorism, but the real terrorists are on Wall Street," he said. "We must cancel the municipal debt owed by the city of Detroit, and to hell with those bankers!"
The crowd chanted, "May Day every day, occupy the USA!"
-- David Sands
05/01/2012 2:55 PM EDT
Bystander Reaction
Terry Grenbysa, 52 of Dearborn Heights, was watching the march proceed down Michigan Ave. with several other people.
"There should be more people marching," he said, adding that he identified with the demonstrators' demands and felt the rich should pay for their share of taxes.
-- David Sands
05/01/2012 2:51 PM EDT
Rev. Bullock Demands Democracy, Transit
The Rev. D. Alexander Bullock, head of the Highland Park NAACP, spoke to demonstrators outside Michigan Central Station.
At one point comparing Michigan Gov. Rick Snyder to noted segregationist Gov. George Wallace of Alamaba, Bullock spoke against Michigan's emergency manager law and Republican efforts to block a petition to repeal it.
"We don't need public policy challenging voter fraud," he said. "We need public policy challenging the decimation and destruction of democracy."
He used the backdrop of the train station to demand a regional transportation system that would connect people in urban areas with jobs in the suburbs -- something Snyder himself has strongly supported.
-- David Sands
05/01/2012 2:23 PM EDT
Occupy Detroit Comes To Michigan Central Station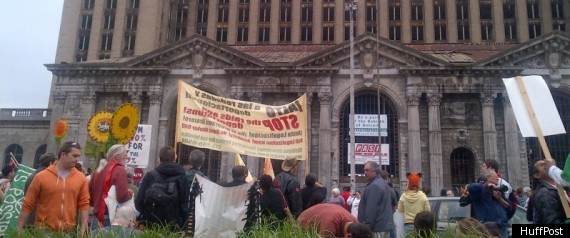 May Day marchers continued their walk from Clark Park to Michigan Central Station, one of Detroit's iconic ruins. They chanted "No room for Moroun!" -- a reference to the building's owner, billionaire Manuel 'Matty' Moroun.