Does the notorious anti-gay group One Million Moms have a personal vendetta against JCPenney?
It would certainly seem that way, as just months after the conservative "online activism campaign" slammed the Texas-based retail group's decision to hire Ellen DeGeneres as its spokeswoman, they're at it again. This time, One Million Moms is taking issue with JCPenney's inclusion of a presumably lesbian couple as part of its Mother's Day catalog.
The photograph in question features two models identified as Wendi and her partner Maggie, along with their daughters. The women appear to be wearing wedding bands.
View the photo below, then scroll down to keep reading: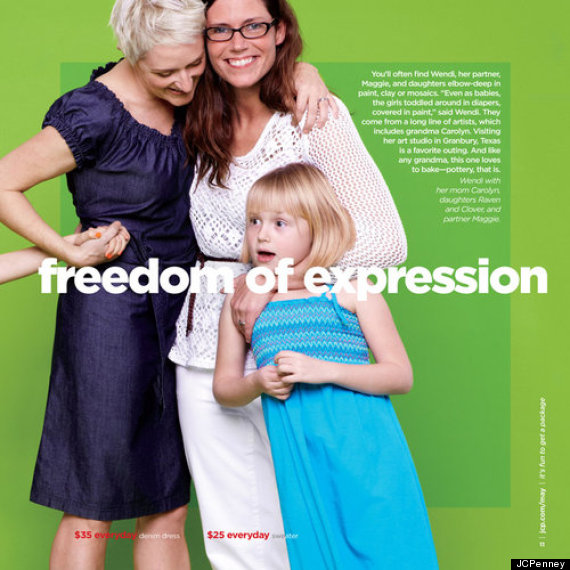 "OMM has so many issues to cover we had no choice but to move on earlier in the year but have decided to revisit this issue and speak out again," the group writes on its website. "It is obvious that JCP would rather take sides than remain neutral. JCP will hear from the other side so they need to hear from us as well."
They continue, "Last time OMM contacted JC Penney store managers, we were brushed off...OMM has been told that JCP corporate office told store managers to say, 'Thank you' and then walk away. If they want our business, then we will not be ignored!"
Whether or not One Million Moms' latest effort will make a sizable impact remains to be seen, but the failure of their planned boycott following DeGeneres' appointment is telling.
In addition to the DeGeneres debacle, One Million Moms blasted Urban Outfitters last month for a photo of a same-sex kiss which appeared in its catalog, and also condemned Toys 'R' Us for carrying a controversial January issue of Archie Comics, which depicted a gay interracial wedding between two active military officers.
Take a look at several other gay-related protests against retail outlets and other businesses below: