Google remade its home page logo on May 4 to honor what would have been the 54th birthday of artist Keith Haring, who died of complications from AIDS on February 4, 1990.
After briefly attending the Ivy School of Professional Art in Pittsburgh, Haring left for New York City, where he became an active member in the alternative arts scene and attended the School of Visual Arts. Graffiti art left its mark on the burgeoning artist, who eventually became known as the "Cezanne of the subways," according to the Washington Post.
The New York Times' obituary of Haring explains his unique take on underground art: "Instead of painting subway cars, he drew with white chalk on the black paper pasted on unused advertising spaces, working in a distinctive style that became widely known before anyone knew the artist's identity."
His cartoon-like drawings, perhaps the most famous of which depicts a crawling child radiating light (titled "Radiant Baby"), are reminiscent of Walt Disney and Dr. Seuss --but only vaguely. Catching the eye of pop culture icons, Haring collaborated with Madonna on her "In the Groove" music video, cultivated a mentorship under Andy Warhol and much more.
Haring also became committed to AIDS activism after being diagnosed in 1988. He founded the Keith Haring Foundation the following year, "its mandate being to provide funding and imagery to AIDS organizations and children's programs, and to expand the audience for Haring's work through exhibitions, publications and the licensing of his images," per The Haring Foundation's website.
Take a look at Friday's doodle: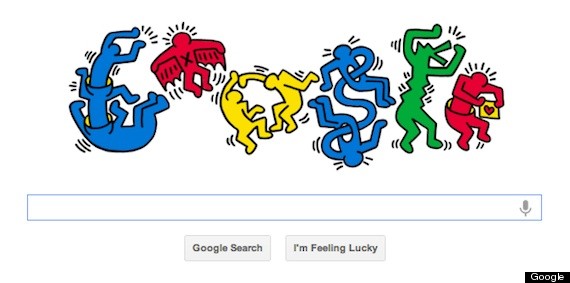 Flick through the slideshow to see some of our favorite Google doodles ever.