If you don't know who Wheelchair Sports Camp are yet, you will soon. Led by MC/Producer Kalyn Heffernan and joined by vocalist/saxophonist Abi McGaha Miller and Isaac Miller on drums, WSC are making some of the most fun, rocking and political hip-hop in Denver -- and they just released their first EP titled, Where We All Live.
Heffernan, a lesbian, disabled rapper with osteogenesis imperfecta that has left her in wheelchair, brings a unique voice to modern hip-hop rapping frankly about social change, politics and having a disability -- and having lots of fun while doing it. Heffernan recently chatted with The Huffington Post about the new EP, Occupy Denver and what's next for WSC.
(SCROLL DOWN FOR PHOTOS AND TO LISTEN TO WHERE WE ALL LIVE)
What's behind the title of the EP, Where We All Live?
Well the song "Where We All Live" was the last song we wrote for the EP. Every other track was in minor so Abi and I decided we needed at least one major/uplifting track. I found some samples off this Zydeco record, made the beat, and it was the first time Abi took the lead on writing the whole song and letting me fill in where need be. One of the samples includes the lick "where we all live" so we stuck with it. Abi's a fantastic songwriter so I knew it would be great and sure enough it was. Not to mention it is our most catchy song to date which was pretty exciting for us especially since it happened so organically and accidentally.
As far as titling the EP after it, it just worked perfectly because all these songs really are about where we all live throughout our quarter-life crisis. Frank Kwiatkowski ran with the idea and made a kick ass cover that really nailed the title down so it was just all really perfect for the direction we wanted.
How long did the recording process take for Where We All Live?
Actually not too long. Abi and I got together for a few eight hour sessions and just banged out writing in a couple of those and recording in one of those eight hour sessions. We recorded from my bedroom and sent the tracks off to be mixed and mastered which was nice on my end since I usually do all that too.
Is that Abi singing on "Are You Hung Up?"
That's her singing on all the tracks, yep. It was nice to make sure she had a singing part in almost everything, because we'd play shows where she'd only sing a time or two and people really had no idea she was such a great singer. This was also the first time we really all three collaborated on the writing process so that was exciting. You think her voice is great on this? You gotta check out some of her solo stuff (Abi & The Blue Language)! Phenomenal.
Are you self-releasing or is there a label involved?
We're self-releasing it. But, this is the first time we had a distribution deal which was nice. It's only a digital distribution deal through Redeye, but it's the first time we're on iTunes and all that. So we pressed 200 physical copies ourselves before SXSW and got a bunch out to independent record shops across Colorado for Record Store Day. The physical copies include more artwork by Frank and an insert poster with a wheat paste recipe. So now it's physically at our shows and Colorado record shops, and online everywhere (iTunes, Spotify, Bandcamp, etc.)
How many songs did you record for this EP and how did you select these?
We recorded six tracks for the EP and cut one for a side project release. Basically we wrote all of these for the EP and only cut the other one because it was pretty political and didn't want to force feed too many politics on such a short album. It's important to have a balance of fun and entertainment with the real shit that's a lot more heavy.
How was recording at UI Sound in Boulder?
So UI approached us and wanted to record a track. We had never been there, but jumped all over the opportunity. We recorded "Justice'nt Right" there which was the first song we did for the EP and really got the EP wheels rolling. They were great and it was really nice to record in a studio. That was the only track off the EP that we recorded in a studio and the only track we were able to get Isaac's live drums recorded on so that was great! Not to mention, that was our first time recording with Joshua Trinidad who is an amazing trumpeter from Denver. He added some really cool things to the track. I wish we had the money to record the entire EP there, but we were fortunate to at least do one track, and it was really a great start to the entire project.
Can you talk a bit about the heaviest song on the album, "Justice'nt Right"?
I wrote this song right after Troy Davis was executed which had a really really big effect on me. I watched the case fairly closely and it really just killed me to see this black president, who we were all so excited to elect, completely ignore the issue despite the millions of supporters who urged Georgia to re-investigate his case. I've been a Mumia Abu-Jamal supporter for a while now, and so I already knew how fucked our prison system was, but there was this hope that electing a black president would start to change the way the rest of the country saw this extreme racially prejudiced, capitalist business they call justice. Obviously that hope was shattered and I really just had it. Coincidentally I was reading a Mumia book during the week that Troy Davis was executed and after he died I just became emotionally enraged and dove into the topic deep.
I really submerged myself into the subject, read up on the history, the statistics, and everything I could get my hands on for a good week or two. I had a huge document of notes from all these different sources and just started taking out key points to write the song. I was actually still writing the song on my way to record in Boulder. I came across so many names during my research and just felt like I couldn't leave them out of the track. It was really like a five minute outro that I tried to speed up by overlapping names but it was all very intentional. I wanted to drag out this super long list that just goes on and on and on and on and on and on, because it's all just so much, you know? This was also my first time rapping in a more spoken word type flow. It was hard for me to really rap without just laying it flat out there in a more direct approach. I really was feeling the beat I made too. It has a real eery, downtempo feel that was a new boundary for me to cross which I was excited about.
Is this a taste of what the WSC LP will sound like? Do you have an idea of what that record might look and sound like at this point?
You know it was really cool to jump all over the place on this EP which i'm not sure will work on an LP. I guess we'll see how the LP goes, but I have a feeling we'll continue to cross some new boundaries play with some new concepts and ideally get better. It'll be our first full-length so we're excited, a little nervous, but mostly ready to be a real band. I'm hoping we have a bigger budget so we can all record in a studio together and have an even more polished sound.
You're involved in the Occupy Denver movement and May Day just went down, how do you feel the event went off?
May Day was really a blast and I'm always eager to get up with the community. I was glad to see Denver didn't get as hostile as some other places, but was definitely hoping for a bigger crowd to join the strike. But hey, this is Denver and I'm just so proud of how far we've come. I've been there since day five of the occupation and seeing it evolve has just been so exciting. It was great to have music, art, plants, kids, and teach-ins all in the same space. I've been lucky enough to visit some other occupy movements across the country as well and so that's been really cool to see how different every city really is. I'm really looking forward to keeping the momentum going and continuing to lend a voice to the systematic poor.
Can you talk about why Occupy Denver has taken such a big interest and become a vocal opponent against Councilman Albus Brooks' so-called bill to ban 'urban camping'?
One of my favorite parts about Occupy Denver is that we've welcomed the homeless. It's hard enough for people to get into shelters, they end up waiting all day, and then sometimes aren't even accepted because of space, or because they're transgendered or they're women or whatever the case may be. There are also plenty of people who would rather not even go to shelters because they feel unsafe or judged. The bigger the discrepancy gets between the rich and the poor, the more homeless people we're going to have -- it's just simple mathematics. Our health care system or lack there of forces tons of physically and mentally disabled folks into the streets, it makes me crazy. It's such a rough time right now and the city thinks somehow making sleeping in public illegal is going to help? This is a very, very basic human right that is being attacked. It makes absolutely NO sense and would just force even more people into the criminal system who are already without income, that paying fees to get out is not an option. Once again leading to this systematic incarceration of already oppressed people.
What can people do? There are some petitions out there that need a lot more signatures, but more importantly there needs to be civil disobedience. We just really can't let this happen and can't stop until they do. I think it's time to start showing up at every event or place that Albus and the other supporting council members will be at. Peacefully disrupting, occupying, and voicing our demands loud and clear.
What's next for WSC?
Well you mentioned that LP, so obviously we're going to have to grow up someday, be a real band and make one. That's definitely on the agenda and permanently etched in all of our brains. We also are working on getting out of town more to start playing in other cities that we haven't made it to yet. We have some big Denver festivals to play this summer and might even make it to the East Coast.
But what's really next? I started this side project with some of my favorite Denver hip-hoppers the GirlGrabbers (Qknox, Gypdahip, Brik A Brak). It's something I've been putting on the back burner to get this EP done, but now it's my priority and will definitely be a banger. We got some killer shit to release and May 24th at the Hi-Dive we'll be dropping all this and playing together for the first time ever. We'll have a solo set by WSC and the GirlGrabbers and then end the night together as the Wheelchair GirlGrabbers. We also have some awesome rappers we met in Fort Worth coming out to open the night (Doug Funnie & Kye Yote) so it's going to be big, packed, smelly and the best!
LOOK: Flyer For Wheelchair GirlGrabbers upcoming show: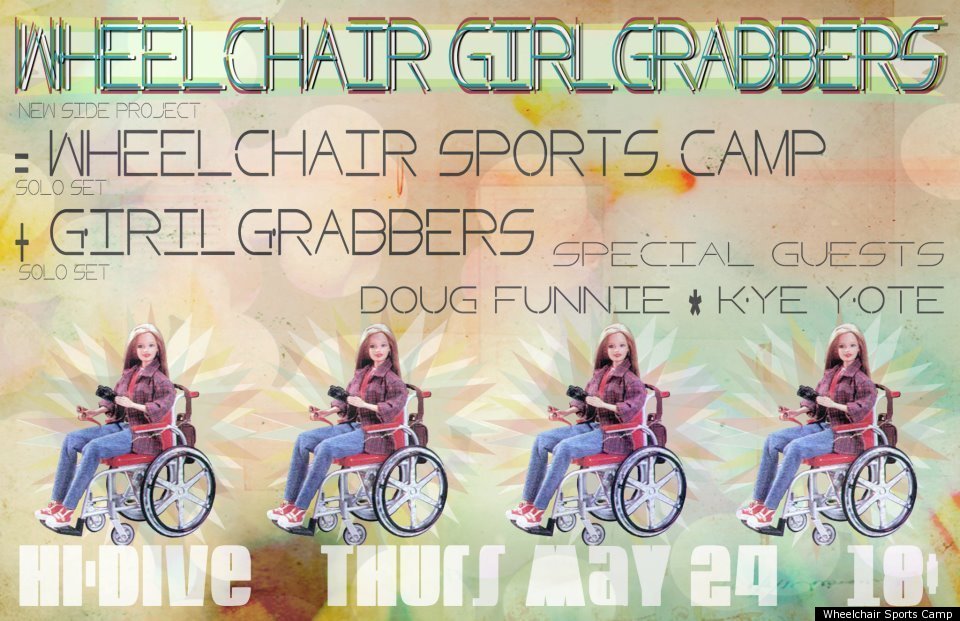 For more information on Wheelchair Sports Camp read our other interview with Heffernan or visit their Facebook page.
LISTEN to stream of "Where We All Live":
BEFORE YOU GO