She may play a pregnant woman in her new movie, "What To Expect When You're Expecting" (in theaters May 18th), but in real life, part-Cuban actress Cameron Diaz says she opted to put her professional life over family.
"I thought I was going to be married and have two children by the time I was 21," says the 39-year-old actress, who graces the June cover of this month's RedBook Magazine, alongside her "What to Expect" co-stars Jennifer Lopez, Anna Kendrick, Elizabeth Banks and model, Brooklyn Decker.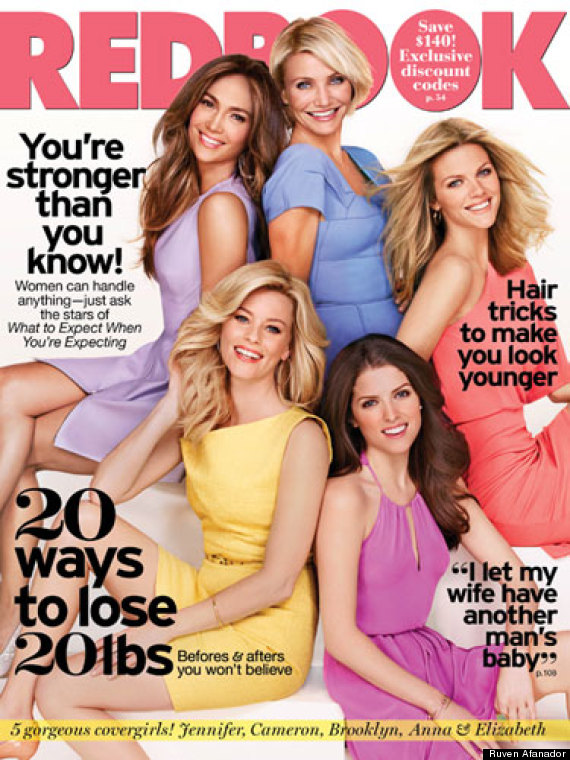 "I think I felt I had to model my life after my mother's," Diaz continues. "But then my career was starting to take off and there were still so many things I wanted to do. So that dream for me was shattered early on. After that I never put another timeline on anything in my life," she says.
In the same issue, Diaz's co-star (and fellow Latina A-lister) Jennifer Lopez opens up to the magazine about feeling sad following the birth of her twins Max and Emme, who are now 4.
"I remember after the babies were born, about seven to 10 days in, I was like, 'What is going on with me?' " the "American Idol" judge tells the magazine. "I felt sad and depressed and thought the babies didn't love me."
"I actually remember picking up the book [What to Expect When You're Expecting] to try to see what was happening to me," Lopez adds. "And it said how you have this huge hormonal drop about seven to 10 days after you give birth. It's called the 'baby blues.' But I just thought they didn't like me!"
Over the weekend, Lopez, 42—who is currently dating 24-year-old choreographer Casper Smart—told People Magazineshe's not opposed to the idea of having more children. "Every day … they just bring so much joy and happiness to your life, [and] they just bring you right back down to earth,' she says.
The singer/actress/TV judge admits however, that juggling her busy career and motherhood isn't always easy. "I've got my hands full," she says. "You leave and they go, 'Don't go to work, Mommy!'"
But Lopez says she has a philosophy that makes it all work--her kids always come first. "So as long as that's … working in the right way, then I can dedicate whatever time I need to dedicate to my career," she said. "You just do the best you can, and say no when you have to say no."
And although Lopez filed for divorce from singer Marc Anthony in July of last year, the singer says she has plenty of help raising Max and Emme. "I have a lot of great people in my life who help … at work and at home," she says. "I have a great family – so all together – we do it. It takes a village."

CHECK OUT THIS SLIDESHOW OF LATINOS ON THE HOLLYWOOD WALK OF FAME

PHOTO GALLERY
Latinos in Hollywood Walk of Fame
BEFORE YOU GO