Ooooh goodness. Celebrities make us so nervous.
Christina Aguilera had us on the edge of our seats during last night's episode of "The Voice," waving her arm and turning side to side in a dress so low cut we thought we were in for an on-air nip slip, a la Nancy Grace on "DWTS".
Although honestly, this near-slip was more reminiscent of Jennifer Lopez at the Oscars. Like Lopez that night, Aguilera wore a plunging gown whose deep V-neckline cut right across her chest.
When Lopez presented her award at the Oscars, many viewers were sure they saw the edge of... something. When Aguilera performed "The Prayer" with Chris Mann on "The Voice" last night, viewers also came close to seeing something they shouldn't have.
While on-screen presence of Christina's chest has been the topic of discussion before, we were unsure why the initial conversation began -- girl's got boobs, people. Get over it.
But last night she came close to giving people something to actually talk about. Watch the video above, making sure to hold your breath every time Christina raises her arm up (at least that's what we did).
PHOTOS: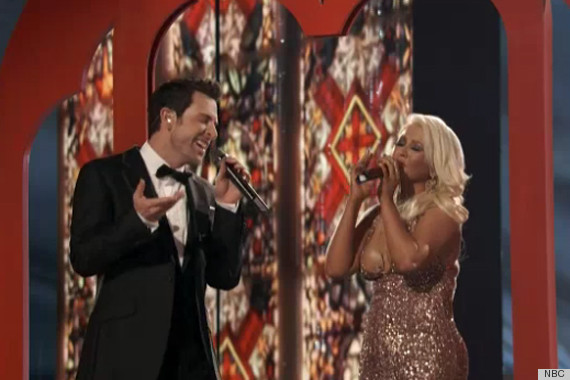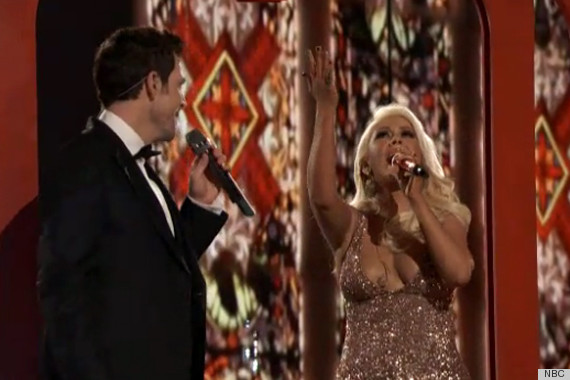 See more celebrity wardrobe malfunctions:
PHOTO GALLERY
Celebrity Wardrobe Malfunctions (NSFW)