Daniel Aksten's new exhibition asks you to not just to look at shape and color, but to experience them. As the show's title "Support, Edge, Variation" connotes, pattern plays a major role in the works. Yet there are also associations to safety, danger, newness, tradition and change buzzing throughout both the title and the works. The minimalist paintings serve as fields of vision, transporting you to an entirely different experience through switching a color or shifting over a line.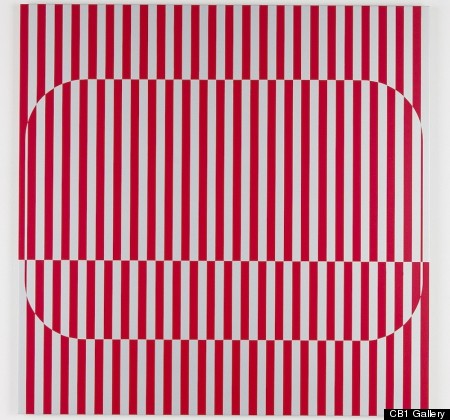 Aksten has long been interested in concept over subject, experience over representation. A previous collection of his works was made in subservience to a system involving the roll of a die. Aksten's geometries privilege chance over the artist's vision; because of this, an otherworldly energy circulates throughout Aksten's visual fields. The geometric forms, relentlessly crisp, begin to vibrate and shift before your eyes, recalling both California's 'Finish Fetish' movement and the hypnotic Op-Art of Julian Stanczak.
Inviting you into the visual realm where the simplest forms are the hardest to fully experience, Aksten asks of his viewers something different than most other artists: his electric geometries ask you to really look.
"Support, Edge, Variation" will show at CB1 Gallery in Los Angeles until June 10.
PHOTO GALLERY
Daniel Aksten
BEFORE YOU GO