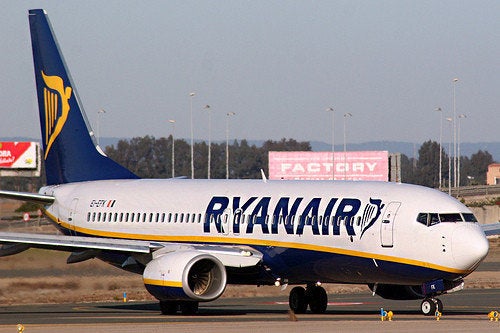 A Ryanair stewardess was hospitalized after falling out of a passenger jet during a hurried takeoff in Sweden Tuesday. The woman fell roughly 10 feet, hitting the tarmac hard, after a rear door was pulled open as she rushed to prepare the plane for the flight according to the Expressen, a Swedish newspaper.
"It was very confusing and unprofessional. It was almost like a state of panic when everything had to be done really quickly," one passenger told the paper.
The flight was leaving from the Gotenburg City Airport, one of the many smaller airports serviced by the Irish low-budget carrier.
"The stairs had been removed and the door to the plane was closed. What made her open the door we don't know. I find it hard to believe that she took a step out, it is more likely that the door flew open while she was holding the handle. It is rather windy today," airport CEO Annika Nyberg told news agency TT.
In a statement, Ryanair Head of Communications Stephen McNamara said: "Ryanair is relieved and pleased to report that the cabin crew member who fell from the rear door of the aircraft in Gothenburg today (8 May) appears to have suffered no injury and is expected to return to work in the coming days. The flight departed with a 4hr delay which Ryanair sincerely apologises to affected passengers for."