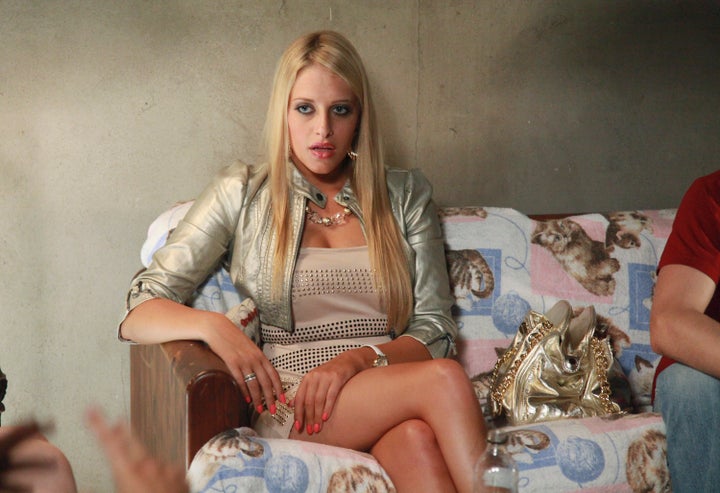 This hasn't been a notable season for memorable new characters on broadcast network shows, with the exceptions of Nick and Schmidt from "New Girl," Nolan from "Revenge" and the raffish Pete from the late, lamented "Bent." But one of my favorite new faces on the small screen is covered in a lot of makeup.
Dalia on "Suburgatory" (Wednesdays at 8:30 p.m. ET on ABC) has been one of the chief delights of the ABC comedy, which ends its debut season May 16. In some ways, she reminds me a little of a female Ron Swanson: Their priorities and grooming routines are obviously very different, but both characters have a bedrock foundation of self-confidence that makes them steady and somehow admirable, and both are played by actors who know the value of deadpan comedy and small, precise performance choices.
"It was shocking that they even wanted to see me for this part," says actress Carly Chaikin, who plays Dalia but originally auditioned for the lead role of Tessa, a sarcastic teen who relocates to the wealthy, suffocating suburb of Chatswin with her dad. When Chaikin was asked to read for Dalia, she looked at the script again and realized she was nothing like the Tessa's blonde antagonist.
"Dalia is actually the antithesis of me," said Chaikin, who said she has usually played darker roles in the past. "I never have had blonde hair. I have never had straight hair. I never wear pink clothes or spray tan and I never wore heels to school. It's the first time I've been able to play a character and there's been no trace of Carly Chaikin in there."
The upside of playing such a different-looking character, however, is that, as she said, "the second I get into costume, it's all I need."
And as the season has progressed, Chaikin says she's enjoyed finding new sides to Dalia, who has reached a state of detente with Tessa; neither quite understands the other, though they've learned to tolerate each other. Dalia hasn't just had to keep her high school posse under control, she's also had to deal with romantic disappointment and her parents' divorce.
In some post-divorce episodes, Chaikin said she had to think about what it looks like "when Dalia is hurt. That was interesting, because I had never really looked at that before."

But whether a scene is dramatic or comedic (and in a recent episode, it was delightful to see Dalia with a big smile on her face), Chaikin said her goal is always to play the deadpan character in a way that humanizes her. "She's not a cheerleader bitch. She's not a ditzy girl," Chaikin said. "It was fun to take this character that could be one-dimensional and make her real."
As I said in my recent piece about the show's generally pleasing debut season*, most of the "Suburgatory" characters have become more than mere stereotypes: Tessa (Jane Levy) and her dad George (Jeremy Sisto) are the anchors of a well-oiled ensemble that is having a lot of fun with the goofy alternate universe that Chatswin has become.
As for Dalia, she's evolved into much more than the condescending mean girl of the pilot, but the character's belief in herself has never wavered. "I don't think she's a bad person -- she just knows what she wants and she has her ideas and opinions," Chaikin said. "I respect that. It's not about what everyone else thinks. She is who she is, and that's something I love about her."
Dalia's mother Dallas (Cheryl Hines), another Chatswin resident with a good heart underneath her designer miniskirts and spray tan, has always been Dalia's biggest champion. But Chaikin says that the conflicts between the two becomes more pronounced in the last couple of episodes of the season, especially the season finale.
In the finale, the arguments culminate in Dalia's desire to keep up the family tradition of going to Israel on Mother's Day, even though her parents' divorce makes even the idea of the trip sound stressful.
"Dallas is someone Dalia definite looks up to, but I also think that Dallas has put Dalia on a pedestal -- even in the pilot, she was like, 'Everyone loves Dalia!' And that's obviously not true," Chaikin said. "What's really interesting in these last few episodes, you see this underlying tension between them, once the husband's out of the picture."
As long as Dallas' dog, the adorable Yakult, isn't collateral damage in that family feud, I am looking forward to seeing how that plays out.
[The asterisk* above has to do with the one major misstep "Suburgatory" has made in its first season, which has been Alicia Silverstone's Eden story line, which continues in the last two episodes of the season. It pains me to say that I don't find Eden funny or interesting, I don't think she and George have any chemistry, and in my opinion, the rushed surrogate story line has made various characters, especially Noah, behave in forced and contrived ways. I very much hope that "Suburgatory" comes back next season, but I also hope that if the show features recurring guest stars and/or ongoing love interests in future, the show plans them out better and casts them a little more carefully. That said, fingers crossed for a renewal.]