Science fiction has often held a mirror to our society in order to teach us about our evolution (or regressive behavior). We probably owe many of our futuristic fantasies to the brain of one man: Syd Mead. Mead served as a concept designer for films including "Blade Runner," "TRON," "Aliens" and "Star Trek: The Motion Picture." The sci-fi artist will present his silvery sleek world-views in "Future (Perfect)" an upcoming exhibition at BravinLee programsin New York.
Mead's iconic visions can be seen in his designs for toys, electronics, bars and even luxury jets. As the world becomes more and more fluent with Mead's visual vocabulary, he becomes not just a concept designer for film but the conductor of all our base desires. His world is buzzing with sex, fashion, wealth and strength. His characters, either perfectly dressed or not dressed at all, are rendered distant and turned away. As a result, our view into their utopian world is limited.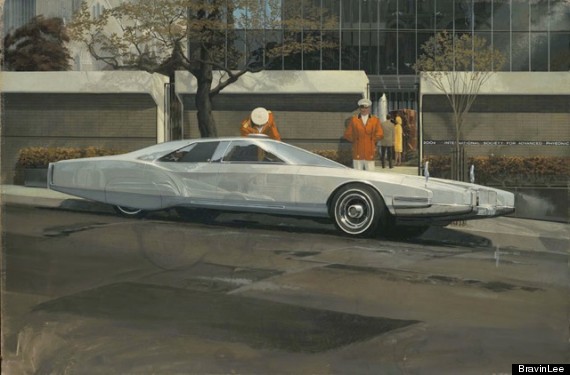 The future as Mead sees it is as glamorous as it is cold, shielded not only from war and famine but also any unpleasant looking people or realities. From the freshly waxed Rolls Royce to the oiled bare chests to the mirrored body suits, everything is squeaky clean in this brave new world. According to BravinLee projects, Mead described his work as "the lubricant for capitalism."
Mead's influence is immense both in his contributions to our collective fantasies and his steps to actualize today's fantasies into tomorrow's realities. "Future (Perfect)" will show at BravinLee projects from May 11 until June 30.