While flipping through the many inspiration boards on Pinterest this week, we stumbled on this snapshot of three giant owl sculptures that are beautifully overgrown with colorful flowers. Intrigued, we did some digging to find out more.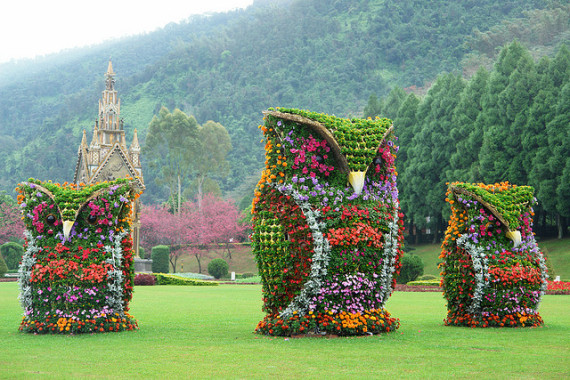 Flickr photo by Ernesto JT
What did we discover? First, these owl sculptures have also been a big hit on Tumblr, and they're actually located in a public garden in Nantou County, Taiwan. They remind us of the giant topiaries that we see more often on our side of the world...except bigger and more adorable.
But, thinking in smaller terms, we're enjoy the idea of bringing unexpected touches to our own garden plots, whether it's by creating a mini cityscape with toy trains or even placing mini figurines in terrariums. And, although giant owls decorated in bright blooms may not make it into our gardens, they're definitely pretty to look at and they definitely made our week!