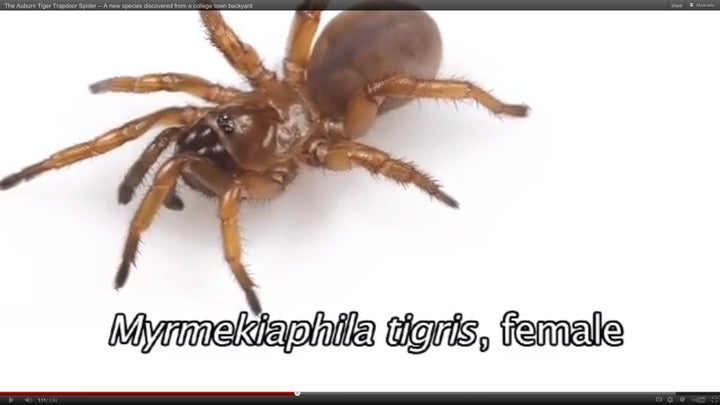 The spider's strong connection to the university prompted the team to name the spider Myrmekiaphilia tigris, or the Auburn Tiger Trapdoor Spider, in honor of Auburn University's costumed tiger mascot, Aubie.
It's hardly surprising the spider lived undiscovered around campus for so long. Even prey at the spiders' level walk unaware they live under a shallow layer of camouflage. According to the BBC's "Life in the Undergrowth" documentary series, trapdoor spiders, which are typically nocturnal, dig themselves into burrows covered with a "trapdoor" spun from silk and camouflaged with soil and vegetation. Unknowing prey trigger vibrations in the silk that "trip" the strands and tell the spider it's time to get out and eat. The ensuing pounce happens so fast that onlookers are likely to miss it, as narrator David Attenborough gasps at the jack-the-box nature of the surprising attack.
The research team, directed by Biological Sciences professor Jason Bond, the lead investigator and director of the Auburn University Museum of Natural History, and Charles Ray, a research fellow in the Department of Entomology and Plant Pathology, was excited at the prospect of such a remarkable find just underfoot. Bond and Ray actually live in the neighborhood where the new species was discovered, according to an Auburn release.
In a phone interview with The Huffington Post, Bond says it's his dream come true that his home hosts the type location for a new species of his team's discovery. He added that it was the possibility of this dream realized, coupled with the fact that he thought local trapdoor spiders were of a different species, that made him approach classification of the spider so carefully.
"I said, 'Oh wow I didn't know we had them in the neighborhood.' I put one under the microscope a day later and said to my grad student, Chris Hamilton, you've got to look at this."
He calls the discovery "exciting" but not surprising. It took about 250 years of taxonomy to describe about 1.8 million plants and animals, he says, which scratches the surface of what scientists estimate to be between five and 30 million overall species on earth.
"Most would expect finding something new in the tropics, etc. This shows that we still don't have a clue as to what's out there, and what's inhabiting the planet with us," he says.
The Auburn tiger trapdoor spider joins an interesting genus of 11 other species, which include M. neilyoungi from nearby Birmingham. M. neilyoungi was named for the rocker Neil Young, whose songs "Southern Man" and "Alabama" condemned racism in an era of desegregation.
Take a look at more tropical trapdoor spiders below, or read his report published in the open access journal Zookeys.
By the way, as you'll learn in the report, the Trapdoor spider has quite a unique, ahem, penis. Discover other strange mating habits of animals below. Some photos may be graphic.
PHOTO GALLERY
What They Do For Love... Or Some Sex
BEFORE YOU GO