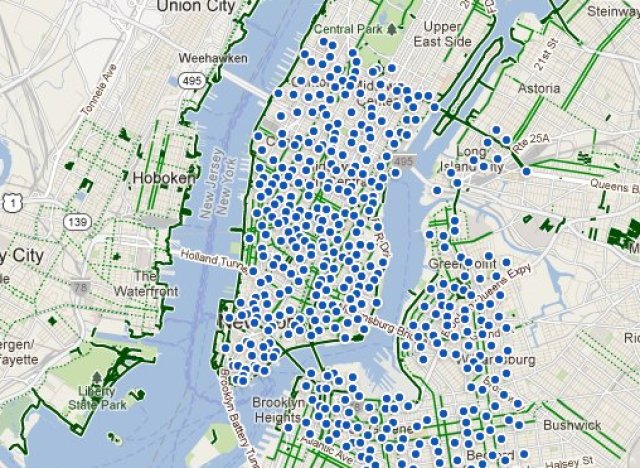 Pumped for the summer? Well, the city's department of transportation is doling out yet another reason to be excited with the release of a new map drafting the locations for their 600 docking stations slated for the program's upcoming launch.
Nearly 10,000 locations were suggested by New Yorkers during multiple bike share demonstrations open to the public between September 2011 and April 2012. For zooming capabilities, go directly to the department here.
Don't see your neighborhood represented? Remember the map is only preliminary, as the city is still working on setting locations for Park Slope, Cobble Hill, Prospect Heights and Crown Heights and both the Upper West and East Sides.
The much-anticipated program recently received a big $41 million sponsorship from the folks at Citibank. In return, the bikes will be branded with slick, corporate CitiBike logos.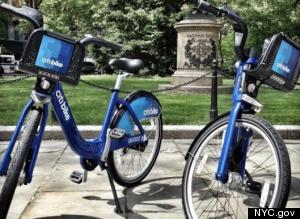 One thing Citi's $41 million won't pay for is the actually renting of the bike, which appears is going to cost New Yorkers a pretty penny or two.
Base prices begin with flat rate memberships at $9.95 for 24 hours and $25 for a week, both of which get you only 30 minutes worth of free bike time. The $95 annual membership gets you 45 minutes for free. From there, you pay an additional amount depending on how long you ride, with rates rising incrementally (first hour is $4, second hour is $13, third $25, and then $12 for each 30 minutes there on). As ANIMAL calculates, one day of bike riding will cost you a hefty $154.95.
Regardless, still some reason for excitement! If you're new to the biking game, the department has produced several maps approximating the range of destinations from various starting points.