In honor of Mother's Day, HuffPost Religion asked our community to reflect on how their mother shaped their faith. We put a callout on Facebook and Twitter asking for lighthearted or serious stories about mothers. We received nine stories that provided a crystallization of the eternal impressions our mothers have on our spiritual lives. Each one is an example of how we are all connected through the human experiences of faith, loss, generosity and tradition.
Take Time to See People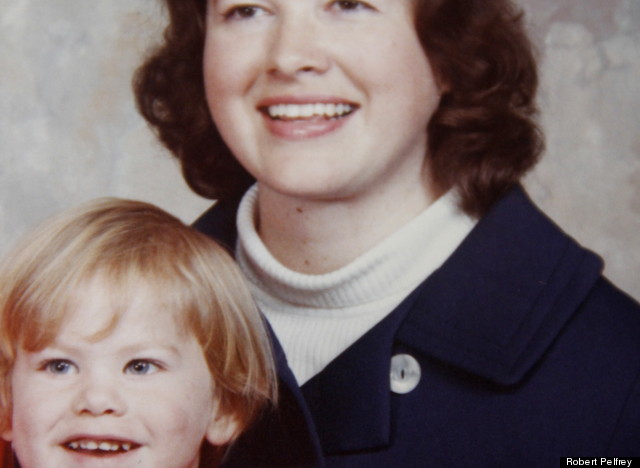 Robert Pelfrey from Midland Texas wrote to us saying that his favorite description of Jesus is in Matthew 9 where Jesus saw the crowds and had compassion on them because they were harassed and helpless, like sheep without a shepherd. Pelfrey said, "Jesus took time to see people, to learn their story. My mother taught me that we should too."
Pelfrey grew up in the 70's and 80's. His town had a backwards prejudice but his mother, a special education teacher taught many students from a minority community, some of which had learning disabilities or drug abuse issues. He recalled his single mother of two having her students over for lunch: "my mother got to know these kids, she invested her life in them."
Sacrificing a Donut in San Francisco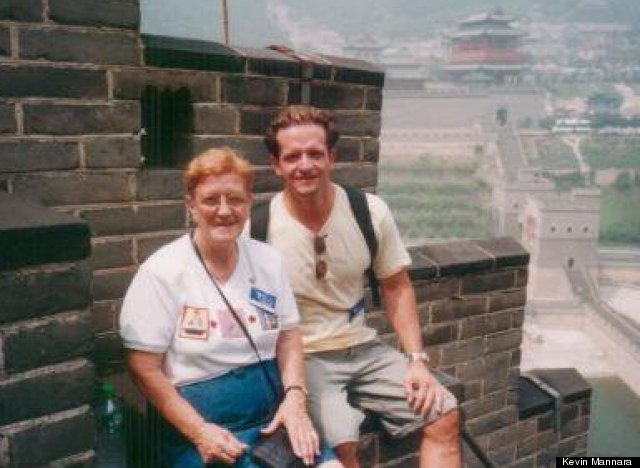 Chicago native Kevin Mannara's mother is 84 years old but her son says she is full of youthful vigor. He says God is still at work in Shirley Mannara's life. He shared a mother-son travel experience with The Huffington Post in an email that said, "My mom and I were traveling back to the US after visiting China and had an overnight layover in San Francisco.
We went for a walk and saw a coffee shop which was featuring a special: a coffee and two donuts for $ 1.99. Never ones to pass up a bargain we stopped in. After we each got our order we sat at a nice table by a window. Before long an apparently homeless man was scavenging through a garbage container outside. Unfamiliar with such a sight, my mom at first laughed and said "Look at that man! He's filthy and he's going through the garbage, and it looks like he's eating what he pulls out of there!" Then her composure changed, her laughter turned somber.
She looked at the donut still in front of her, then back out at the man. She said "Do you think he would want this? Come with me, I want to bring that man my donut." By the time we got outside he was nowhere in sight. She wrapped up the donut in a couple napkins so that it would stay clean, and carefully placed it where it could be easily found. Mom said "he'll be back, or someone else hungry may come along."
How a Clipping on a Kitchen Cabinet Becomes a Legacy
Mary Margaret Cannon shared the story of her young childhood with The Huffington Post. Her parents married later in life. By the time her mother was 50 and her father was 63, she was one of three daughters under the age of 10 who experienced the death and disease of her father who passed away from emphysema, cancer and heart disease.
Cannon recalls a common Catholic school upbringing, but it wasn't every Sunday in church or every night praying the rosary that influenced her faith the most. It was a particular magazine clipping that her Mother posted on their kitchen cabinet.
Cannon says, "Countless times throughout my childhood & teen years, I vividly remember asking my Mother: Why God didn't answer our prayers? Why didn't God make Daddy get better? Why wouldn't God let Daddy be able to enjoy his dinner -- or a round of golf -- or play with us -- or sleep through the night without getting sick? Or -- why couldn't God at least make sure that Daddy didn't get worse?"
Every one of Cannon's outcries was met with her Mother opening the kitchen cabinet to refer to a Parade magazine clipping. Her mother would say, "I don't know why God doesn't answer our prayers -- but remember this, no matter what happens: Each of us is a link in a chain -- and we must trust God and be strong links."
Years later, Cannon learned the clipping was a snippet of "Hope in God -- Creator", a mediation written in 1848, by John Henry Cardinal Newman of England. When her mother died in 2009, she put it on a prayer card at the funeral. She told The Huffington Post, she did that "with the hope that this meditation would become engraved on even more hearts, as my Mother ensured through her own faith that it would be engraved on mine."
She remembers her mother taking the clipping down to say it aloud and reattaching it to the cabinet over and and over. "Throughout all these years -- through the deaths of both my parents, family and friends -- divorce, unemployment, business challenges and heartbreaks of all sorts -- it is this meditation that comes to mind, as I try to discern my purpose in God's life and to follow God's will."
A Christ-like Inheritance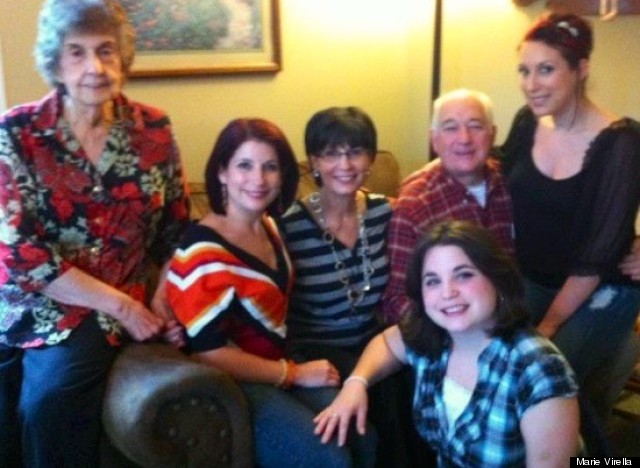 When Marie Virella saw a request for submissions about remarkable ways your mother has influenced you, Virella collaborated with her sisters' two daughters (Kate and Megan) to send in a story about her sister and their mother Barbara Hart. Hart, who overcame a lifetime of obstacles has what Virella describes as "the ability to look past present challenges and have the faith that God will always create good from it."
The wife to Harold for 40 years and the grandmother of three, Hart's daughters and grandchildren have had their own struggles, but are grateful for being able to rely on her amazing strength and resilience that have helped each of them to persevere throughout the years during many health scares and emotional turmoil.
Hart was the type of mother that remained compassionate and firm even when her children would not always listen. Kate says, " I was pretty head strong and rebellious. But mom never gave up on me. She never threw me away. When I made mistakes, she was there to help me and love me through them, a total reflection of how Christ loves us all with all of our flaws."
Megan reflects how her mom's faith was unshaken in light of complications after giving birth to her daughter. She says, "She was my rock when I almost lost Mackenzie. She helped me keep the faith during one of the darkest moments of my life."
Throughout all of their lives' uncertainties they agree that Hart "prays, defends and speaks the truth of God's Word over their lives and situations."
Virella says, "My sister took me to church, introduced me to Christ and loved me unconditionally. I know that I wouldn't have graduated high school, college or now attend grad school if I didn't have her by my side. In fact, I wouldn't have a family today without her. It is because of her I am able to have a stable healthy marriage and one day have children and grandchildren to pass on this legacy. None of us would be where we are today. We love her so much."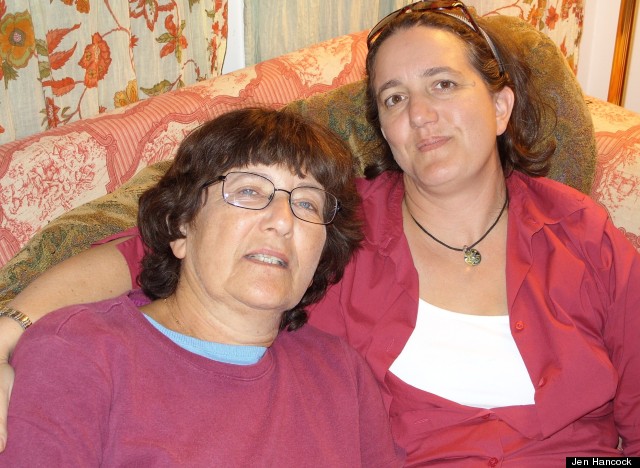 Religious Freedom in The Family
Jen Hancock, the author of The Humanist Approach to Happiness was raised as a freethinker. Born in the 60s, her mom insisted on freedom of religion for the family. Hancock said that she was taught but not indoctrinated in religion. She wrote to The Huffington Post saying, " At one point I became interested in religion so my mom took me to all the churches, temples and synagogues in our area so I could explore the variety of faith that was in our community. It was fun. We learned a lot. But ultimately when I decided to do some serious thinking about what I believed or didn't at the age of 17, I realized, I just didn't believe in the existence of any god. And that was that."
Hancock's free thinking upbringing inspired to her identify with a Humanist community which she joined later in life. She told us, "My mother says she's proud of me and the work I do encouraging people to be the best most ethical people they can be."
When Loss Becomes Your Life's Work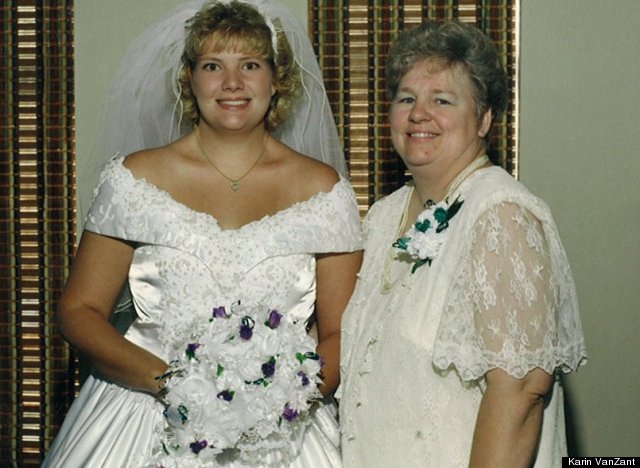 Five years ago Karin VanZant lost her mother. Without her mother's demonstration of faith during times of loss, she would have never been able to openly express her acceptance of her mother's passing like she did in a letter to the Huffington Post.
"I have spent more years fighting with God than allowing Him to love me," said VanZant who lost her brother in high school. She told The Huffington Post that her brother's death was one of those "why God" events where her mother shined.
"She took her pain and grief of losing her only son and invested it in her relationship with God," said VanZant who testifies that her mother utilized her faith, prayer life, church family and friends like never before.
"She wept, she grieved, she endured more than I think God would ever want for one of His children, yet her faith grew during this time. While I fought and struggled with the question of "why", she began to heal in the love of Christ," VanZant wrote in an e-mail.
What VanZant and her mother didn't know was that all of these experiences, her mother was gaining experience for a ministry that would become vital in her church community.
"Almost one year after my brother's accident, a friend of hers from church lost her daughter who attended the same school and was the same age as my brother. My mom was given her calling - to help other parents," said VanZant who is the founder of ThinkTank, a leading anti-poverty nonprofit and community building network that is in 24 states and 77 communities.
VanZant founded her non-profit the year her mom passed away. She said, " I have dedicated my career to helping to "fix" our broken systems and work with vulnerable populations. I spent 4 years in situational poverty and realized that God was calling me into this field to advocate for those who don't know how. I am helping to build their leadership skills, find their voice and become advocates in their communities."
A Mother Supports a Reverend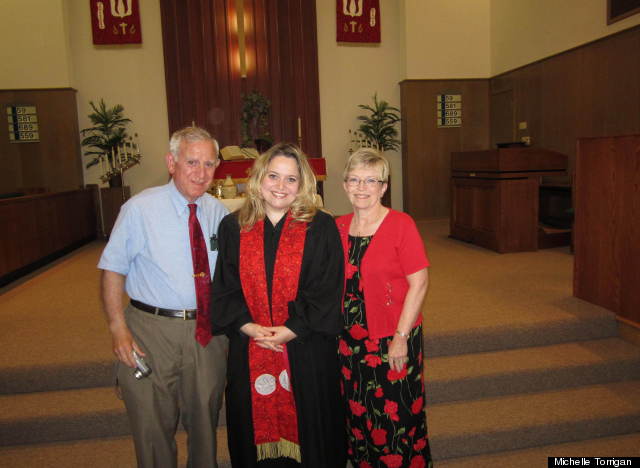 Michelle Torigian from Cincinnati, Ohio told The Huffington Post that her parents were there to witness her ordination into ministry on March 6, 2011. But the final step pales in comparison to the many steps taken during ten years of ministry preparation. Torigian told The Huffington Post that her mom came along on flights to visit her in-care team and helped her move many times from her southern apartment to seminary apartment to transitional housing to more permanent housing in Cincinnati. Torigian said, "When I first revealed to them my dreams of becoming a pastor, I think they were slightly surprised. But mom and dad were supportive from that point and throughout each step of the journey. Mom would suggest prayer as I reached each hurdle and celebrated with me when I moved beyond difficult moments."
An Astrologist Reflects on her Quaker Upbringing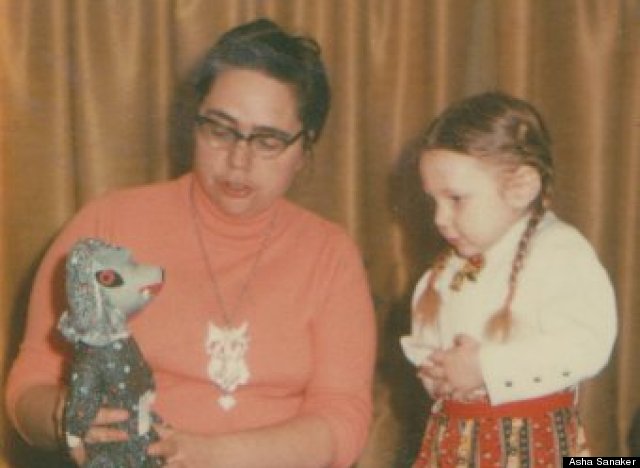 Asha Sanaker counsels people on how to see a map of God within them in their natal charts. She is an astrologer and the daughter of a woman who believes in continuing revelation. Sanaker wrote to the Huffington Post explaining that while her mother grew up in Southern Methodist Church in Memphis in the 40's and 50's, her concern for justice led her to Quakerism.
Sanaker describes her mother as radical and mystical. "She found Spirit everywhere and helped us to see it," she said as she explained that her mother taught her Bible stories but also made sure she knew about Gandhi, Harriet Tubman and Martin Luther King.
Sanaker said her mother took over the religious education at the family's small Quaker meeting in DC. Her mother believed in the importance of religious practice and relentlessly had her children attend church despite the differing traditions of their friends and community members. Sanaker recalls her mother saying, "Having a spiritual life isn't just for when it's comfortable or when you feel like it. Spirit doesn't appear just because you were free that day. You have to show up, over and over. And lots of days it doesn't move you and you don't feel the presence and it's hard. But if you don't show up then the presence may and you won't be there. So you show up."
A DC public school employee for 35 years, Sanaker's mother was a dedicated reader who often purchased books that spoke to her beliefs which she later donated to the small Quaker school library that later named their library after Sanaker's mother.
"I am not a practicing Quaker anymore, she said. I don't attend Meeting, which I know is a great sadness to my mom, but she has stuck with me every step of the way as I have raised questions and sought my own path."
The Sum of Sunday After Sunday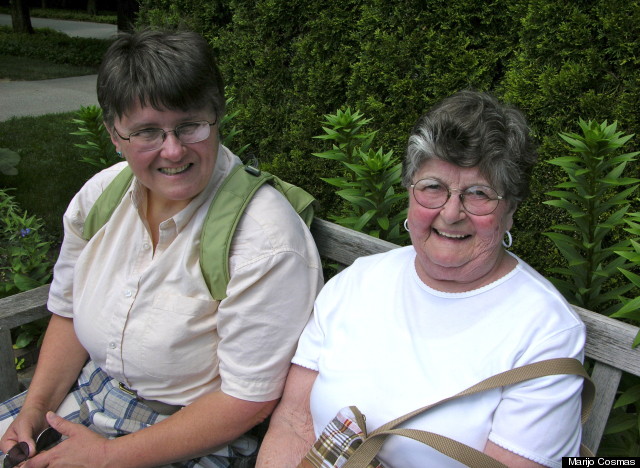 Maria Monnet wrote to us sharing that her Gramma Maggie and mother influenced her faith through their commitment to church involvement which they showed through a lifetime of suppers, vacation Bible school and volunteering at their local hospital.
Marcia's mother followed in her mother's footsteps with similar church participation. Marcia said, "I hope as her granddaughter and her daughter that it can be said of me that I have followed in the footsteps of these two women who have been faith-filled women role models. Thanks to both of them and my gratitude for their examples of God's good graces."
Happy Mother's Day from HuffPost Religion. Special thanks to our community of readers for sharing their stories. Share your stories of Faithful Mothers In The Comments