Earlier this week, the NYCLU released a report on NYPD stop and frisks. The report prompted Public Advocate (and likely mayoral candidate) Bill de Blasio to call for an internal audit of the program. Other politicians, including Jumaane Williams, Christine Quinn, Scott Stringer, and John Liu have also called for stop and frisk reform.
Mayor Michael Bloomberg and Police Commissioner Ray Kelly have continued to defend the use of the program from criticism, saying it saves lives.
Here are 15 shocking facts about NYPD stop and frisks.
1. "In Brownsville, Brooklyn In 2009, 93 Out Of Every 100 Residents Were Stopped By The NYPD"
2. The NYPD Can Stop And Frisk You In Your Building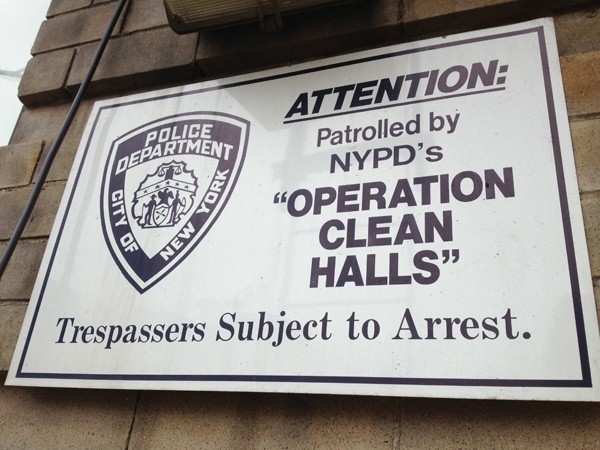 "Operation Clean Halls," has been in effect since 1991. As Matt Taibbi describes, "it allows police to execute so-called "vertical patrols" by going up into private buildings and conducting stop-and-frisk searches in hallways –- with the landlord's permission."
The NYPD conducted 240,000 vertical patrols in 2003, and according to the NYCLU -- who has filed a lawsuit against the police department regarding Clean Halls -- "virtually every private apartment building [in the Bronx] is enrolled in the program," and "in Manhattan alone, there are at least 3,895 Clean Halls Buildings."
3. A Hugely Disproportional Number Of Blacks And Latinos Are Stopped And Frisked By The NYPD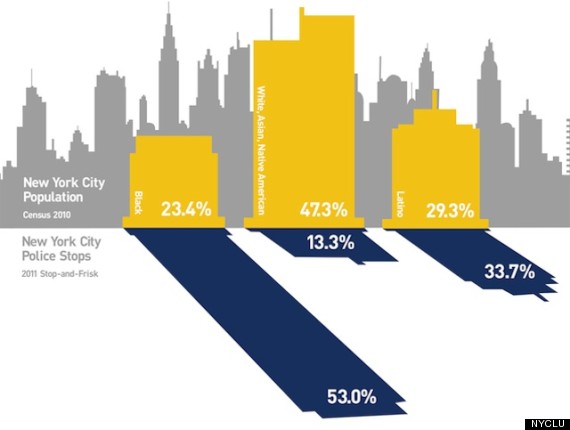 87 percent of those stopped by the NYPD in 2011 were black or latino.
4. The NYPD Is Stop-And-Frisk Happy
Since 2003, after Mayor Bloomberg took office, NYPD stop and frisks have increased 600 percent. In 2011, a record 684, 330 stops were conducted by New York City police officers. In the first three months of 2012, the NYPD stopped and frisked people 203,500 times. In the same three months last year, the NYPD stopped people 183,326 times.
5. More Young Black Men Were Stopped By The NYPD In 2011 Than There Are Young Black Men in New York City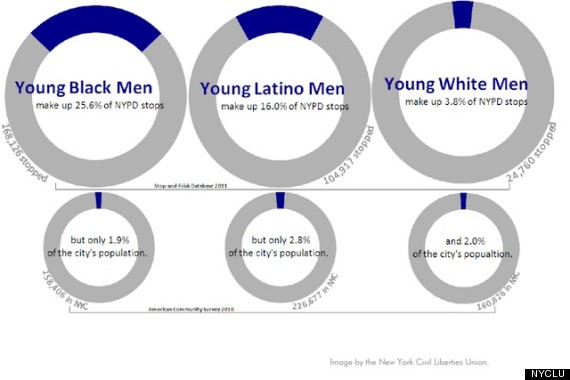 6. The NYPD Can Was Allowed To Stop And Frisk You In A Livery Cab
The Taxi/Livery Inspection Program (TRIP), was designed to prevent livery cab drivers from being robbed. Livery cabs who engaged in the program had placards that allowed the NYPD to pull over the car and search the vehicle. NYPD officers would often frisk the passengers inside.
After a lawsuit filed by the NYCLU last year, however, Ray Kelly has ordered cops to stop enforcing the program.
From The New York Daily News:
The NYPD operational order, issued on April 27, is a direct result of a lawsuit filed by two men who say they were forced out of livery cars and searched by cops, police sources said. In separate incidents, both men accused police of racial profiling and unlawful searches.
7. The NYPD Uses Force Against Black And Latinos More Than Whites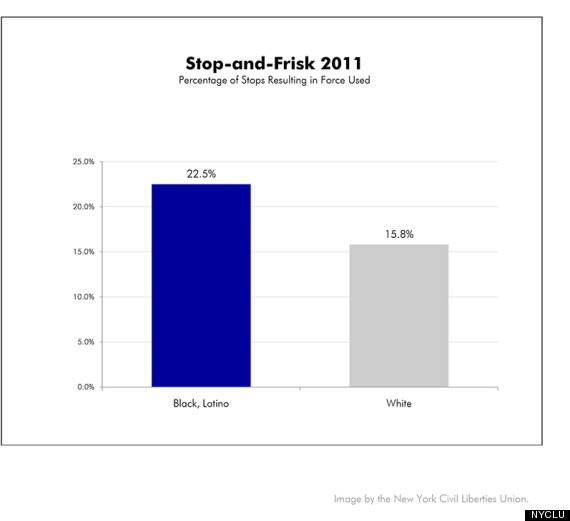 8. With Huge Increase In Stop And Frisks, Only Minor Increase In Guns Found
The NYPD argues this shows the effectiveness of stop and frisk, saying the practice has prevented people from carrying guns on the street.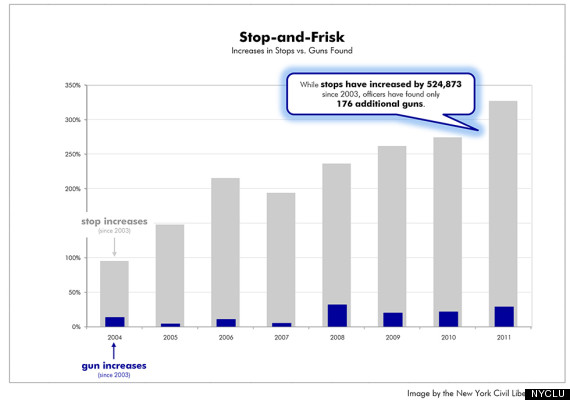 9. Small Percentage Actually Involved In Violent Crime
The NYPD and local politicians have repeatedly defended the racial disparity in stops by saying minorities are disproportionately involved in violent crime. In 2011, however, in only 10.5 percent of stops did cops record "violent criminal activity" as justification for the stop.
10. NYPD Will Stop You For 'Inappropriate Attire Off Season'
Also, for visible bulges in your pocket. And, in 51.3 percent of the stops in 2011, cops cited "furtive movements" as justification for the stops.
11. Many Stops Are Unconstitutional
When the Supreme Court deemed stop and frisk a legal practice, they set up a standard of "reasonable suspicion" under which cops "must be able to point to specific and articulable facts." To rely on "inchoate and unparticularized suspicion or [a] 'hunch' " is not permitted. In almost one out of three stops, according to The Center For Constitutional Rights, the NYPD fails to meet this standard:
Nearly 150,000 stops over the last six years are facially unconstitutional and lack any legal justification. All together, 30 percent of all stops are unconstitutional, underlining a severe lack of adequate officer oversight in the NYPD.
12. The Vast Majority Of Those Stopped Are Innocent
Nine out of 10 of those stopped in 2011 were neither arrested nor given summonses.
13. Whites Are Almost Twice As Likely To Be Found With A Weapon
The NYPD and politicians have repeatedly justified the racial disparity in stop and frisks saying that they cops essentially go where the guns are, i.e. minority neighborhoods. Yet, only 1.9 percent of frisks in 2011 turned up weapons and interestingly, according to the NYCLU, "a weapon was found in only 1.8 percent of blacks and Latinos frisked, as compared to a weapon being found in 3.8 percent of whites frisked."
14. The NYPD Faces Numerous Stop And Frisk Lawsuits
From The Village Voice:
In the month of January alone, more than three dozen lawsuits alleging improper stop-and-frisks were filed, based on a Voice reading of the complaints. Extrapolated, that means that the city could be sued more than 400 times this year alone just on improper stops.

If each case settles for a minimum of $10,000, that's at least $4 million in cost to taxpayers, not including the cost to the police department in work hours assembling the documents and removing cops from the street to be deposed, and the cost to the corporation counsel in paying lawyers to defend those cases. One wonders how much money the city is willing to spend on this litigation just to stick with the police commissioner's campaign. (We asked the city law department this question but did not receive a response.)
15. Stop And Frisks Don't Always Drive Down Murder Statistics
It is true that the first decade of the aughts in New York City has seen significantly fewer murders than say, the 1980s, when there were about 2,000 slayings a year. Mayor Michael Bloomberg, Police Commissioner Ray Kelly, and others believe this drop is largely due to stop and frisks taking guns off the street. The link, however, between increased stop and frisks and lower murder rates could be a tenuous one. From The New York Times:
In 2002, when Mr. Kelly last took office, officers stopped 97,296 New Yorkers and the city reported 587 homicides. Last year, those numbers were 685,724 and 532.
And from WNYC:
Last week, the NYPD said stop-and-frisk was used more than 200,000 times in the first quarter of this year – a 10 percent jump from the same period last year. The data covers the period from January to March. So far this year homicides are down by 19 percent over last year.

But of the 13 precincts where homicides were up, stop and frisks increased in six over the same reporting period last year. And in the remaining seven, stop and frisks were down.

"There is no evidence that stop and frisk is lowering or suppressing the murder rate in New York City," said Chris Dunn, spokesman for the NYCLU, in a statement. "Murders have dropped steadily since 1990."