This weekend, I spent a few hours at Barnes & Noble reading personal finance books by Suze Orman and Catey Hill. After reconnecting with my thriftier, savings-minded self, I decided to cancel my standing mani-pedi appointment, head home to my massive nail polish collection and get creative with this DIY saran wrap nail art.
Chelsea of Get Nailed uses the kitchen staple to give her nails an upgrade. The summery design reminds me of the beautiful coral reefs in Miami, Florida. Watch the video below to see how Chelsea layers on coral and aqua nail polishes, then lightly presses saran wrap on top while wet for a marble finish.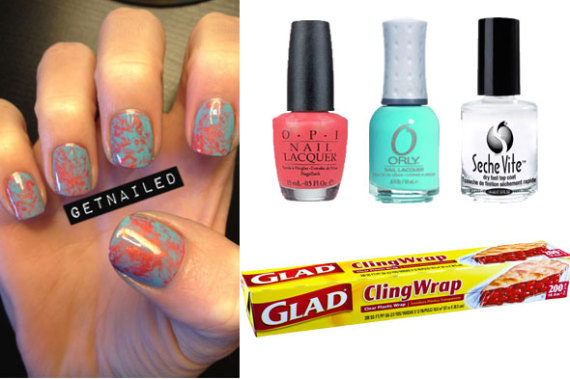 DIY saran wrap nail art by Chelsea of Get Nailed, courtesy photo; OPI Bright Lights-Big Color; Orly Frisky; Seche Vite Top Coat; Glad Cling Wrap.
What do you think of this saran wrap manicure? Would you wear it? Tell us in the comments section.
PHOTO GALLERY
DIY Nail Art