Let's all say it together now: Kim Kardashian, Vogue model.
The most notorious of the Kardshi-klan was spotted with short hair (!) taking part in a very special photo shoot over the weekend -- which she says is for Vogue Italia, the Italian edition of that most esteemed brand of fashion mags.
Kim, 31, tweeted this Instagram photo of her Vogue Italia shoot in Los Angeles, which has her dolled up in a pixie cut wig and sunglasses and flanked by a host of paparazzi, whom Fashionista suspects are just part of the shoot. In the tweet, she also thanked two Vogue Italia insiders: editor Rushka Bergman and Francesco Corrozzini, Franca Sozzani's son, who's also a photographer.
Kim looks like a combo of her mom Kris Jenner and her sister Kourtney in her pixie cut wig, no? And another famous Kardashian pal was also on set -- rumored beau Kanye West, who gave short-hair Kim a smooch.
Vogue Italia has always served as American Vogue's edgier, riskier cousin, staging controversial photo shoots, and now apparently putting Kim Kardashian in its esteemed pages, something Anna Wintour, who reportedly banned Kim from the 2012 Met Gala, might likely never do.
Are you excited to hear about Kim's upcoming gig? Check out the sneak peeks from the shoot below and steel yourself for Kim's high fashion debut in the coming months.
UPDATE: Vogue Italia editor Franca Sozzani took to Twitter to clarify what's going on: "@KimKardashian will be the star of photo shoot in the July/August number of L'Uomo Vogue," i.e., men's Italian Vogue. So maybe this explains the choice of Kim a tiny bit more?
CORRECTION: A previous version of this post incorrectly stated that Kim was the eldest Kardashian sister.
Amazing shoot today for Vogue Italia! Thank you @Rushka_Bergman & @akafrancesco for your creative genius!!! instagr.am/p/KlivdzOSzs/

— Kim Kardashian (@KimKardashian) May 14, 2012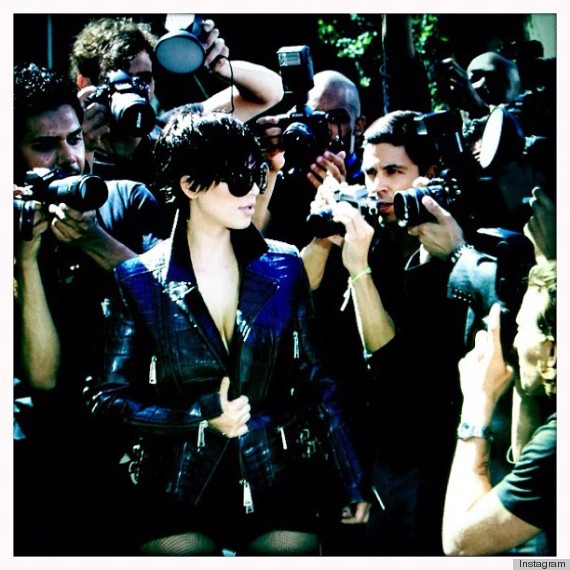 Check out how Kim went from cute kid to glamour girl!
PHOTO GALLERY
Kim Kardashian Style Evolution
BEFORE YOU GO