How does she walk in those?
Willow was spotted sporting a pair of ridiculously high kicks while spending Mother's Day weekend in Paris with her superstar mom Jada and grandmother Adrienne Banfield-Jones.
The American flag printed platform sneakers embellished with silver spikes are shocking to the say the least, but not when you consider who's wearing them.
Between Willow's ever-changing hair colors and outrageous ensembles, the 11-year-old "Whip My Hair" singer seems to be keeping right in step with her style soul mate, Nicki MInaj.
But in a recent interview Willow revealed that she'd rather be just a regular kid.
If I had to change one thing about my life, it would probably be, I wouldn't be famous," she said.
She definitely has her superstar parents to thank for that...oh, and her recording deal with Roc Nation. But those two major factors aside, we're pretty sure Willow's flair for fashion would eventually make her a star.
Take a look at the sky-high sneakers below via Daily Mail and a slideshow of Willow's wildest wears.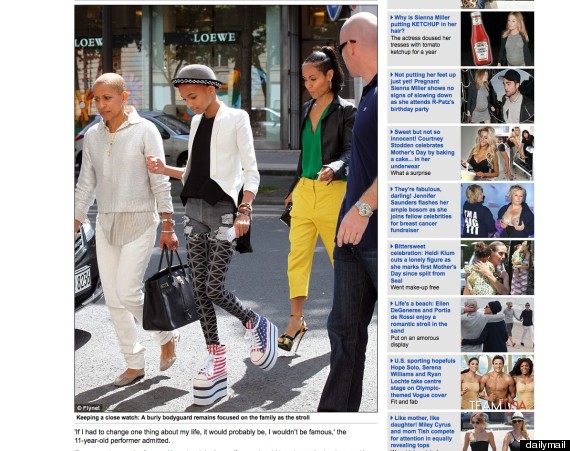 PHOTO GALLERY
Willow Smith's Wild Style