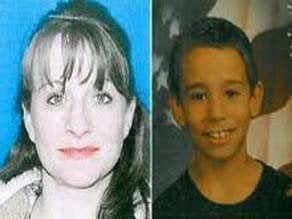 Charlotte and Owen Schilling were last seen in Plattsmouth, Neb., when Charlotte picked her son up from school, according to the Journal Star.
Police used sonar equipment to search Lake Manawa but came up empty.
The World Herald reports that police don't have evidence of any foul play, but they're treating the case like a kidnapping.
"At this point in time we are erring on the side of caution because we don't know exactly what is going on," Plattsmouth Police Chief Steve Rathman said. "We have no doubt [Owen] is with the mother, but we're treating it just like any other kidnapping so we don't miss any step in the investigation, so that we don't forget something, saying, 'Oh, he's just with his mom.'"
WOWT reports that family members are trying to stay optimistic as the search continues.
"If they're out there I know that Owen is safe," said Nora Schilling, Charlotte's sister-in-law. "We just want them home, we miss them, we love them, we're worried sick."
BEFORE YOU GO