Pablo Picasso reportedly once said, "All children are artists. The problem is how to remain an artist once he grows up."

With this in mind, we are pleased to announced a new feature of HuffPost Arts: Instagram Spotlight. We just love the youth-centric iPhone feature that turns amateurs into artists with the click of a button. Instagram reminds us that even those who aren't working artists still have a vision worth sharing, and HuffPost Arts wants to provide a platform to these photographers who are moved by beautiful moments. We will be featuring our favorite gems on the site along with their stories and inspirations, and will continue to scour the web for budding photographers. If you think this could be you, keep being creative and we will find you!

This week, we caught up with Roxanne Lowit, a seasoned fashion photographer and Instagram fanatic. Scroll down for images of her work.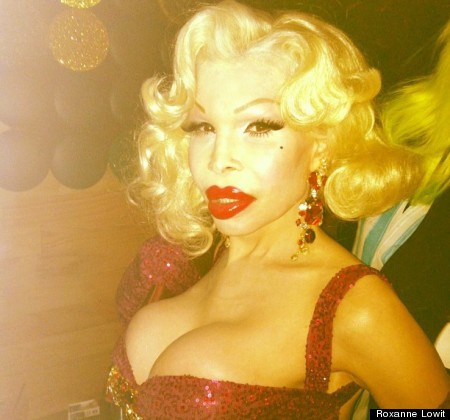 Amanda Lepore, by Roxanne Lowit.
HP: Where are you from and what is your 'day job'?
RL: I'm a native New Yorker and I'm a photographer.
HP: When did you start using your phone as a camera?
RL: I have been using my camera phone for about three years.
HP: Has there ever been a moment you were especially happy to have had your cameraphone handy?
RL: Yes, if ever I happen to be without my camera, which is rare.
HP: Who are your favorite people to follow on Instagram?
RL: I'm fairly new to Instagram. I started it because my daughter told me how cool it is, and now I'm obsessed. My favorite person to follow is my daughter because I get to see my grandson who lives in LA.
HP: Who are your favorite photographers?
RL: Weegee (his Bowery people and night people, not the murder scenes), Helmut Newton's fashion (his St Laurent tuxedo photo and the nudes), Irving Penn and Cindy Sherman -- I just saw a fantastic show of hers at the MoMA.
HP: What's been a photo you've taken that you've been especially proud of?
RL: There are so many, but I guess most recently is my "Backstage Dior" book which won the International Photography Award's first prize.
PHOTO GALLERY
Roxanne Lowit