If you were confused today when recipes supposedly by Grant Achatz appeared on Kellogg's-owned website Snackpicks.com, you weren't the only one.
Nick Kokonas, co-founder of Achatz's famed Chicago eatery, Alinea, was also surprised. One recipe, titled "Chef Grant Actatz' [sic] Sweet Potato Toppers," is a snack of Keebler Town House Toppers crackers, pureed sweet potatoes and bourbon-soaked raisins. And yes, that's how the site spelled Achatz's name.
Kokonas was quick to deny the recipes were Achatz's on his Twitter account:
Kellogg's has since taken the sweet potato recipe down, but plenty of sites had already managed to snag a screen capture of the page.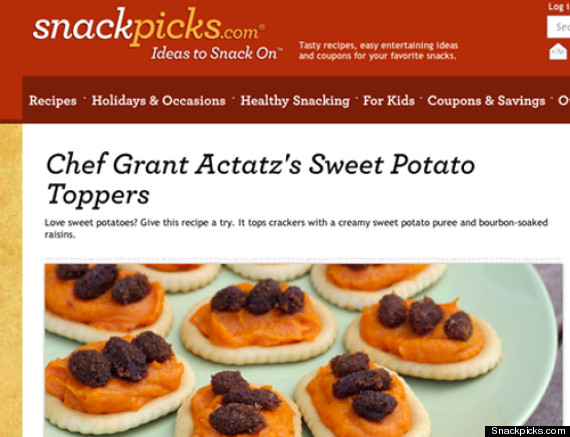 There's also another recipe credited to the Alinea chef, titled "Chef Grant Achatz's Ham and Curry Toppers." Here, the chef's name is spelled correctly and the recipe link is still live.
There are still plenty of other chefs' recipes up Snackpicks.com -- or recipes we presume to belong to said chefs, at any rate -- including Michelin-starred Shea Gallante. HuffPost Food reached out to Gallante's press reps; they weren't immediately available for comment.
Eater spoke with Kokonas today, who has been in contact with Kellogg's. Alinea never gave the company authorization to use the recipe or received any payment for it, he stressed.
There may be an explanation for how the recipe got on the site to begin with, but Kokonas says something is still amiss. Eater writes:
Doing a quick Google search, Kokonas found a recipe as part of an article in the Shelton-Mason County Journal from 2006 that lists the [sweet potato] recipe by Achatz. He said he's verifying whether an interview was ever done with this small-town paper, but said, there's "no way would we endorse that on Keebler's site either way. [It] just seems fishy."
The Chicago Tribune spoke with Kellogg's spokeswoman who said the company is "reaching out to the chef" and that Kellogg's is investigating.
For more evidence of strange goings-ons on Snackpicks.com, head over to The Braiser.
UPDATE #1: HuffPost has received word from Gallante that he does "remember doing recipes for them" but can't recall the exact details surrounding the use of his name.
UPDATE #2: The Braiser reports that Kokonas told them via e-mail it's possible Achatz created recipes for Kellogg's in 2006, but he has no record of it. Even so, he says the company doesn't have the right to post the recipes now.
"I requested a copy of any agreement they may have," wrote Kokonas. "I have not heard back. Usually such an arrangement would have lasted from 6 months to a year. Probably why they haven't gotten back to me."
UPDATE #3: The Chicago Tribune reports that Kellogg's and Achatz did have a relationship but it has expired. They have removed his recipes from the site.
BEFORE YOU GO