Food Informants is a week-in-the-life series profiling fascinating people in the food world. We hope it will give you a first-hand look at the many different corners of the food industry. Know someone who would make a great Food Informant? Tell us why.
Meredith Vachon and Rachel Ayotte met in Los Angeles in 2002 when Rachel was hired to join Meredith's team at a hospitality PR firm. As two Southerners (Rachel is from Arkansas and Meredith is from Texas) new to the City of Angels, they instantly connected over their shared love of good food, big laughs and chilled wine. After leaving the firm to explore separate avenues, one of which led Meredith to Austin, they found themselves at career crossroads with daily discussions about ways they could work together doing what they loved most--spreading the word about great food. Bread & Butter Public Relations opened in March 2007 with two clients and two home offices (dining room tables). Today, the company has over 50 clients, offices in Austin, Los Angeles, New York and San Francisco (real offices), and a steadily expanding team of employees. The good food, big laughs and chilled wine are now considered everyday perks of the job.
Read Rachel (Los Angeles-based) and Meredith's (Austin-based) diary below to learn how publicists balance clients and keep them happy.
Monday, April 30
Rachel:
6:30am: As the mom of a 2 year old with baby #2 due in a few weeks, sleep isn't coming easily these days, so I usually wake up around 5:30am. Which means, I'm ready for breakfast by 6:30 or so. This morning, I was psyched to dig into leftover sausage and cheese grits from one of our favorite neighborhood haunts, Auntie Em's. Being from the South, I love anything with grits, so my bowl of grits and coffee made for the perfect start to a busy week.
11:24am: We have a standing company meeting every Monday at 10:00am, so Monday mornings are usually a mad dash to get your thoughts together to share what you have going on for the week. We had our 10:00 a.m. meeting, then had an 11:30am call scheduled with Bon Appétit magazine to discuss a collaboration with one of our clients. Because I hadn't eaten since 6:30, I was starving and needed to quickly squeeze in a little snack. Luckily, we just had a lovely meeting with a potential new client last week who made us all individual kumquat loaves. I have no idea how to begin to eat and/or cook a kumquat, so this was one part learning exercise, one part delicious treat!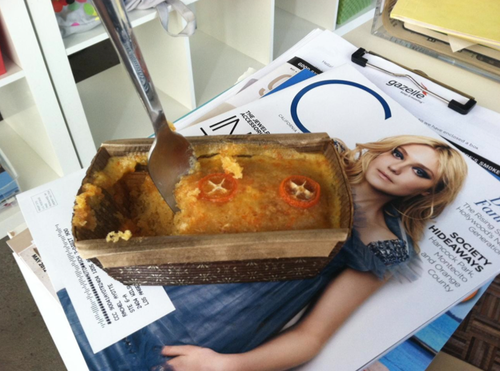 1:00pm: Unless I'm headed to have lunch at a client's restaurant or with a journalist, I'm usually at my desk during the day. We have a full kitchen in our office, so it's easy to cook, which is such a money saver, as well as way to eat well often. Today, one of our staff offered to get us lunch from one of my favorite sandwich shops in downtown LA, Mendocino Farms, and I couldn't resist. I had a Ham & Gruyere Grilled Cheese with honey ham, shaved gruyere cheese, a smoked gouda foundue, roasted tomatoes, Mendocino mustard on panini grilled rustic white with Sweet Potato Chips.
4:00pm: This time of day is always tricky because I am starving, but don't want to eat a lot and ruin dinner. For sure one of the best parts of working with food-centric clients is that we ALWAYS have some sort of snack or food item in the office. We're working with Patagonia, the awesome clothing company known for its outdoor gear, to help them launch their first-ever food line called Patagonia Provisions. Their first product is a smoked salmon jerky and I had to crack open a bag to stave off my afternoon munchies. As someone who only marginally likes salmon, I love this jerky!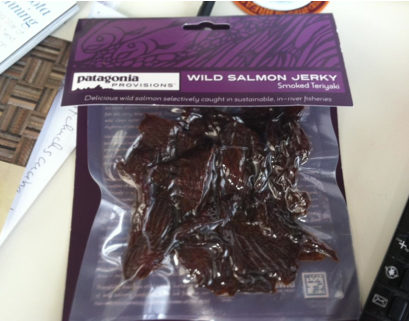 9:00pm: One of our clients, Mezze, is owned by two young guys who are receiving a lot of acclaim and they have started a series of late night dinners they call Industry Night. One of the owners, Mike Kassar, worked for Wolfgang Puck for years and the Chef/Owner, Micah Wexler, has worked for Tom Colicchio and Joel Robuchon, so they know a ton of amazing chefs who come to this roundtable to essentially discuss the topics and issues of the hospitality industry today. I got there at 9pm, late for a pregnant lady, and immediately downed two Iced Turkish Coffees so I could hang with the chefs.
10:00pm: Once we all sat down and started talking, the feasting began. I got to try some delicious Lebanese wine. As the menu at Mezze is Eastern Mediterranean, they have a large selection of wines from the region -- Israel, Lebanon, etc. -- that are unusual and interesting to taste.
11:15pm: One of the highlights of the night was that Bill Niman, who started Niman Meats and now owns BN Ranch, was there. Bill was one of the first farmers who worked to bring sustainable and humanely raised pork and meat to chefs and restaurants and I absolutely have a case of hero worship. We got to try some heritage turkey Micah prepared in several iterations -- turkey roulade, a baked turkey breast and fried turkey legs -- so delicious. In addition to Bill, some of the other guests included Ricardo Zarate, who is getting a lot of buzz for his modern Peruvian, Nyesha Arrington, who was a major contender on last season's Top Chef and Noah Ellis, one of the owners of Red Medicine, also a hotspot here in LA. Overall, it was a delicious night of fabulous food and really amazing company and I'm so glad I went. A major perk of this job for sure.
Meredith:
6:45am: Good morning Eve. The day begins with the first meal of the day -- a bottle of formula for my five-month-old, Evelyn, or Eve. I indulge for a sweet moment of quiet cuddle before the rush of day and notice a little congestion and some weepy eyes. Uh oh.
7:50am: Good morning Max. Next meal up, Rice Krispies and banana with juice for my three-year-old. My husband Sam is getting ready for work and choosing Max's outfit for a quick change after he's finished with his cereal.
8:30am: Kisses and hugs for Max and Sam. Boys are out the door, but me? I'm working from home today. This one doesn't look well.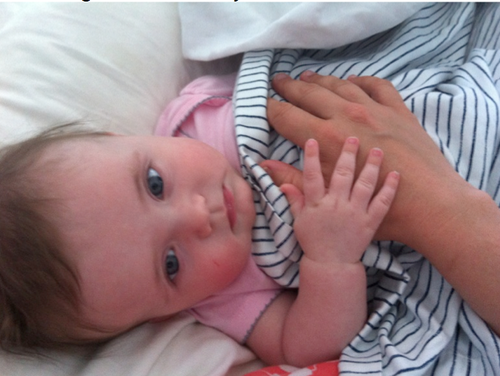 9:22am: Eve is snoozing in her swing so I feverishly get on my email and Gmail chat to check in with the team at the office.
10:15am: Phone rings, it's Chris McCray of McCray Designs with an update on our office redesign. Can we meet today? Nope. I've got a host monkey on my hands. We go over a few items such as fabric choice, final cost breakdown of the recent paint, furniture and labor. Approved? Yes. Did I like the new table he found for the entry? YES! Can his team work every night this week to finish things up? YES YES! We're almost through with the redesign and I can't wait to see the finished product. Having a space that is stamped inside and out with the BBPR brand is a dream. I feel a summer Open House coming...
11:30am: Oops...haven't eaten anything yet and if I'm going to lose the last 10 pounds of baby weight, I'd better. Veggie sandwich with flax bread, tzatziki, hummus, cucumber, tomato, carrots, lettuce and pepper jack, little squirt of lemon, salt and pepper...yum.

12:45pm: Just responded to a slew of media inquiries including confirmation that client, Peche in downtown Austin, will be featured on TastingTable.com, which is great news considering this was one of their goals when we began working together a month ago. Yay!
12:45pm: Email Susan Leibrock with our pro-bono client, Sustainable Food Center regarding their groundbreaking ceremony on the new facility. We need to iron out details like who is coming -- Public? Press? Will there be a press conference? If so, we'll need to write the script. I suggest a meeting so we can hash out all the details in person. This is the first step in a hugely important addition to our food community so we need to make sure we're promoting everything in the most thoughtful way possible.
1:10pm: Call the office to get updated on today's strategy session with clients, Peached Tortilla and Yumé Burger trailers. Clients want "national, national, national!" so we explain that yes, they deserve national praise (their food is creative and insanely tasty) however in order to get it, local press is necessary. Immediate goals: Austin Monthly, Texas Monthly, Wall Street Journal, Food Arts.
3:00pm: Call with my business partner and best friend, Rachel, to discuss various items including new website updates, Austin's upcoming trip to LA, how's our social media team doing, and how are you feeling?!? (Rachel is due with baby #2 any day now.) She's exhausted and excited...about right for the end of pregnancy.
5:15pm: Garage door opens and our Golden Retriever/Chow, Quincy, eagerly runs to the back door. Boys are home, work is through and it's time for me to get busy in the kitchen.
Tuesday, May 1
Rachel:
11:30am: Working in this industry, I think you develop an almost Pavlovian instinct to eat often. This seems to have spilled over to the entire office, as we'd all put in our lunch orders by 11:00am. An office day today, so salad it is!
12:00pm: Conference call with our sweetest client, Magnolia Bakery. Having to look at and talk about photos like this makes it hard not to want to run out and eat some cupcakes. Luckily, we do Magnolia events a lot, so there's never a shortage of goodness around. It's a miracle we don't all weigh 500 pounds.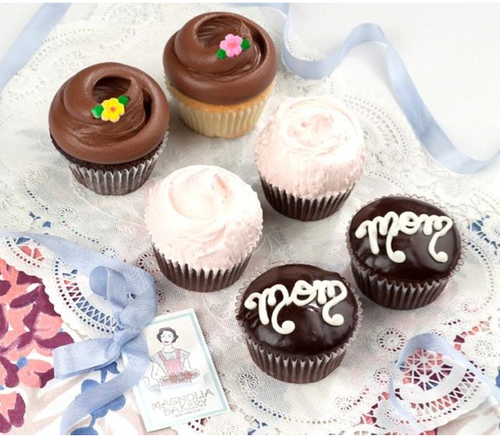 4:00pm: Meeting with our client Papilles, which is this super cute new restaurant that is in the bistronomic vein. They only have one prix fixe menu that changes weekly and the chef is awesome. Plus, the wine list is really esoteric (think Serbian reds) and it's always packed. We went today to take a photo of a foie gras dish for an upcoming story, as foie gras is being banned in the state of California starting July 1. Chefs and the media are going foie crazy.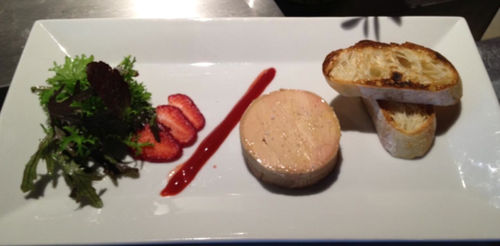 Meredith:
9:00am: Call with bookkeeper regarding a billing question and to go over outstanding invoices. Being reminded about past due money owed isn't the best way to start the day, but all in all, things look great.
10:00am: BBPR State of the Union meeting at the office. These occur every Tuesday morning and give all of us a chance to share successes, concerns, upcoming calendar items, etc. State of the Union seems strong: happy clients, lots of new business on the horizon, and a number of excellent press hits. Makes mama bear content...for now.
11:15am: Chris McCray pops in for a little design chat. What do I think of the fabric samples? I choose white linen. What are my thoughts on putting an old-fashioned oil lamp on the front desk? No thank you. Chris, will you please find me a funky upholstered chair and reading lamp for my office? Thanks.
12:10pm: Lunch break at Whole Foods. The Austin mothership is bustling with all kinds of people. It truly feels like the Dining Hall on a college campus -- a communal hub of activity and socializing. I love it here. Brown rice spicy tuna roll and albacore tataki it is. A bottle of Yerba Maté and I'm back in the car to eat at my desk.
1:10pm: Tackle to-do list: respond to about 15 emails, including one very important one to Iron Chef America producers; approve two media plans; draft two new agreements for new clients; look over new photos for Swift's Attic; book tickets to Los Angeles in June.
2:00pm: Kelsey, our New Media Account Executive, steps into my office to discuss BBPR social media before her weekly call with the LA social media team. She informs me that the group is concerned about the amount of content we're putting out via Twitter and Facebook and whether or not is being managed in the best way. Important concern, I agree. They have great ideas for managing content as we grow and I'm grateful to be surrounded by such smarties.
3:15pm: Meeting at office with White Lodging to discuss taking on PR for two additional projects. We currently work with White Lodging by representing Urban Grill at their Westin Hotel in north Austin. With the potential to add these two new projects to our roster, it's apparent that the partnership with White Lodging is an important one.
6:00pm: Dinner with White Lodging team at client, Swift's Attic. The restaurant is a block away from the future site of JW Marriott by White Lodging so this gives us a chance to introduce two clients and future neighbors. Dinner is outstanding and we leave energized and inspired to promote Chef Mat Clouser to the masses. There is nothing like an incredible meal at a client's restaurant to stoke the creative fire and remind me that I have the best job in the world. Two favorites of the evening: squid "fries" with roasted garlic aioli and charred lemon, and a flash fried red kale Caesar with silverfish, rye croutons and charred lemon. Splendid.

Wednesday, May 2
Rachel:
1:00pm: This morning was pretty uneventful, but I had a lunch with a local writer at one of our clients Enoteca Drago in Beverly Hills. It's this fabulous little trattoria owned by Celestino Drago, who is hands down one of the most talented Italian chefs in the city. They sent out one of their favorite dishes, burrata with baby market beets, pistachio cream and arugula. I, unfortunately, am not a big fan of beets (and by "not a big fan," I mean I hate them). It's always a challenge when chefs or clients send out a dish that you don't like. I've gotten pretty good at eating everything BUT the beets and/or pushing things around to make it look like I've eaten some of them. In this case, eating a lot of burrata wasn't so tough.
3:30pm: Wine Wednesday! Every Wednesday, we all take a break and hang out to drink wine (or some other alcoholic beverage) and have snacks and just talk. Everyone in the office takes turns bringing in whatever they want and it's just a yummy and fun mid-week treat. This week, our only guy employee, (who we all love and who was responsible for our first "Beer Wednesday") decided to do a little pre-Cinco de Mayo celebration with homemade sangria, chips, salsa and guacamole. No sangria for me, but the guacamole was just what the doctor ordered.
6:00pm: Went with my mom and some of her friends in town to the Pasadena Showcase House. It was super cool to see this big, beautiful house with each room redone by a local designer. Then, we all headed to one of our favorite Pasadena restaurants, Vertical Wine Bistro, to celebrate my mom's birthday. A highlight included a "Liquid Cupcake" cocktail at the end. I only had a teensy taste, but it was delicious.
Meredith:
9:00am: Coffee with a local editor to catch up on both of our work, which ends up being a discussion about the highs and lows of our inaugural Austin Food & Wine Festival which took place last weekend. We agree that it was a moderate success with room to improve, but that we can't wait for next year. I got a few good pitches in for clients, which will hopefully result in press and she gave a great lead on a new concept which we're going to approach. Successful coffee chat!
10:15am: I'm reminded that Marisa, Kelsey and Kristen from our office are in Dallas visiting our client, Lucky Layla Farms. I text Marisa to see how things are going and she responds with the following picture. It's testimony that with this job, every day brings a new adventure. Side note: can you believe these cows are on one of the oldest dairy farms in Texas which happens to be in North Dallas?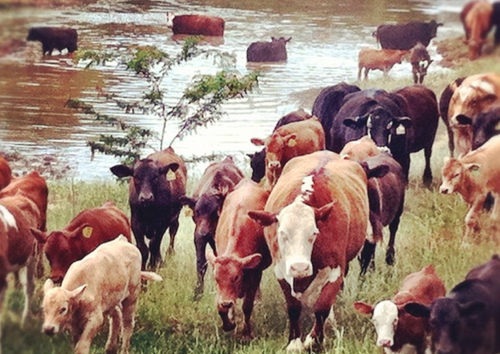 11:30am: Meeting at the BBPR office with a restaurant and wine bar opening in east Austin next year. The owner, a French sommelier (who is painfully adorable...did she just walk out of a French novel?) is nothing short of brilliant and has perfectly sketched out every detail of the concept. Any time a restaurateur puts this much thought into their place from the wall color to the placemats, it's a good thing and bodes well for success. We're buzzing with ideas and very excited!
2:00pm: I take a minute to check in with Lindsey in our office regarding Chef James Holmes and his very hectic schedule over the next two weeks with Chefs For Farmers in Dallas and the Atlanta Food & Wine Festival. She's kept meticulously detailed itineraries for him so everything seems in order.
3:15pm: Wine Wednesday! This weekly tradition started in the LA office and has become a ritual that we live for. Every Wednesday afternoon, we stop work and gather to share some wine and various yumminess. It's a mini vacation and much needed for morale and balance.
Thursday, May 3
Rachel:
7:30am: Throughout this pregnancy, I have craved biscuits and gravy. Being from the South, it's like my ultimate comfort food. I've become quite the pro at my sausage/gravy recipe. I had an early appointment this moring, so I couldn't do the whole shebang and had to just settle for biscuits. But, they definitely hit the spot.
11:00am: Headed to shoot "The Talk" with our client Susan Feniger, chef/owner of STREET restaurant here in L.A. This is her second appearance and the producers love her, which of course we love. We always have fun doing these shows. Today's menu was all about avocados for Cinco de Mayo.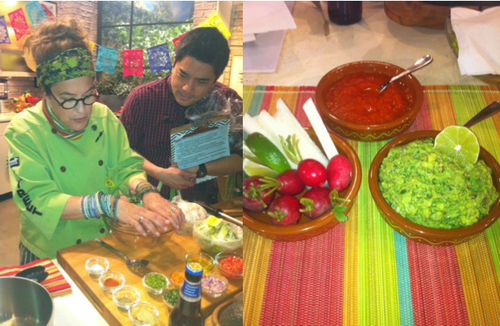 1:00pm: Had lunch with some friends visiting town and went to our client Drago Centro downtown. The space is so beautiful and urban and it was perfect weather today -- kind of overcast and cool -- for pasta. Celestino Drago has a signature pasta with housemade pappardelle, morels and pheasant that is one of my favorite things on earth. So, of course I had to have a big bowl of it.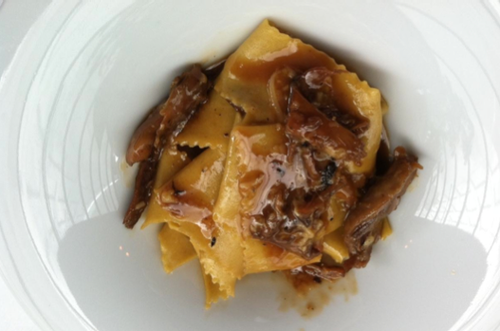 6:00pm: I love pretty much any Mexican food and my mom is obsessed with the Green Corn Tamales at a local restaurant called El Cholo, which is a Los Angeles institution that has been around since 1923. The tamales are only available from May through October, so my mom was chomping at the bit to get the first taste of the season and invited us to dinner with some friends of hers.
Meredith:
9:00am: By a small miracle, everyone slept until 8:00 this morning! After breakfast, bottle-feeding, brushing teeth, outfit picking and dressing, and plenty of kisses and "Have a good day! I love you," Sam and the littles leave for daycare and I relish in the quiet house with my iced coffee. Lately, with rising temperatures making hot coffee a sweat-fest, I've become obsessed with a local cold brewed coffee, Chameleon Cold Brew. Ice, skim milk and a dash of Truvía...mmmm...
11:30am: At my desk staring at my inbox and watching it fill with the usual mix of client correspondence, press inquiries, updates from Rachel and industry newsletters, but all I can think about today is the lunch I packed: quinoa salad with tomatoes, green onion, cucumber, lime, cilantro, avocado and sour cream. It's not too early to eat it, right? Nah. I'm going to get it.
2:00pm: New business meeting with a brilliant cookbook author who has just inked a lucrative deal to turn one book into a series of five. She's seeking both PR and talent management. We have a lovely meeting that's equally informative and fun, and I leave wanting to be her friend. Proposal is up next and hopes are high.
Friday, May 4
Rachel:
6:00am: While our dogs were in our backyard this a.m., I snapped this photo of an artichoke plant from our garden that we've allowed to bloom. We had a wonderful summer garden last year and the artichoke was the only plant we didn't pull out. Unfortunately, we had a little bug infestation and the artichokes weren't that tasty. But, I read an article in a magazine that said artichoke plants can be used in place of shrubs and that if you let the artichoke bud bloom, they're gorgeous flowers. Now, I have proof!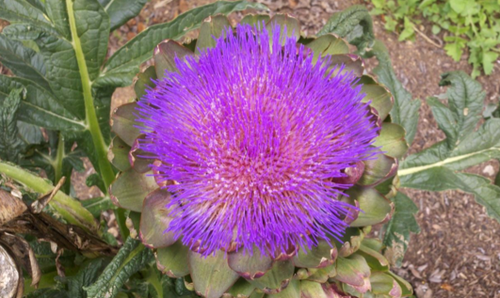 1:15pm: We didn't order out for lunch today and I didn't bring anything, which meant I had to rummage around in our fridge/freezer for something to eat. Luckily I had some frozen Indian fare from Trader Joe's. Chicken Tikka Masala and Saag Paneer are two of my favorite foods ever. I would also like to point out that these plates are salad size, so my meal looks massive. However, I did eat the entire thing.
6:15pm: It's been a long week and I'm beat. We ordered pizza and I think I went to sleep at 8:30pm.
Meredith:
10:00am: I meet Marisa for a meeting with Chef Parind Vora at his home to discuss his two new restaurants opening this summer. This meeting is by far my favorite of the week because Parind truly has an urban farm in the middle of the city. He has told us about his animals and gardens many times, but I had no idea the place was this special. Two goats, several chickens, geese, ducks, turkeys, and a varied selection of vegetables and fruit trees keep Chef Parind very busy. This little lady was my favorite: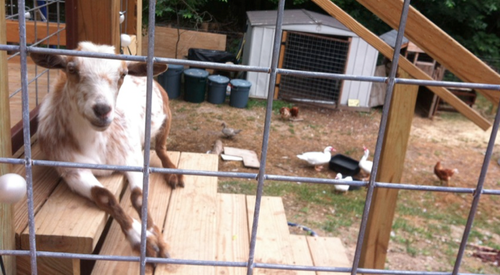 12:00pm: Weekly company-wide conference call with our biggest client, California Pizza Kitchen. This campaign gives us a chance to all work together as a team, which is so fun and is lending to good results. Client seems happy, which makes Rachel and me very happy.
12:30pm: I start reviewing Friday media reports from Marisa, Mallory, Lindsey, Kelsey and Kristen for each client. I'm grateful for each of their hard work and dedication, and proud of the work that was done this week.
2:00pm: Late lunch. A banh mi from the Banh Banh Trailer. Several friends have texted and or tweeted about it this week, saying it's the best in town. I'll be the judge. Mmmmhmmm...everyone is right! This is legit!
7:15pm: I end the week with my cozy little family at one of my favorite places and a client, Lucy's Fried Chicken for some much-needed relaxation. One sip of my Lucy Basilia cocktail and bite of a cold Gulf oyster and...bring on the weekend.
Saturday, May 5
Rachel:
7:15am: Made everyone pancakes before my husband went to work at our daughter's school and my daughter and I went to work outside. I planted some vegetables for our summer garden, weeded and moved some grasses around. Kirby helped me dig and the dogs laid in the sun. It was lovely.
5:30pm: We went to dinner at one of our client's, Tom Bergin's, first nights of service. It's a revamped Irish pub (L.A.'s oldest Irish pub to be exact) and it was very cool. They're doing a steakhouse menu at the back of the restaurant and an old school Irish bar at the front. Being that I can't drink, I focused my energies on eating things like fried chicken skins with blue cheese sauce and jacket potatoes, essentially a twice baked potato with some bacon on it. I couldn't really take a lot of photos since they were still working out the kinks, but I did snap this shot of my husband's porterhouse. I can't wait to go back.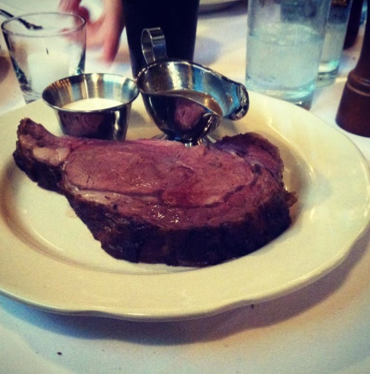 Meredith:
6:00am: Eve wakes.
6:30am: Max wakes.
6:33am: My husband proves he's a saint when he says "I've got them. You sleep." OH MY GOD, I love you soooo mu...zzzzzzzz....
10:00am: I bound down the stairs, bright-eyed and bushy-tailed ready to greet the day. A fun afternoon lies ahead at Contigo for their first anniversary party.
3:00pm: Contigo, a local favorite, is celebrating their first anniversary by having a free crawfish boil open to the public at 5:00, but "special friends" are invited at 3:00. We roll up our sleeves and dive in to a gorgeous plate of spicy bugs. An ice-cold Modelo Especial makes it perfect.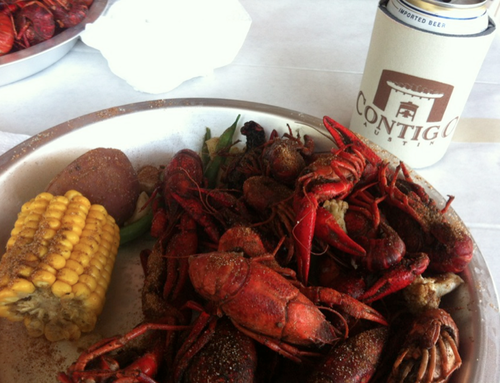 Sunday, May 6
Rachel:
11:30am: Big day of eating today! I started at Taste of the Eastside, an event we did the press the press for and are just general fans of, since I live on the Eastside of LA. The event is fun because it celebrates the chefs and restaurants of the Eastside of LA, which tends to be more eclectic and creative (yes, I'm totally biased). It was at a beautiful park called Barnsdall Art Park that is the home of Frank Lloyd Wright's Hollyhock House and overlooks the Hollywood sign and Griffith Park Observatory. Our client, Little Dom's, participated and did their BBQ Oysters, which are unreal. Even Ruth Reichl is a fan. I kept going back and was afraid they were going to make me leave the table so as not to embarrass myself.
2:15pm: Nap.
5:00pm: Chef Micah Wexler, owner of our client Mezze, was one of the 5 featured chefs for the Cochon 555 L.A. event, so of course we had to go and represent. It was at House of Blues on Sunset Blvd. and the mix of an interesting music venue with wall-to-wall pork was pretty cool. The Mezze team ruled with their own signature Cochon t-shirts. And hors d'oeuvres. Yes, that's just a jar of bacon. The concept of Cochon is that chefs have to use a pig, snout to tail. Mezze did that and then some, even offering a bacon cocktail.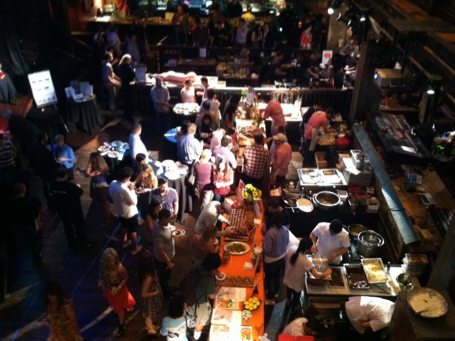 See more Food Informants below:
PHOTO GALLERY
Food Informants
CORRECTION: An earlier version of this entry mentioned that Rachel ate at Casa Bianca on Monday night. She meant to say that she ate there on Friday.