Crochet? In Miami? In May?
Miley Cyrus is much braver than the rest of us, but then, she's not one to shy away from showing off her legs -- even, it seems, in knitwear.
Cyrus was snapped leaving the Delano Hotel on South Beach wrapped up cozily in Bec & Bridge's Anja navy blue crochet knit maxi skirt. (A sweater-y version of Katy Perry and Jennifer Lopez' favorite frock?) The rest of her look was more beach-appropriate: orange flats and a sleeveless denim blouse.
The 19-year-old star, who recently fired back at gossip about her weight loss, also toted her adorable new rescue puppy Happy. (Happy was also present when Miley got her newest ombre 'do.)
We've been to Miami in the almost-summer before, and we can tell you that it's super effing hot, so props to Miley for wearing crochet knit in one of the most humid cities in the U.S.
At least it was well-ventilated.
Check out photos below!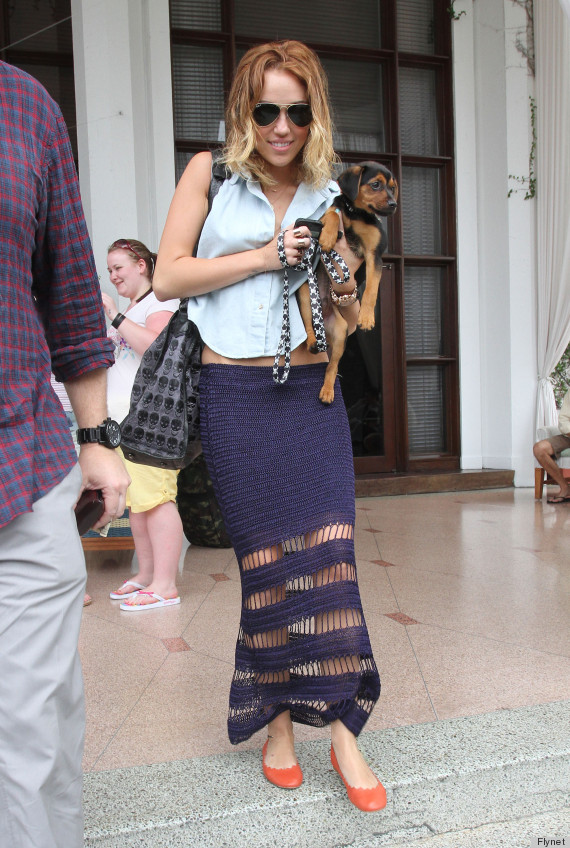 See how Miley went from cute kid to glamour girl!
PHOTO GALLERY
BEFORE YOU GO