As thousands of potential investors clamor to buy shares in Facebook, some old-fashioned investors are seeking the hard copy of the stock. With its IPO filing, Facebook included a photo of what the actual Facebook stock certificate looks like.
The stock certificate is reminiscent of another era, when hard copy shares were the only way to trade. Now an overwhelming majority of share trading is conducted online with the click of a button. Companies are no longer required to offer printed share certificates, though some still do -- for an extra price, of course.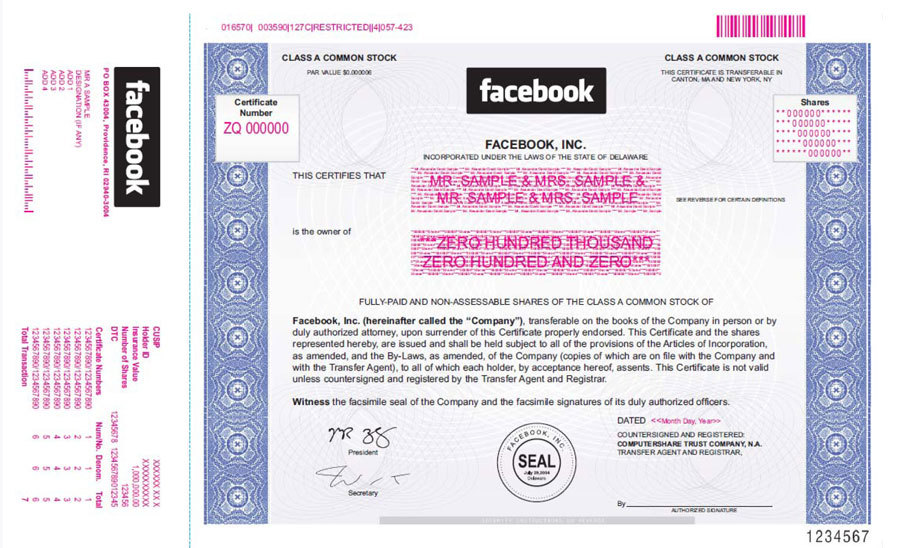 Serious investors seeking Facebook stock will buy shares through a brokerage firm or with an online brokerage account.
However, there is a market for one-time investors who are just looking for a piece of history. Websites, like GiveAShare.com and OneShare.com offer the option of purchasing individual shares, rather than requiring Facebook stock be bought in lots (bundles of 100 stocks).
These websites cater to occasional investors, who are looking to grab a piece of the company, without shelling out several grand.
"It interests people who are not ordinarily interested in the stock market," Rick Roman, the founder of GiveAShare.com, told CNN Money. "We've been getting people asking about it for a year."
GiveAShare.com allows buyers to purchase individual shares of Facebook, along with the hard copy of the stock certificate for an additional $39 fee.
Other online brokers such as ShareBuilder also allow limited orders for a fee.
Facebook is expected to begin trading today after raising $16 billion in an initial public offering Thursday. The company priced its IPO at $38 a share.
Check out the gallery below to see the biggest Internet IPOs of the past decade.
PHOTO GALLERY
Top Technology IPOs Of The Last Decade
BEFORE YOU GO