Whoa Kelly Clarkson!
The singer stunned at Sunday night's Billboard Music Awards, taking the stage to sing "Dark Side" in a hot-pink cutout gown and showing off her trim figure.
Clarkson couldn't have had better timing when it comes to turning heads with her new look. The "American Idol" winner will return to primetime on Thursday's premiere of the new talent competition show "Duets," alongside Robin Thicke, Jennifer Nettles and Lionel Richie.
Clarkson's weight has been the subject of much media scrutiny, but the "What Doesn't Kill You (Stronger)" singer's fans have made it clear that they like her just the way she is. After Clarkson's September 2011 issue of Self featured an incredibly retouched cover, her fans voiced their disappointment in the magazine.
"When people talk about my weight, I'm like, 'You seem to have a problem with it; I don't. I'm fine!,' Clarkson said in an interview with Self. "I'm never trying to lose weight – or gain it," she added. "I'm just being!"
As far as we're concerned, "just being" never looked better.
Check out Clarkson's before and after looks below: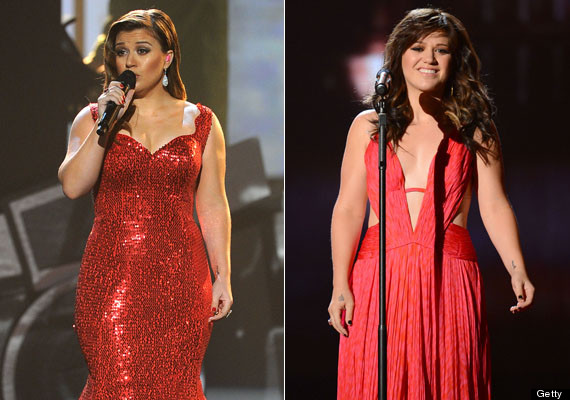 BEFORE YOU GO
PHOTO GALLERY
Celebrity News & Photos