Did you get hammered this weekend? Well, so did the Nokia Lumia 900, and it probably came out feeling much better than you did afterward.
Engineers at Nokia labs wanted to show off the sturdiness of the Gorilla Glass on the front of the Nokia Lumia 900, so they did what anyone would do: They filmed a video of themselves attempting to hammer nails into the phone's screen, and then used the phone itself to drive a nail into a plank of wood. Watch below to see how the Lumia 900 fared after its meeting with Mr. Hammer:
Nokia smartphones have long been thought of as durable -- an Internet meme called the "Indestructible Nokia 3310" even sprang up depicting the old-school Nokia handset as an otherworldly force of unbreakability: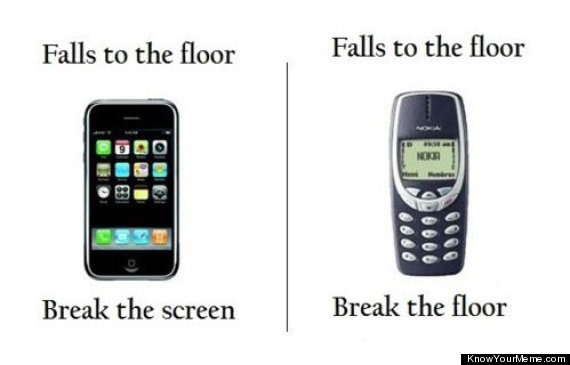 Clearly, Nokia wants that aura of indestructibility to transfer over from its 3310 to its new Lumia 900. Along with this video, the struggling Finnish phone maker has also boasted of its Lumia 900's "industrial design" in advertisements around the web. That the iPhone's all-glass design is so prone to cracks is probably driving some of these advertisements.
Though nobody is questioning the physical strength of the Lumia 900, the strength of the sales of the Lumia 900 remains to be seen. The Lumia line, with the Windows Phone operating system, is thought to be the best hope of both Nokia and Microsoft to re-assert themselves in the cellular space. Early signs for Nokia have been mixed; we should get a clearer picture of how the Lumia 900, which launched on AT&T in early April, is selling in the coming months.
Until then, if the Lumia 900 doesn't prove popular as a smartphone, perhaps it will find a second life as a sledgehammer or mallet.
BEFORE YOU GO