Let's face it: A too-small desk can turn even simple tasks into an ordeal. We feel like most conventional work spaces have become so cramped that we're not sure who could possibly use them. (Perhaps children?) That's why we loved this DIY idea from Mae Chevrette, which gives you a general tutorial in making a table without loads of woodworking or spending lots of money. We also appreciated the industrial-chic look of the sawhorse legs and "aged" wood surface. Ready to try it out? Take a look at the how-to below!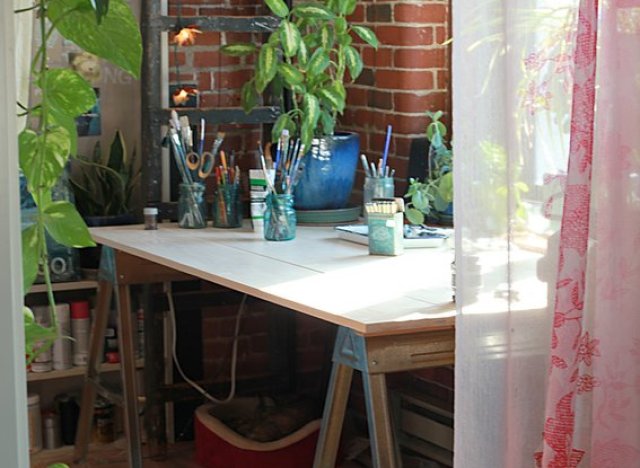 Photo by Mae Chevrette
You'll Need:
Two Metal Sawhorse Table Legs
Three x 6'x10"x1" soft pine boards
Wood Stain (color of your choice)
Two 1" x 2" wood plank
1" nails
Handsaw
Oil-based semigloss polyurethane
First, if you want a rustic, weathered look, follow Young House Love's steps for making wood look aged. They suggest using a hammer to make sporadic holes and nicks in the boards. After you've finished the aging process, sand the boards, wipe away any debris and stain with two thin coats of your choice of stain, (in this case the table is stained with Minwax Whitewash). Make sure to allow the stain time to dry.
Next, using a handsaw, cut the 1" x 2" planks to about 6" shorter than your desired desk depth. (Your desk depth will be the size of the three pine boards combines.) Using 1.25" nails, nail the planks to the underside of the three boards across the seams, a few inches from each edge. Afterwards, seal the surface with three coats of oil-based semigloss. Finally, simply lay the tabletop on the sawhorse legs (for extra security, we'd nail the top into the legs) and there you go: An ample work space with incredible charm!
For the full tutorial, head over to Mae Chevrette.
Have something to say? Be sure to check out Stylelist Home on Twitter, Facebook and Pinterest.