It can take years and years to amass the level of knowledge DJ Adrian Douzmanian displays every Friday night at Grand Central's beats-centric Peachfuzz party.
But astoundingly, the guy playing everything from classic hip-hop to disco to Trick Daddy only just turned 22.
"His knowledge, for such a young age...it's pretty amazing," marveled Peachfuzz promoter Raul Sanchez. "He knows more about music than anyone I've ever met his age. Other DJs are like, 'that guy's 21?' Kids that age, all they care about is a new song on a blog. He has a huge record collection. I'm amazed he even cares about records. It's really rare. His willingness to learn, his knowledge, you don't find that anymore."
That's why as DZARECTOR -- and a thousand similar aliases -- Douzmanian has fast become one of Miami's best resident DJs, from opening up for massive open format stars at Pangea or Wall to holding down the hip-hop night Chocolate Sundays at Purdy Lounge to bringing the breezy barbecue funk to the highly discriminating Do-Over party during Miami Music Week.

But Douzmanians's favorite labor of love is the 6-months-old Peachfuzz, which he puts on with Sanchez and former Bar creative director Pres Rodriguez in the The Garret, Grand Central's upper loft space. Featuring weekly guest DJs, flyers styled after Yo! MTV Raps, and all the unbridled fun of a warehouse night without South Beach hassle, Peachfuzz is one of Downtown Miami's favorite parties.
"It's a little more challenging then a lot of other gigs," he said. "Not in the sense that I can break obscure records or play tiki-style disco dance, but because there's such a variety of cultures and people there."
To hear the Paris-born DZA tell us, it's only going to get better.
Who are you:
My name is Adrian Douzmanian aka DZA aka DZA3000 or DZARECTOR, or whatever. Too many aliases.
Years in Miami:
In total, it's gotta be like 12. I'm From Paris, France so I've lived the other half of my life there. I'm 22.
What's your first Miami memory:
I went to elementary at this school called Auburndale. The earliest I can remember of Miami is seeing my grandfather's rooster fights and this donut spot that was off that corner. It was basically Krispy Kreme with a different name. Anybody who knows me knows that I'm obsessed with donuts, so that was the beginning of my life, really.
Current neighborhood:
Doral.
Favorite 'only in Miami' moment:
Grabbing pretty delicious cuban food at any time of the day is tight.
What's your idea of a perfect day in Miami?
Waking up with nothing to do, grabbing brunch at Yardbird (Morgan's fell off), watching "Beavis and Butthead" with my friends and girlfriend and NOT going out.
Local oasis to escape the 305 grind?
Probably poker nights with the homies, or going to Marlins games with my girl.
Where do you take out-of-towners?
For food, I'll try to take them to Joe's takeout (GONE TIL OCTOBER, WORST FOOD MOMENT OF THE YEAR), Shake Shack, Yardbird, and most of all Yakko-San. As far as going out, it all depends on what they're into. I'm not the kind of dude that is totally against going to LIV or that will go tweet up a storm about how I hate being there... I don't mind it, so if they're into that, I'll do it. But lately I've just been trying to take people to Marlins games. I wasn't even into baseball before the stadium was built, but it's so fucking cool.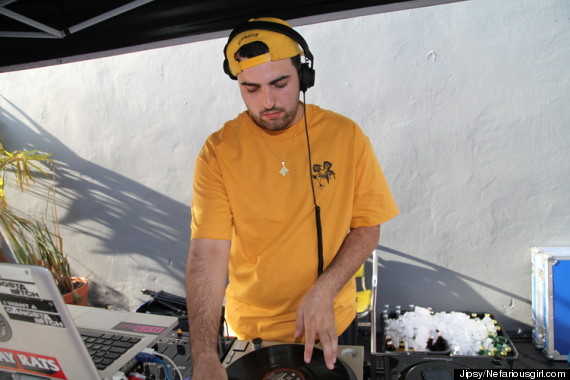 How would you describe Peachfuzz to the uninitiated?
Peachfuzz is jam city. Whatever your jams were when you were younger, you'll probably catch them there. I'll play anything from "I Need a Girl, Part 2" to Billy Ocean's "Nights" to Aly-Us' "Follow Me" to Trick Daddy "I'm a Thug." I don't care, it may be all over the place for some people but those people are boring, anyway.
If you could bring back one Miami venue, it would be...
It's a tough one, obviously Bar is like the staple and is dearly missed right now, but growing up I used to love going to the Alley and catching all of my fave hardcore bands. I guess the more mature option would be Bar since I don't really even go to shows anymore.
Favorite possession:
Definitely my soccer jersey collection. I'm a huge soccer nerd, and growing in Paris I had no choice. The collection used to be a little iller, but I lost my 98 Zidane and 86 Platini jerseys in a suitcase.
What record truly changed your life?
There's a few. Black Moon's "Enta Da Stage" really got me into hip-hop, but then I got into hardcore and Black Flag's "Damaged" was a big deal for me. But I think THE record that really shaped me was My Bloody Valentine's "Loveless" -- it's the most perfect album ever to me.
The secret to being creative in Miami is...
Just be you and don't care. Corny, I know, but it's true. So many people are so obsessed with caring about others that they forget about just doing their own things. Jealousy kills creativity/fun and that's a big problem in Miami or even the DJ world as a whole. Just don't care and have fun. You'll either get booked or you won't.
Name five songs recently blasted from your speakers.
Meek Mill, "Flexin"
New Look, "Janet"
Pools, "The Waterfall"
Anything 2 Chainz
Whatever Flosstradamus is putting out
Biggest misconception about DJs?
I guess to the normal person, like one that goes to Peachfuzz -- let's say Hip-Hop Dude 2012 -- he thinks that I'm gonna play the last blog rapper's song just because the people that go to the party are in the know of what's tight and what's not. But they forget that girls don't want to hear that shit and at the end of the day, if there's no girls at your party, you might as well just play Cella Dwellas all night.
DJs also have this constant struggle to not play certain songs or to play certain songs to feel good about themselves, but it's really about knowing your role and balance. Like if I play some Top 40 club, who am I kidding? I'm not gonna try to impress myself and all of Twitter that I'm playing these obscure hip-hop records. Getting Top 40 money all the time feels way better than feeling good about myself on Instagram. But you also have to balance yourself. I couldn't play top 40 5 days a week and feel good about it... I need something like Peachfuzz to keep myself happy.
395 or 195?
395 is actually the tightest ever when there's no traffic, but i'll have to say 195 when there is.
Which is more magical, Hialeah or Kendall?
Definitely Hialeah. I used to hang around there and eat shit with friends who are all doing big things now. Shout out to TPOT, Laz Rodriguez, Julian Consuegra, Jeff B, etc etc.
Why do you hate Miami?
Because I can't fucking catching a Paris Soccer game on TV ever, and that's why I actually hate AMERICA.
Why do you love Miami?
I grew up here. I built my character here. My taste in music, etc. I've lived in so many different cities throughout my short life, but I've never felt better than I have here.
3 local meals you can't live without?
Anything at Martoranos, Shake Shack and Morgan's cookies.
In a word or two, Miami is..
Home.
DZARECTOR: Twitter | Soundcloud