Apparently an op-ed from a bitter employee and a $2 billlion trading loss will do about the same amount of damage to a big bank's reputation.
In the aftermath of the huge loss sustained by its London Whale trading desk, JPMorgan Chase's consumer perception dropped by 25 points to -33, according to research service YouGov. Goldman Sach's reputation fell to -32 on the index immediately after former employee Greg Smith published a scathing op-ed in the The New York Times resigning from the firm.
The plunge puts JPMorgan's reputation at its lowest level since YouGov began tracking the firm in 2008 by asking respondents, "If you've heard anything about the brand in the last two weeks, through advertising, news or word of mouth, was it positive or negative?" Previously its lowest score was -22 when it faced public criticism for its use of government bailout money, according to YouGov.
Still, it's nowhere near the plunge in consumer perception that Goldman Sachs took in April 2010 when the SEC charged the firm with betting against its own Abacus mortgage bonds while pushing them to clients as worthy investments.
Here's a chart showing the difference between JPMorgan Chase and Goldman Sachs consumer perception levels.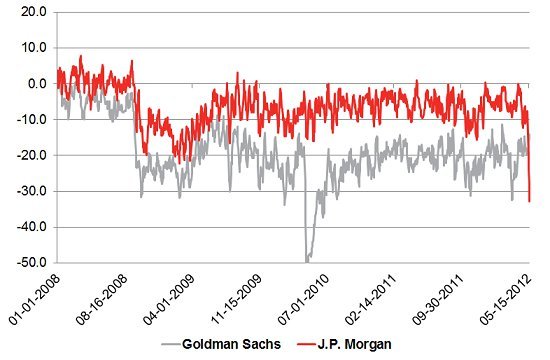 Though JPMorgan's reputation hasn't sunk as low as Goldman's lowest, it's been a pretty bad couple of weeks for the bank. Though JPMorgan's CEO Jamie Dimon, avoided ousting three other executives resigned following the loss that may top $30 billion when counting the resulting decrease in the bank's stock value.
The bank is also facing scrutiny from the FBI, the SEC and the Commodity Futures Trading Commission. In addition, credit rating agencies Standard and Poor's and Fitch have downgraded their assessments of the bank.
Even Dimon admits that his firm's reputation has taken a hit. Immediately following the announcement of the loss, Dimon said it "puts egg on our face,". Later he referred to the loss as a "black mark" and "an embarrassment."
Check out JPMorgan Chase's Whale Fail and nine other bank disasters below:
PHOTO GALLERY
JPMorgan Whale Fail And Nine Other Big Bank Disasters
BEFORE YOU GO