Join our discussions below about "The Night Circus." Here's who you'll be hearing from...
Andrew Losowsky, Books Editor
I'm British, so anything you think I've spelled wrong, is actually just spelled older. I look for stories to take my brain into new spaces, and I'll be particularly discussing the facts as we think we know them, and the clues I think we're being given by the story. Let me know if you think I'm wrong! I'll also be choosing a few facts to use as jumping-off points for tangential discussions.
Zoë Triska, Associate Books Editor
I was a Literature major so I can't help analyzing every single thing (from the syntax and language to metaphors, similes, you name it). I (reluctantly) admit that I'm one of those people who Googles phrases, places, names every couple of pages when I'm reading. There are constantly things that stump me, though so I'd love to hear your thoughts on the significance of words, places, phrases, events that take place in the book.
Madeleine Crum, Associate Books Editor
I like looking at language particularities, but in case you think that's a snooze (you wouldn't be alone), I'm also interested in reading what critics say about books and whether their reviews are spot on or way off. Let's talk about it.
Annemarie Dooling, Community Editor
Quotes, locations and descriptions speak to me the same way characters do. I love dissecting the same details that tell us more about the story than the actual prose. If you read the same books over and over and over again the same way you visit an out-of-town friend, we're going to get along just fine.
Here's our reading schedule:
May 27: Pages 1-64, or beginning through Condolences
June 3: 65-141, or The Contortionist's Tattoo through Atmosphere
June 10: 142-205, or Reveurs through Ailuromancy
June 17: 206-266, or Tete-a-Tete through Stormy Seas
June 24: 267-328, or An Entreaty through Precognition
July 1: 329 and on, or Pursuit through the end.
If you'd like to blog your experiences, or join the discussion, leave a comment below and let us know what you think about "The Night Circus."
07/11/2012 12:37 PM EDT
Want a signed copy of "The Night Circus?"
To sum-up our reading of The Night Circus, we'll be giving away 5 copies of the book signed by Erin Morgenstern, as well as a special edition tarot card designed by Erin herself.
To win a copy, leave us a comment below, or tweet to @huffpostbooks at #hpbookclub and give us your best one-sentence summary of The Night Circus. If you haven't read the book yet, get creative and let us know what you think the book is about. After we pick our five favorite replies, we will contact readers to coordinate their prize.
So, let's hear it: In one sentence, what is The Night Circus about?
07/06/2012 4:49 PM EDT
HuffPost Book Club in Boston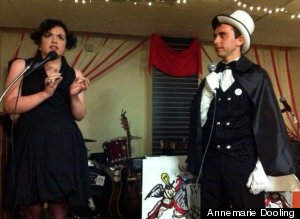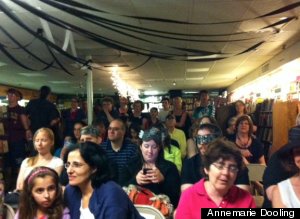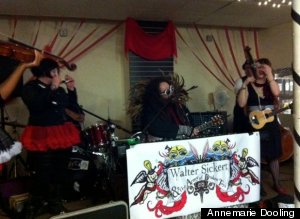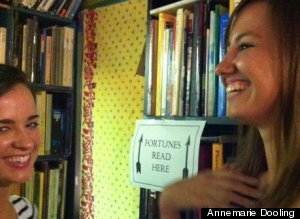 07/05/2012 10:30 AM EDT
Thank you for reading along!
On Tuesday we celebrated the end of our reading of The Night Circus and the release of the paperbook version of the book. Between the tarot card read, the caramel popcorn and the amazing musical performance, we're not sure what we loved the most.
If you couldn't get to Boston in time for the circus, we've got video of the performances and Erin Morgenstern's wise words on magic, National Novel Writing Month and her next book coming up shortly, as well as a chance for you to win a signed copy of The Night Circus plus a tarot card designed by Erin.
In the meantime, check out all of the live tweets from the event here.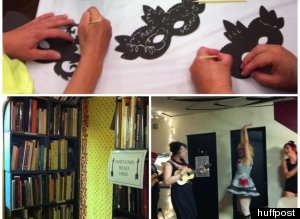 07/05/2012 9:01 AM EDT
HuffPost Books at the paperback event!
07/05/2012 9:00 AM EDT
Erin Morgenstern on voice
@ elisir :

RT @TravelingAnna: "I found my writing voice when I stopped trying to sound like anyone else." -Erin Morgenstern #HPbookclub
07/02/2012 9:21 PM EDT
A Night Circus fan
@ bookoisseur :

The only words to describe #TheNightCircus: bookporn realized and luscious. Thanks for the rec @HuffPostBooks! I want another!
07/02/2012 12:41 PM EDT
Night Circus art
Two great crafts we found this weekend
07/02/2012 12:31 PM EDT
In your own words
So, maybe I am wrong. It isn't a book about love or a book about magic. Perhaps, The Night Circus is a book about memories and shadows; weaving between the cracks in your mind to pull up other memories, other moments of brilliance.
Tara Newman, HuffPost Books community member, writes beautifully about her experience reading The Night Circus.
07/02/2012 12:28 PM EDT
Throw your own midnight dinner
If you've been salivating while reading The Night Circus, here are some tips on creating your own desserts straight out of the book.
07/02/2012 12:27 PM EDT
Decadent
@ rball3 :

Decadent RT @HuffPostBooks: What's one word you'd use to describe 'The Night Circus?' #hpbookclub