Those rooting for Britney Spears as "The X Factor's" newest judge (along with teen sensation Demi Lovato) need not wait until fall for a sneak peek at the upcoming season. Already there's been chatter on the Twitter feeds of both the TV show and the singer. We've seen Spears acting chummy with show creator Simon Cowell and glimpsed plenty of photos from the first day of auditions, currently taking place in Austin, Texas.
Just arrived for @TheXFactorUSA auditions - hope everyone is ready!Still waiting on @SimonCowell of course....

— Britney Spears (@britneyspears) May 24, 2012
For their first day of shooting, Spears, 30, wore a tight hot-pink minidress with a sheer, plunging neckline, while Lovato, 19, kept things cool in a green frock and leather jacket. Spears and Lovato were officially confirmed as "X Factor" judges on May 14, replacing Season 1's Paula Abdul and Nicole Scherzinger, after months of rumors.
But was Britney the best choice for judge?
There are new reports that the star is already butting heads with Simon Cowell. RadarOnline reports that Spears stepped up and ripped into Simon after he totally trashed one contestant.
"You are so rude, Simon," Spears told her boss, after Cowell told a contestant that "She sounded like she was dead."
According to the insider source, Britney wanted to soothe the fan's ego and sweetly told her, "Actually I think you had a really honest voice."
It's safe to say this season will be full of drama, judging by Spears' first day alone. TMZ reported yesterday that the singer actually walked off set because she was "upset" that a contestant had butchered her song, "Hold It Against Me."
The reports however, are totally false, a source told Gossip Cop. While the contestant may not have done Brit's song justice, she didn't walk off set because of it, and later tweeted:
#Britneywalksoff??? LOL was just taking a little break people. I am having the BEST time!!!

— Britney Spears (@britneyspears) May 25, 2012
A photo shared via social media even shows Demi Lovato, Simon Cowell and L.A. Reid sitting at the judges' table with Spears MIA.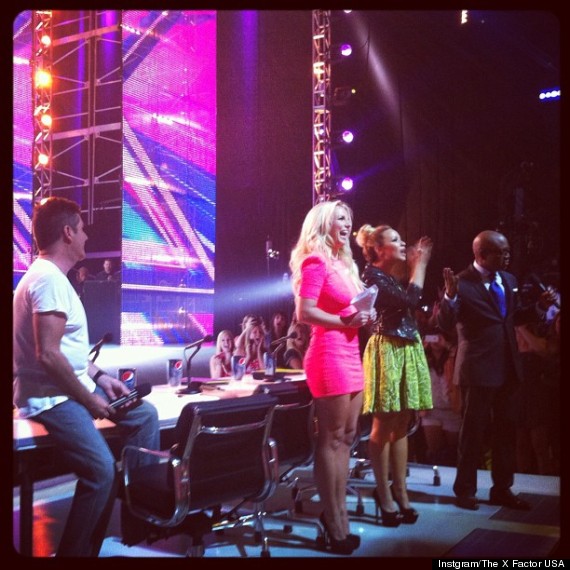 Celebrity Photos Of The Week:
PHOTO GALLERY
Celebrity News & Photos
BEFORE YOU GO