Got a success story of your own? Send it to us at success.stories@huffingtonpost.com and you could be featured on the site!
Name: Aaron Detweiler
Age: 26
Height: 5'11"
Before Weight: 263 pounds
How I Gained It: In my early 20s I was in really good shape, but after I started working full time I lost all ambition for working out. I would eat fast food almost daily for lunch, and even had more days than I wish to count where I had it for lunch and dinner. I work in an office, so on top of my horrible eating habits, I was in a chair eight hours a day and after work would just go home and eat dinner and watch TV. The scale slowly climbed -- first to 220 then 240, and I kept telling myself I wouldn't get heavier than that. In June of 2010, after a vacation to Texas, I got home and the scale read 263.

Breaking Point: After a few months of telling myself I was going to lose all the weight every Monday only to be back to my old habits by Tuesday, I got to the point where it all clicked one week in November of 2010, and I haven't looked back.

How I Lost It: The first few months were just eating healthy and completely eliminating fast food and snacking at night. I dropped around 30 pounds in six weeks by just doing these simple things. The first week was really difficult, but after I developed my new eating routine it never even fazed me.
During the week, my dinners are either chicken or fish with rice or pasta and a lot of raw veggies. On the weekends, I will loosen up a little with what I eat, but I try not to overdo it on portions if I do eat something unhealthy. Usually lunch is either a tuna sandwich or a leftover chicken breast and veggies from the night before. I always eat breakfast, either eggs or oatmeal, and I hardly ever snack between meals. I found hrough logging food on myfitnesspal that just a handful of snacks here and there throughout the day can easily add up to 300 to 400 calories, and you don't even know it.
Once I began to see my body changing it kept the fire alive and pushed me even harder. After the first few months I began lifting weights and running, which sped up my weight loss. I was down to 210 pounds by March of 2011. I have slowly been losing the last 20 pounds by working out five days a week, running and lifting. I started the process wanting to get to 200 pounds, and when I got there, I wasn't satisfied. Now I want to get in the best shape of my life.

Now, I have 20 times the energy I used to have. At my heaviest just playing nine holes of golf, even with a cart, would make me tired for the rest of the day. I can run around all day and rarely get tired. I'm so thankful I finally committed to doing this now, because I was going down an unhealthy path that could have led anywhere. I've completely rebooted everything I knew about eating and will carry these principles with me for the rest of my life. When I think back to how I used to eat and how lazy I was, I still get mad at myself, but I am thankful I was given the strength to correct it and start over before it was too late.

After Weight: 188 pounds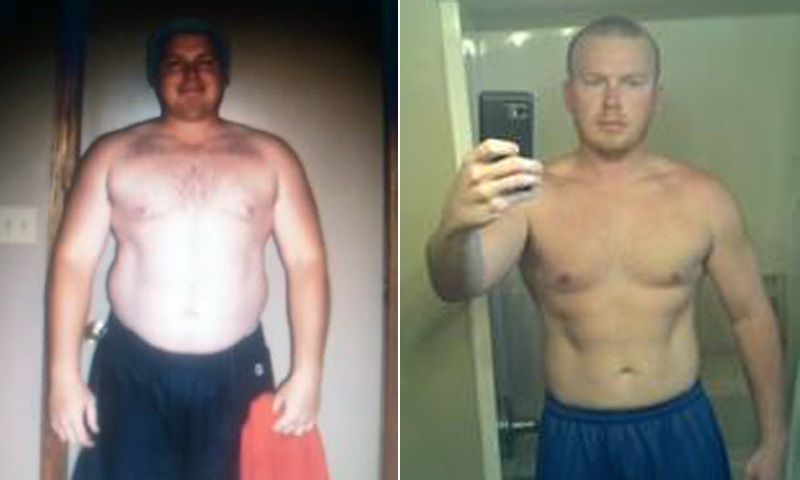 Check out more of our inspiring weight loss stories below:
PHOTO GALLERY
Weight Loss Success Stories
For more on weight loss, click here.