Try as we might to get back into the swing of things after our holiday weekend, we're a little distracted this morning. By our sunburns, sure, but mostly by the new David Beckham Elle UK cover.
Elle UK teased us with a preview video earlier this month -- where we first learned a swimming pool and a dripping wet Becks would be involved -- and finally, we have the real deal.
There are actually two different covers for the magazine's July 2012 issue: the one sent out to subscribers features the hunky soccer player shucking his shirt and stepping out of a pool in dark jeans and not much else. A tamer one, which will hit newsstands, features a more casual, t-shirted Becks.
We'll pore over the actual interview when we get the mag, but for now, we'll settle for this Becks quote: "How would I sum myself up? I don't know, I prefer other people to do that... erm... a little bit shy."
While David's wife Victoria covered the magazine back in 2005, this is Elle UK's first ever solo male cover -- and we have to say, it's an excellent choice.
Check out the newsstand cover below -- we've been studying it very closely all morning ourselves. You know, in the name of journalism.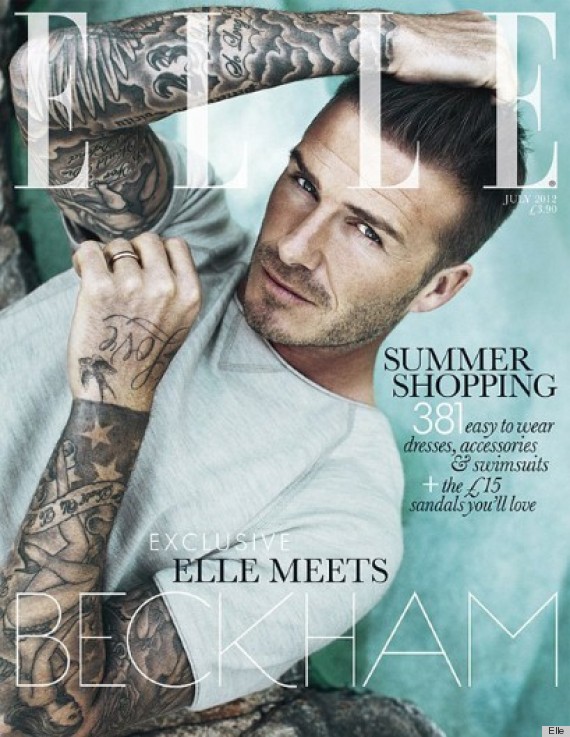 See some of Becks' sillier looks below!
PHOTO GALLERY
David Beckham's Silliest Looks
Want more? Be sure to check out HuffPost Style on Twitter, Facebook, Tumblr and Pinterest.
BEFORE YOU GO