While today the word "hell" is often used in situations involving long lines and a lack of caffeine, in the Middle Ages hell was darker, hotter and had a lot more pits. A new exhibition at The Getty Center in Los Angeles, "Heaven, Hell and Dying Well: Images of Death in the Middle Ages," depicts the rewards and punishments of the world beyond in a collection of artworks and manuscripts.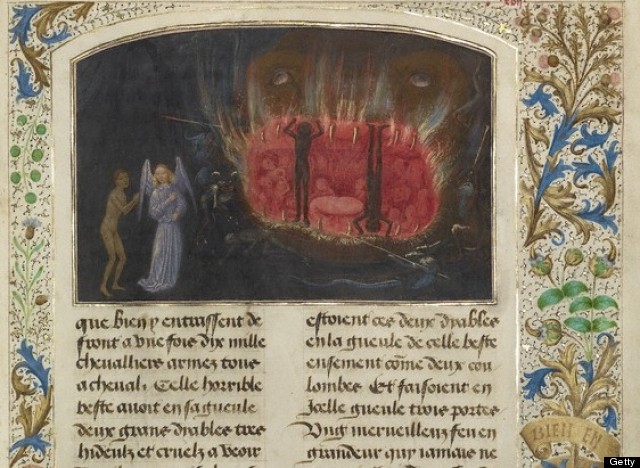 The exhibition features a collection drawn both from the Getty's permanent collection and several new acquisitions, made up of remarkable imagery from illuminated manuscripts, stained glass, printed books and paintings. Skulls, angels, gruesome demons and lost corpses are rendered in incredible detail, rendering a convincing view of damnation. In one piece, titled, "The Beast Acheron," a giant, open-mouthed monster holding lost souls in its maw resembles something in Hieronymus Bosch's vision of hell. There is also an early form of Os Gemeos' street art monster-men in there as well, don't you think? If you're in LA, take the rare opportunity to see the roots of Western morality and Western art in one place. But, be warned: While hellfire is makes for great artwork it makes for horrible nightmares.
"Heaven, Hell And Dying Well: Images Of Death In The Middle Ages" is on view at The Getty Center in Los Angeles from May 29 until August 12.
PHOTO GALLERY
Heaven and Hell
BEFORE YOU GO