We know how Jamie Lynn Spears spent Memorial Day -- she soaked up the sun poolside.
The former "Zoey 101" star posted some adorable photos of herself and and daughter Maddie Briann Aldridge spending the day splashing around in bikinis, along with the hashtags #poolside, #littlemoments and #littlegirls.
The 21-year-old has largely stayed out of the spotlight since getting pregnant at the age of 16, but recently gave a rare interview with Glamour about her life as a teenage, and now single, mom.
"I was 16. I'd had one boyfriend. It doesn't make it perfect or all right. But I was judged for something that probably most everyone does. I was young. I was in love. I was like every other teenager, except I had this last name," she told the magazine in February.
That last name, of course, is one shared by her older sister, Britney Spears, who was dealing with some serious issues of her own at the time of Jamie Lynn's pregnancy.
"I wasn't trying to glamorize teen pregnancy," the former Nickelodeon star said of her decision to talk to OK! magazine about her situation at the time. "I hated when [the tabloids] said that. Everybody is dealt a hand of cards. It was my choice to play them the way I played them."
Spears gave birth to Maddie in 2008 and largely faded from the headlines, but today she's living in Nashville, Tenn., and hoping to jump-start her music career. In fact, Spears took the stage for the first time in November to showcase her talent.
"The last time anyone heard anything of me, I was 16 and pregnant," she said. "All I can do is be my best -- there will always be people who will never like me ... I was a kid who did a kid show. Then I went away and raised my child, and the world has never met me as an adult."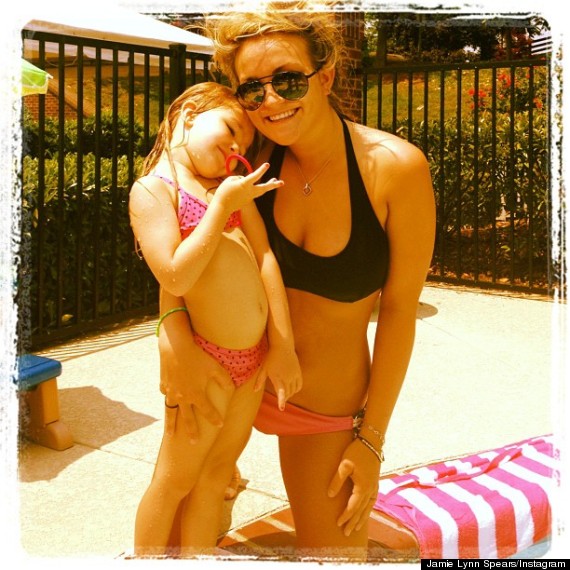 More celebs in bikinis:
PHOTO GALLERY
Celebrities Hit The Beach & Pool
BEFORE YOU GO