Food Informants is a week-in-the-life series profiling fascinating people in the food world. We hope it will give you a first-hand look at the many different corners of the food industry. Know someone who would make a great Food Informant? Tell us why.
Melissa Cookston is a three-time World Champion BBQ Pitmaster, the only female to have won the prestigious Memphis in May (MIM) World Championship BBQ Cooking Contest. She owns and operates the Memphis Barbecue Company, a restaurant in Horn Lake, Mississippi serving her and her partners' World Championship BBQ. She is a sought-after expert in the world of grilling and barbecueing. She spends her time competing in BBQ Contests, operating the restaurant, and spreading the gospel of Memphis-style barbecue.
Sunday, May 13
I am totally stressed about this week. We own a 300-seat restaurant, Memphis Barbecue Company in Horn Lake, Mississippi -- and today is Mother's Day, one of the busiest days of the year. I am torn in that I need to be working on my Memphis in May booth, but REALLY NEED to be at the restaurant. Duty calls, so MIM will have to wait a day.
8am -8pm: We are opening at 10am for the Mother's Day crowds. Pete, my husband, will be overseeing the kitchen and I will run the floor. Mother's Day is filled with large parties, and we are full and on a wait from 10:30am until around 7:30pm.
8:00pm: Finally slowing down a little. Pete, my daughter Lauren and I sit down to get a bite to eat after a long, tiring day. So tired I'm not even hungry. I order a ribeye anyway. We use a high choice grade ribeye, and hand cut them daily. It's delicious, but I only eat a few bites.
10pm: We close for the day. It's a record sales day for a Sunday! Woo hoo! Ever since we opened the restaurant in December we have been amazed at how well the community has supported us. It truly is an amazing feeling.
Monday, May 14
6am: No rest for the weary. Pete heads to the restaurant to get a few things done while I get Lauren off to school and head that way as well. Why isn't there a Starbucks in Hernando? Starbucks, are you reading this?
7am: Finally get to Starbucks in Southaven, Mississipp. Venti White Mocha. Nectar of the Gods.
7:30am: At the restaurant finally. Go over staffing for the day and then work on getting our BBQ trailer loaded up. We just purchased a 24-foot cargo trailer with a 12 foot "porch" for our grills. Maybe this is a good time to explain that the Memphis in May World Barbecue Cooking Contest ain't no backyard barbecue! 254 teams compete in three main divisions: Ribs, Shoulders and Whole Hog. MIM is an all pork contest and literally tons of pork will be cooked during the week. It is held on the banks of the Mississippi River and is the biggest event in the area and is one of the four biggest contests in the country. However, loading in and loading out are a little frustrating due to the sheer numbers of people and teams. Many teams basically build small houses. Others, like us, bring a trailer and have a rented tent and flooring put up around it.
9am: We head to the site and drop our trailer off. We are cooking in the Whole Hog division, which is in the center of the park near the main tent. That's a good thing! The main tent is where we will turn in our "Blind Box" -- a sample of meat in an unmarked to-go box (so the judges won't know from which team it came).
11:00am: Get the rental company to start setting up the area with flooring and our main tent. Our partner in the restaurant, John Wheeler, is also entering the contest. He's entered into the Ribs division (at MIM, you may only enter one main category). We start dropping supplies off at his area as well.
4:00pm: Head back to the restaurant. Doesn't look like we got a lot done.
5:00pm: Have a group of 200 people come to the restaurant. Not a bad way to get started for Monday Dinner! We are on a wait through most of the night due to the group -- good problems for a restaurant owner.
9:00pm: Finally getting done for the day. We grab a quick bite -- I am in love with brisket, so I have a brisket sandwich. Pete and Lauren grab a couple of pulled pork sandwiches -- everything "Memphis Style" (Memphis style means pork or brisket cooked until it's tender, pork is hand pulled instead of chopped). I always think when someone chops BBQ that they are either chopping up all the fat into the meat or they didn't cook it properly so they have to chop it -- sometimes it's both reasons. Memphis style always gets some creamy cole slaw on top. Why the rest of the country doesn't understand this is perfect BBQ is beyond me, I guess I'll have to keep spreading the word!
Tuesday, May 15
Pretty much more of the same today. We run around like chickens with our heads cut off -- taking supplies to the contest, taking Lauren to school and picking her up, running errands and working at the restaurant. Tuesday is kind of the calm before the storm.
4pm: Pick up our friend Shelly Hunt at the airport. She owns Desperado's Barbecue in Buffalo, New York. She is staying with us for the week to help out and check out the scene. We go to dinner at the restaurant to show her what we have -- we order her a Baby Back Rib Combo with pulled pork, brisket, with stone ground grits and turnip greens. Cheese fritters and BBQ shrimp for an appetizer.
Wednesday, May 16
9am: Have already gotten Lauren to school and picked up my Starbucks. Thank goodness. Today really starts the contest in our eyes. Whenever we do a contest, we always make our sauces, rubs and injections on the Wednesday of the week of the contest. BBQ sauce is like a soup or stew -- it needs a couple of days to let all the flavors meld together. On tap today: 4 different sauces, our BBQ rub, our injection and a glaze. MIM also has several ancillary contests on Friday (fun contests that don't count for the overall championship). I have to also get the items for those contests and make the recipes for them as well.
I always start by making our BBQ rub. This is our main seasoning for the Whole Hog as well as our sauce. Great Memphis-style BBQ is defined by how well the sauce complements the meat -- I don't want the flavors to clash, so we use our seasoning blend as a major flavor component of the sauce.
3:00pm: Most of the sauces are done. Finishing up a pineapple chipotle glaze that I will use on my ancillaries.
3:30pm: Head to Fresh Market in Memphis to pick up some supplies. Hoping they have King Salmon in stock but they don't. Grab some Sea Bass and some Atlantic Salmon. Also pick up some nice racks of lamb as well as some free range chicken for John to cook.
5:00pm: Dinner at Ciao Bella in Memphis. We always try to eat at locally owned restaurants -- food quality is much better and we know the struggles a local owner can go through competing with the chains. Nice dinner.
7:00pm: Back to the restaurant to start getting organized for tomorrow. Our Whole Hogs get delivered around 7:30. We get our hogs from Newman Farms out of Missouri -- they are one of the best. Our hogs are Berkshire free range pigs. We are cooking two for the contest -- one is 216 pounds dressed weight and one is 186 pounds. Beautiful. Pete and I start trimming them. We cook a "running-style" hog (the belly of the hog is down) whereas most people cook theirs belly-up. We think ours is better, but this is the time to see!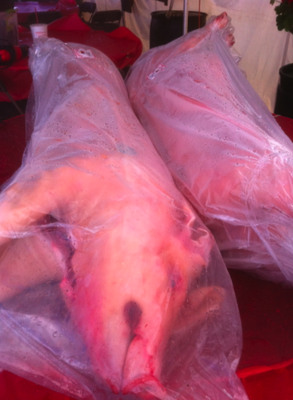 8:30pm: "Famous Dave" comes in for dinner with his cooking team. Very nice group. Later, 3 time World Champion Mike Mills comes in with his daughter Amy. It never gets old seeing friends.
9:30pm: Finally finishing up. Time to go home.
Thursday May 17
7:00am: Dash to the restaurant and load the catering van up with water bottles, coolers, plants and other supplies. You can only get into the park before 8:30 this morning, so we have to hustle.
8:30am: Get the van parked and head back to the site. Put down carpet and start doing the detail work in the booth. Set up small tents for a "kitchen" area and store our supplies. Like most teams, we have a catering job tonight for one of our sponsors. We are also doing the "VIPit tour" for Memphis in May -- where people get to go through some Championship teams, get a bite to eat and get an inside view of the event. If you ever plan to go to MIM, I highly recommend you get a ticket for this tour.
3:00pm: Start setting up buffet line. Tonight we are serving pulled pork, cole slaw, BBQ beans, BBQ spaghetti (think regular spaghetti with BBQ sauce and pulled pork instead of spaghetti sauce and ground beef) and fresh made banana pudding. Nothing cools you down on a hot day like banana pudding.
4:00pm: The first of the VIPit tours shows up. I give a quick 10 minute speech about our team, Memphis in May, and then answer a few questions and let them eat. These people are usually attentive and inquisitive which is much better than speaking to a group of people that don't want to be there!
9:00pm: Wrapping up the buffet and cleaning up. Other than a bite of banana pudding I have forgotten to eat today, need to fix that tomorrow. Our friend Damon Wooley arrives with his brother Jay and father Johnny. Damon came to one of our BBQ Cooking Schools last year and wanted to come see MIM. No problem, but we will work you to death while you are visiting!
Friday, May 18
Big Day -- this is the make it or break it day.
8:00am: Get down to the park at 8:00 to deliver our hogs and the meat we will be cooking for the ancillary contests.
8:30am: Get the hogs inspected. Every sample of meat has to be checked in by a MIM representative to make sure you haven't marinated or pre-seasoned it. After check in we ice the hogs down to keep them cold. Start working on setting up for the day.
11:00am: Time to get the big hog ready! We've already trimmed it so we just inject it and season it. We get the fire started -- we are starting the 216 pound hog at noon. Helpful hint for MIM -- Get your meat done! It's awfully easy to get caught up in the spectacle down here and forget about the main reason you are cooking. After we get "Sam" on, we start prepping our ancillary events. We trim and season our lamb racks and put them in a smoker at 1pm.
2:00pm: "Dave" goes on the grill. Get it, "Sam and Dave?" Meanwhile we have almost no time to finish our ancillaries. We are lightly breading our salmon and sea bass and searing it in sesame oil, then putting a light coat of the chipotle glaze on it. It tastes great, but there are 102 entries in seafood, so who knows. The lamb chops get a quick sear on a grill to get them to a perfect medium rare, then glazed and go in to their box as well.
4:00pm: One of the great things about MIM is all the great cooks that come by -- I've already seen my friends Johnny Trigg, Tuffy Stone and Pat Burke. With cooks like these competing against you, you know it's going to be a tough weekend!
10pm: IT'S VERY LOUD HERE!!! Sandwiched between 2 party teams blaring music is no fun. Pete is staying here all night to watch the hogs, so I'm going to try and sleep for a little bit.
Saturday, May 19
6:00am: Sleep doesn't come easy. It's D-day. I'm ready to get cooking!
7:00am: Arrive downtown with Starbucks and breakfast for Pete. The hogs are coming right along! That is always a good thing at a contest. Spend the next 3 hours getting the booth ready. Judges expect an immaculate booth at MIM, and we will do our best to make sure it's ready. Set up our judging table as well with plates, napkins, finger bowls, etc. No silverware though -- if you want to properly judge competition BBQ you have to feel the texture. I am a firm believer in perfect texture makes perfect BBQ.
11:00am: We start glazing our hog. Not the prettiest hog we've ever cooked, but the textures look perfect.
11:30am: We start pulling samples for our blind box. Pete pulls the samples and I go through them and build the box. The meat has a deep, rich flavor. Awesome. After arranging the box we turn it in at noon. Fingers crossed.
12:15pm: Our first on-site judge shows up. Each on-site judge gets samples from the ham, shoulder, loin and some bacon (you've never lived until you've eaten bacon from a properly cooked whole hog). The next hour is a blur of judges, cleaning between judges, and having to act as cool as a cucumber while your stomach is in knots.
1:15pm: On-site judging is over. We have a superstition that until the finals are announced we can do no work -- don't pick up anything, don't move anything, nothing. Tough waiting.
2:05pm: A golf cart stops in front of our booth. WE MADE FINALS!!!! At MIM the top three scoring teams in each category go through another round of judging called finals where all 9 teams are visited by the same 4 judges. It is an absolute honor to make it to the finals. Shelly, Lauren and I run around setting up the booth while Pete and Damon get the hogs prepped for judging. For finals, they decide to go with "Dave," the smaller of the hogs but one we didn't use for preliminaries.
3:25pm: A crowd has assembled in front of the booth as the final judges arrive. Pete shows them the cookers and the hog, then I take them to the table and talk about our sauces and seasonings while he pulls some samples.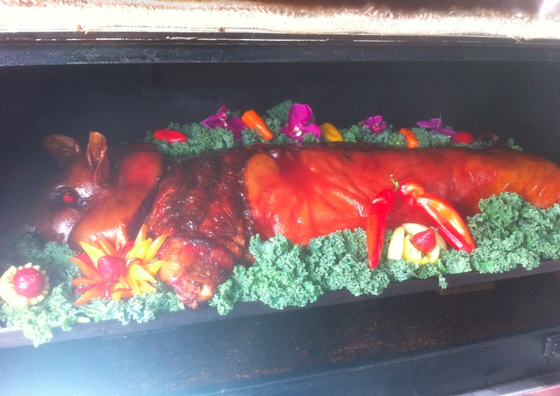 3:31pm: Pete brings over the samples and we start presenting them to the judges. They look incredible -- very moist, beautifully colored with smoke and spices, and the texture is perfect.
3:40pm: We wrap up our presentation. I never feel confident at a BBQ contest, but I know we couldn't have done any better. It's in the hands of the BBQ judges now.
3:42pm: Our partner John gets a golf cart too -- he finaled in Ribs! Unbelievable!
6:30pm: Awards start. The stress, heat and noise have given me a migraine and I am barely able to stay there. My stomach is screaming as I have forgotten to eat again today. Fingers crossed.
7:00pm: Whole Hog awards announced. I don't get really nervous until they announce 4th place -- I know we are at least a top 3 team. Please call our name last!
7:10pm: HOLY COW WE WIN OUR THIRD WORLD CHAMPIONSHIP IN WHOLE HOG!!!!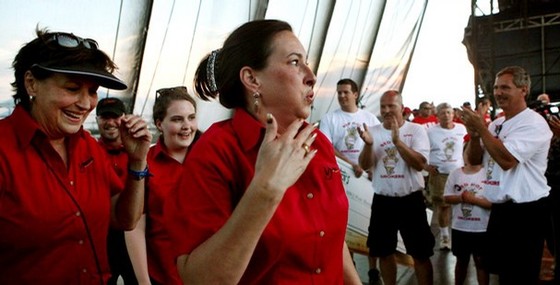 7:15pm: The nervousness gets even greater now as they announce Rib awards. JOHN WINS RIBS!!! This is absolutely incredible. Only one award left.
7:25pm: After a misdirection backstage we finally get to our place. It's now down to us, Red Hot Smoker, who won the Shoulder Division, and our partner John Wheeler in the Ribs.
7:27pm: And the Grand Champion of the 2012 Memphis in May World Barbecue Cooking Contest is.............YAZOO'S DELTA Q!!!!!!! We won our second MIM in 3 years! I can't even make a speech. It truly is incredible!
8:30pm: The migraine has caught up with me and I leave the park. Clean up will have to wait until tomorrow. We are truly humbled that our little family team has managed to pull this off again. This whole week has been a blur -- but a very, very happy blur.
See more Food Informants below:
PHOTO GALLERY
Food Informants