by Erik R. Trinidad
As if fast food wasn't fast enough, now comes Taco Bell's latest creation: the Beefy Nacho Burrito, which is marketed as "nachos wrapped up and ready to go." I guess it's targeted for fast foodies who are in a rush -- or simply just too impatient -- to sit down and eat any of the varieties of nachos that Taco Bell has already been serving for years. This new creation aims to give you the nacho-eating experience -- complete with the crunch of tortilla chips, all smothered in cheese -- conveniently wrapped in a soft tortilla. Here's how it rates: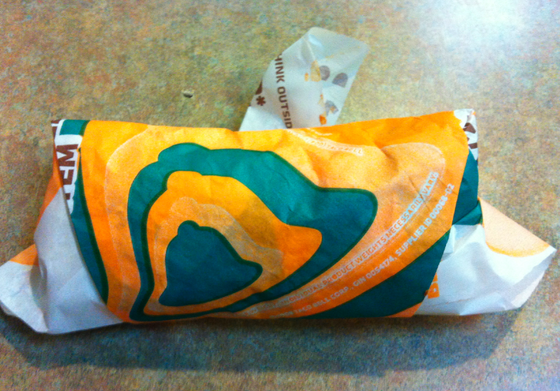 The Claims: TacoBell.com describes the Beefy Nacho Burrito as having "crunchy nacho chips, covered in warm nacho cheese sauce, delicious 100% real seasoned beef, and cool reduced-fat sour cream, all wrapped up in a warm flour tortilla for maximum portability." Calories: 470.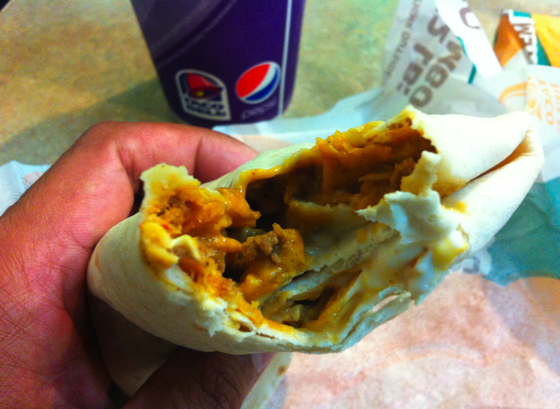 The Analysis: Portability seems to be the key selling point for this nachos-on-the-go burrito, and it's puzzling how this item came to be when you analyze its insides. First of all, there's the "crunchy nacho chips," which Taco Bell's PR people label as "Queso Strips." Anyone can see that these crunchy corn chips inside are pretty much Fritos; they have the same size, shape and texture. Why they don't exactly call them Fritos for the added brand recognition, I'm not sure -- they already have a partnership with Frito-Lay for the Doritos Locos Tacos.
Obviously using Frito-like corn chips was the way to go, especially for the portability factor, but the burrito lacks enough of them. If you're billing this burrito as nachos-on-the-go, there should be a lot of nacho chips in it. Granted, there's enough for each bite to have a crunch, which is probably what the company was going for, but it's not a mouthful (like when eating real nachos). Instead, what fills the rest of your mouth is a gooey blend of the generic taco meat, processed cheese sauce and sour cream, that all meld into a salty and slightly sweet goop -- the collective toppings or "dip" of the nachos, if you will. If we were to compare eating the Beefy Nacho Burrito to an actual nacho-eating experience, it's like eating a little nacho chip with five times the amount of dip that you would normally put on it. It's very unbalanced; there's more dip than chip, and lacks a real texture.
The Final Verdict: C. If you're not a fan of Taco Bell, you're not going to get the Beefy Nacho Burrito (or anything else on the menu). However, if you are, and you know what to expect from Taco Bell, stick to something you like. This hybrid of a burrito and a box of nachos is neither, and therefore fails to have a real distinct identity -- if it's possible for a Taco Bell menu item to have such a thing. If you're in the mood for nachos -- and have the time to sit down -- get the nachos; you get a lot more chips, and many more toppings. If you're on the go, it wouldn't hurt you to just get a more filling burrito; nachos weren't meant to be portable to begin with.