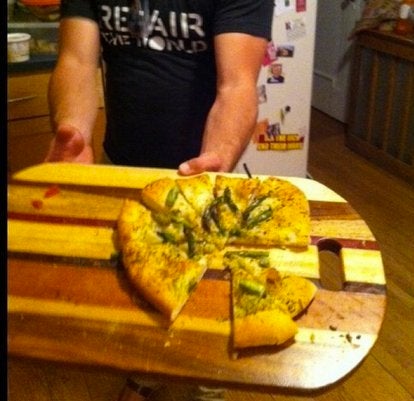 WASHINGTON -- To an outsider, a Feastly meal looks a lot like a dinner party you pay to attend, where you don't know anyone.
Co-founder Noah Karesh puts it a little differently. "Feastly leverages the best of technology to build real bread-breaking community using three simple ingredients: delicious food, an inviting home environment and good people."
The business, in short, connects chefs who want to charge for a meal with willing eaters. The meals are served most often communally in a person's home. The homes have all been in the D.C. area since Feastly started in January -- they've organized about 40 meals so far, serving some 500 people.
And if things go as planned, the business will soon expand to New York.
"This summer," says Karesh. After that, Karesh and co-founder Danny Harris want to expand to San Francisco. After that? "The plan is to be in every city in the world," Karesh says.
Karesh hatched the idea for Feastly when he was in Guatemala with his girlfriend, and couldn't find the sort of welcoming Guatemalan meal he was looking for. He's now hoping Feastly will be a "canvas for food experiences" for travelers -- also people who want "a little adventure in your own backyard."
The chefs are "micro-entrepreneurs," says Karesh. They decide what to cook and how much to charge for the meals. Meals have ranged from about $25 to $75 so far, of which the chefs keep 85 percent to 90 percent of the money brought in. Feastly provides the "technology platform" -- like the website -- and a vetting process to make sure "the quality of the food they're making is up to par."
Many of the meals have had an educational component -- diners learned how to make Korean barbecue at one; at another they picked then cooked food from a D.C. urban farm. An upcoming meal has a chef creating dishes inspired by a famous Giuseppe Arcimboldo painting showing a woman's head made out of spring plants. (The menu includes "soup of nettles and chicory, poached egg, shaved pecorino," among other delicacies.)
On one recent evening, it's $35 for homemade pasta -- plus a pasta-making workshop -- in the bicycle-filled Mount Pleasant house of chef Grace Lichaa, who will appear on a Food network cooking show in the fall, though she won't reveal which one, and who is helping Feastly find and vet more D.C. chefs.
The group of 15 or so diners -- one Virginia couple who have been in another eating group for 18 years, some law students and media people in their 20s and 30s -- sit around the table drinking wine, eating Lichaa's flatbreads and salad, the homemade pasta and a shortbread dessert for more than four hours. During this time the conversation moves from the wisdom of overturning the Supreme Court's Citizens United decision, to the ups and downs of living in small towns in Hawaii, to how rare it is for an eating group to go on for 18 years, then, inevitably, to how going to law school is a mistake.
At the end of the meal, Danny Harris stands up and thanks the guests for coming. "People arrive, they don't know each other," he says, holding up his glass and making an uncharitable comment or two about a certain ubiquitous website. "The table is the ultimate social network."
"And now you know how to make pasta," says Lichaa.
A few days after the meal, Karesh explains that his intentions go beyond mere expansion. He sees Feastly coming full circle.
"My girlfriend and I will return to Guatemala and attend a Feastly dinner at some point in the near future," he says. "We have already identified the chef!"
And here's Lichaa's pasta recipe: Put two cups of flour in a bowl, with 1.5 teaspoons of salt. Make a divet in the mixture, and put in three eggs, along with one tablespoon of olive oil and one tablespoon of water. Knead the pasta, roll it out, slice it in the pasta-maker, then boil. It's helpful if Grace Lichaa is there to do most of these steps for you.