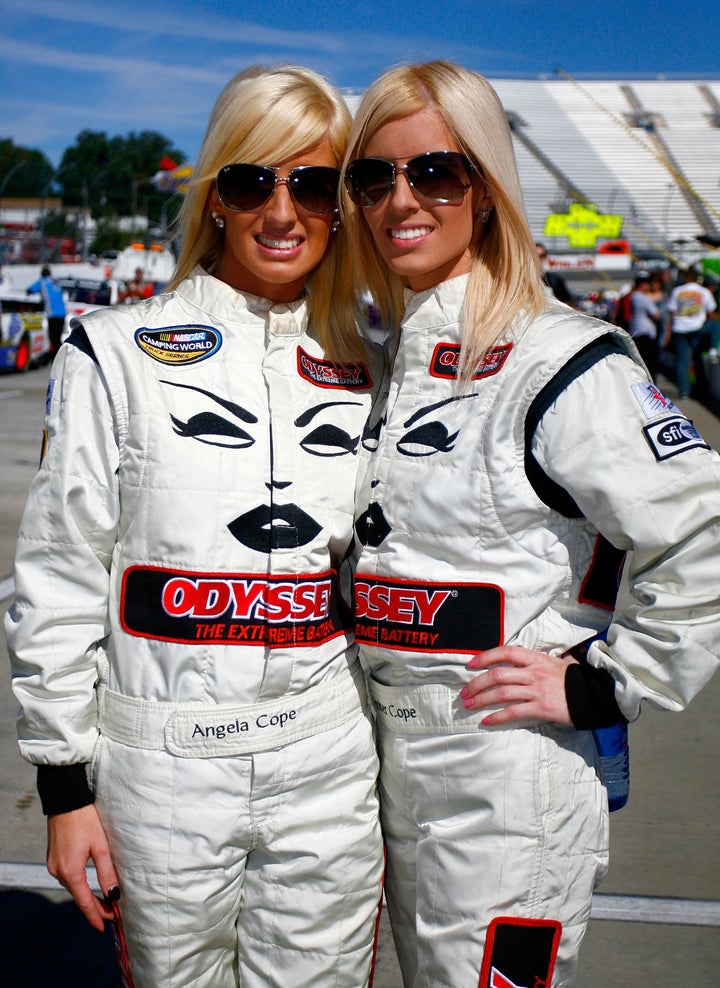 NASCAR racers Angela and Amber Cope may come from a long line of drivers (their grandfather Donald, father Darren and uncle Derrike all were professional racers), but the blonde twins still had to prove themselves. Amber explains the racing industry's initial response to their Barbie looks, "When we first got started it was always tough for people to get it, but now I think it's different because we've earned that respect of the male drivers in the garage and they know we can drive."
Now that they've come a long way since receiving Go-Karts for Christmas at age 9, the Cope twins can be themselves, which was the most important thing all along. "There were some times when our uncle Derrike would be like 'Hey, tone down your hair.'" Angela explains, "And the whole thing is, this goes for anyone when you have a dream, you don't have to change who you are to get people to believe in you or to be successful in a male-dominated sport. You can look pretty and do all of this!" While the girls never succumbed to Derrike's request, they are proud of their choice, and so is he. "We didn't want to change our look and our appearance like our uncle wanted us to," Angela continues, "At the time he thought it would help [to get sponsorships] and that the blonde hair was negative towards their vision. But that's who we are! There are going to be sponsors out there who like Amber and I." And thus, being the hot blonde twin NASCAR drivers became their schtick.
Instead of earning contracts with "oil or gasoline companies," the Cope sisters have landed spreads in Maxim magazine and campaigns with shoe companies Luichiny (see a slideshow of them modeling for the company below). They do, however, have their sights set on even larger prizes. "We want it all," Angela says, "We want a clothing line at Walmart, we want a nail polish line."
All is possible if the twin sisters follow the model set by another famous set of siblings: "We love the Kardashians," Angela says. "I know it's stupid, but the whole empire they built..." Amber continues where Angela left off, "We love how hard those women work to have what they have."
The Kardashians would probably say the same of the Cope sisters, who give male NASCAR drivers a run for their money on the tracks. And it isn't easy. "The heat in the car is 115 degrees," Amber explains, "We're already tiny, so we have to drink a lot of pedialyte and follow this specific fitness regime. It's all upper body strength and endurance stuff."
All of this doesn't mean the girls aren't still, well, girly. "We love spray tans," Angela confesses, "I know it sounds kind of crazy, but we own a spray machine to get a nice bronze glow all year round." Amber admits they still tan, despite more than one embarrassing moment, "This is so dumb, once time I spray tanned before a race and I didn't shower and I sweated the whole thing off on my car. It was so bad, I told a fan I would never do it again." But that didn't stop them. "We did an interview with Adam Carolla," Angela says, "and I was wearing a white dress. I was so hot, and whenever I get nervous -- I know this is gross -- but I sweat. I sweated the tan off onto that white dress."
Beauty malfunctions aside, the girls work hard to maintain their fairly high-maintenance, Barbie-esque looks. "We are constantly doing each others hair, using straighteners and products to stop hair from being so dry," Amber explains. Although the girls are often traveling for weeks at a time, they do have certain products they rely on. "We swear by Morrocanoil," Amber says.
Angela elaborates on their routine, "I can't even walk out the door without, even to go to the race track, without my MAC lip gloss. It's our favorite."
Liking the same products isn't where the similarities end. Not only did the twins dress alike as kids, but "we still do!" Angela exclaims. "We showed up to the mall in the exact same outfit head-to-toe. We do it all the time. It's just because we have such good taste."
Want more? Take a peek in our gallery below for more photos of the Cope twins modeling shoes together and be sure to check out Stylelist on Twitter, Facebook, Tumblr and Pinterest.
PHOTO GALLERY
Amber and Angela Cope