What's Google planning to announce next week?
The company on Friday sent out invitations to a June 6 media event that will focus on "the next dimension of Google Maps." The invite features a beautiful Google Earth-like rendering of a coastline and a curved horizon line, apparently from a low-orbit perspective.
Check out the invite (below), courtesy of TheNextWeb: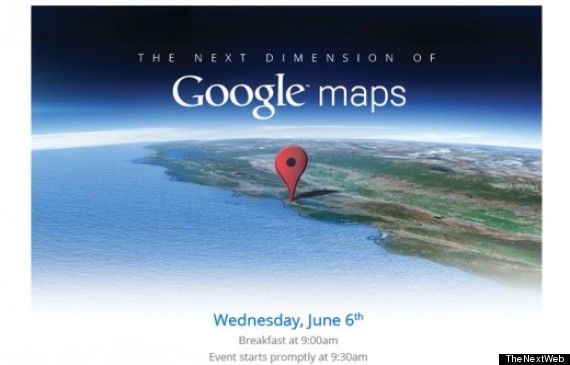 Consensus seems to be that the Google Maps team will use this event to launch some fancy new 3D features.
The timing of Google's event couldn't be better: Apple is rumored to be ditching support for Google Maps on the iOS platform in favor of a mapping app of its own, which may also feature a 3D viewing mode. It's also likely that Apple will debut the new maps at its Worldwide Developer's Conference, set to kick off on June 11.
Why would Apple dump Google Maps? One reason may be Google's decision in March to require services generating more than 25,000 map loads a day to be charged for every additional 1,000 loads. At that rate, charges could rack up quickly for companies accustomed to using the service for free.
Wikipedia and FourSquare jumped ship after Google announced its new policy for Maps customers; both switched to OpenStreetMaps, which offers a similar service without any additional charges. Apple also began offering support for OpenStreetMaps when it launched iPhoto for iOS in March.
Join us on June 6 at 9 a.m. to see what Google will unleash. (And check back with us on June 11 to see if Apple announces a maps app of its own.)
BEFORE YOU GO
Browse the following gallery to see some of the craziest Google Maps sightings:
PHOTO GALLERY
Craziest Google Map Sightings