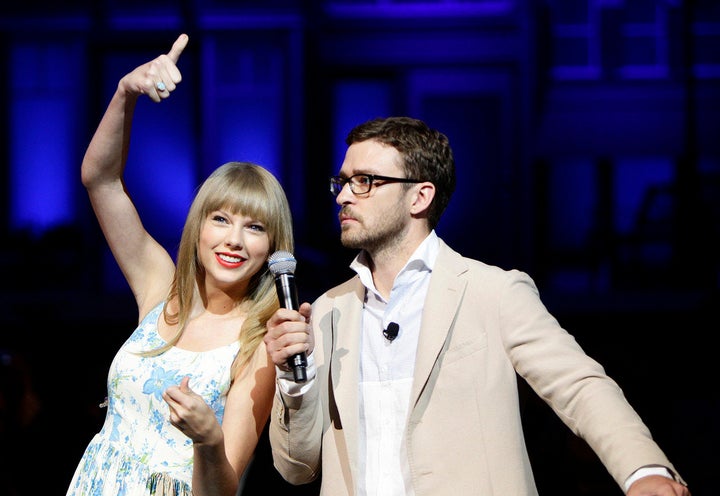 FAYETTEVILLE, Ark. -- What do Taylor Swift and Bill Clinton have in common?
It's not the folksy accents, though, perhaps those helped them score the gig. On Friday at Walmart's annual shareholders meeting, the singer and the politician both gushed with praise for the company. In front of a crowd of 14,000 workers and investors in the University of Arkansas' Bud Walton Arena, Swift performed songs on a glittery silver guitar and talked about shopping for candy at her local Walmart in Nashville, Tenn.
In a prerecorded video that played on a screen on the stage, Clinton praised Walmart's sustainability efforts, which he said would have made company founder Sam Walton proud. Lionel Richie, Juanes, the Zac Brown Band and Celine Dion also performed in person.
Friday's four-hour meeting -- which began at 7 a.m. -- culminated a week-long party thrown by Walmart for its workers or "associates." Each year, Walmart flies in an associate from each of its stores -- about 5,000 people in total -- to the area surrounding its Bentonville, Ark., headquarters. All the Walmart associates who attended are also shareholders owning stock, mostly through the company's 401(k) plan.
A few critics of Walmart also showed up at Friday's meeting, which was the last opportunity for shareholders to vote on a slate of candidates for the company's board of directors as well as three shareholder and two company proposals.
Jackie Goebel, 60 of Kenosha, Wis., a Walmart associate for 24 years, who helped draft a shareholder proposal that would have required the company to issue a report on executive incentive compensation plans, criticized Walmart's treatment of workers during her speech. "Our stores are understaffed," said Goebel, who is also a member of labor organization OUR Walmart. "We can't provide the type of service that Sam Walton built the company on."
Though Goebel's proposal received applause, hers and two other proposals by shareholders were voted down as Walmart observers had expected. With the Walton family owning almost half of the company's stock, any other outcome would have been highly unlikely. Shareholders elected all 16 board members recommended by Walmart.
While Walmart's financial performance has been strong -- as of Friday afternoon, its share price was roughly 5 percent higher than before the scandal hit -- some investors are concerned about ethics. Three of the largest pension funds in the United States voted against reappointing members of Walmart's board, including CEO Mike Duke, former CEO Lee Scott and Chairman Rob Walton. The funds, CalPERS, CalSTRS and the New York City Pension Funds, claim that these board members played a role in suppressing Walmart's internal investigation of the bribery in Mexico.
"CalSTRS does not have confidence that the current board has the independence and leadership needed to address these difficult issues," according to a May 22 release from the fund. A few days earlier, in a May 19 report, ISS, one of the largest proxy advisory firms in the United States, also criticized Walmart executives Duke and Scott for "a staggering lack of judgment" in their decisions to have Walmart's internal investigation of the alleged bribery run by officials implicated.
At the shareholders meeting, Duke and other executives responded to critics. "Walmart is committed to compliance and integrity everywhere we operate," Duke said. "I want to personally assure you that we're doing everything we can to get to the bottom of this matter."
"If you work for Walmart, there is no gray area between right and wrong," he said. "It's either the right thing to do or it shouldn't be done at all. This is my standard. It was Sam Walton's standard."
Sam Walton was the name mentioned most often during the meeting, by both Walmart insiders and critics. Since his death in 1992, Walmart's founder, "Mr. Sam," has become a kind of deity at the company's annual meetings. At the start of Friday's event, the Walmart chairman, Rob Walton, and his siblings, Alice and Jim, told stories about their father and what it was like to clean floors and dust china in his first store in Bentonville.
Black-and-white photos of and newspaper clippings about Walton flanked the stage. Between musical acts, a central screen displayed a collage of Walton's face composed of tiny individual photos of Walmart workers.
Justin Timberlake, the host of the event, also referenced Walton: The actor-singer first walked on stage wearing a Hawaiian grass skirt, something Walton once did when visiting Wall Street. "I finally understand the Walmart way," Timberlake said at the meeting's close. "It's not just associates. You are a family."
But the feud among members of the "family" is far from over. At a shareholders Q&A following the meeting, members of labor group OUR Walmart presented executives with a petition calling for the resignation of Duke and Walton. Some 17,000 people had signed the petition, the group said.
While her proposal didn't pass, Goebel considered the shareholders meeting a success. "After the meeting I went outside and it was amazing. Walmart associates approached me and said, 'You're the person that spoke.' They said, 'You spoke for us.'"
When asked about the petition at a Q&A with analysts later Friday afternoon, Walmart U.S. CEO Bill Simon said the associates sympathetic to OUR Walmart and other labor groups represented "a relatively small number of people."
Susan Chambers, a Walmart executive vice president, added that Walmart ranks "between high and best in class" for the retail sector in the opinion surveys the company conducts with its associates.
Check out the celebrities and executives at the meeting:
BEFORE YOU GO
PHOTO GALLERY
Walmart Shareholder Meeting 2012