Earlier this week, we brought you five outstanding Pinterest accounts to follow. Now, we're serving up a very popular item among pinners lately: The spoon chandelier from Cut Out And Keep. This unique light fixture is trending because, honestly, it's a lovely lamp. The fact that it's made from plastic spoons and an empty plastic bottle is almost secondary! We could barely believe it ourselves. Here's a look at the finished product: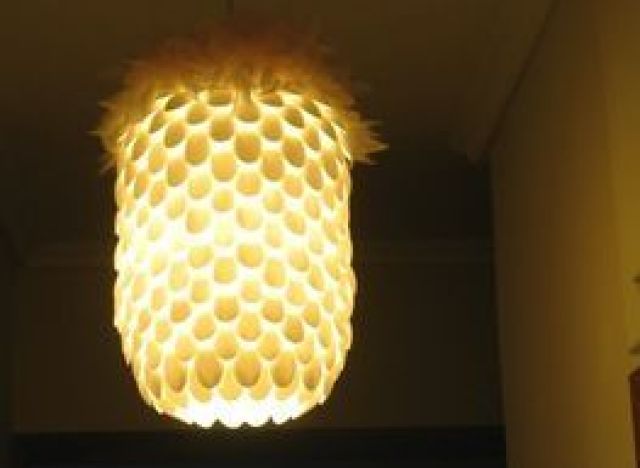 This pendant light is definitely a statement piece and would look great in a hall, entryway, or dining area. And we can't think of a better way to upcycle plastic spoons. So, how do you make this one-of-a-kind chandelier? Easy, just keep reading for the how-to.
You'll Need:
10 liter plastic bottle (empty plastic water jug will work)
About 300 spoons
Hot glue gun
Scissors
Pendant light fixture kit (like this one from Home Depot)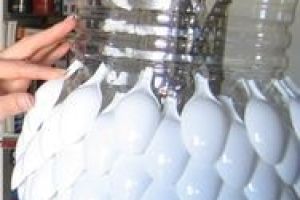 First, using scissors, carefully cut off the bottom of the bottle. This will allow light to shine out the bottom once you hang it. Carefully break the spoons' handles, leaving only the curved "bowl" portion and about an inch stub of the handle. Then, carefully begin hot gluing them by the handles in even rows on the bottle (We advise to begin gluing the spoons at the bottom of the bottle and working up). Continue layering the rows in an alternating pattern so that the broken handles are covered by overlapping spoons. There should be about 18 rows with 15 spoons in each row. Once you get to the top of the bottle where it begins to narrow, you can either glue more spoons or add your own personal decorative touch, like the feathers shown in this photo. Then string your pendant fixture through the bottle opening and you are ready to install your cute and unconventional new lamp!
Note: A smaller version of this light fixture can be made using a 2-liter plastic bottle and fewer spoons.
For the full tutorial, head over to Cut Out And Keep.
Have something to say? Be sure to check out Stylelist Home on Twitter, Facebook and Pinterest.