"Hot In Cleveland's" Betty White is playing favorites. The TV Land star picked her favorite episodes to air as a marathon leading up to the June 6 season finale and the episodes feature many familiar faces.
"All these episodes are precious to me because I got to work with my dearest friends Carl Reiner, Doris Roberts, Mary Tyler Moore and Ed Asner," White said. "It's not often we get to work together, but whenever the writers get an idea where my friends can be guest stars on the show, I'm just thrilled."
The marathon, which White will host, kicks off on June 6 at 8 p.m. ET on TV Land and leads right into the season finale. Check out which episodes White picked below.
"It's Not That Complicated"
When Melanie's ex-husband comes to woo her, Joy and Victoria can't help but get too involved. Meanwhile, Elka must decide between two senior suitors. This episode guest stars Carl Reiner.

"Free Elka"
Elka's behind bars and sharing her cell with a very familiar face (Mary Tyler Moore). The other ladies try to raise bail money, but are faced with issues of their own. Joy gets a letter from the INS and a surprising proposal from a neighbor (Wayne Knight), Melanie's cop boyfriend keeps arresting her friends and Victoria realizes that money is everything when she loses her fortune.

"Dancing Queens"
The ladies decide to go dancing to burn off the Cleveland pounds but need local gay best friends to go with. Victoria catches Leandro's eye (Antonio Sabato Jr.) & Elka dukes it out with an old rival (Doris Roberts) & uncovers a shocking link to her past.

"Rubber Ball"
When Melanie, Joy, and Victoria try to join a prestigious Cleveland country club, they discover that Elka has a long history with the club's president (Ed Asner), and he's bent on revenge.
The season finale follows at 10 p.m. ET and in this exclusive preview photo, it looks like Joy (Jane Leeves) may have crossed the line with her hairdresser (David Spade).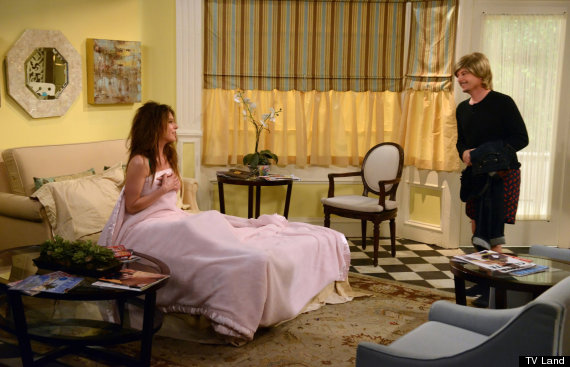 BEFORE YOU GO