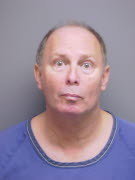 Generally being on good behavior for a court appearance means wearing a nice outfit and remembering to tuck in your shirt. For one South Floridian, however, it should also mean not repeating the same crime you're appearing in front of a judge for.
When Butler pulled Shelby over, the man allegedly admitted that he still did not have his license, but was "working on getting things straightened out with Indiana," the state where the his motor privileges had been suspended in 2010.
The defendant reportedly said that it was necessary that he drive because he had to go to work after his court appearance.
The deputy arrested Shelby, and the man was charged with driving while his license was suspended, second or subsequent offense. As of 2011, the second offense for driving without a license in Florida was classified as a first-degree misdemeanor.
The defendant was reportedly a habitual traffic offender in Indiana.
BEFORE YOU GO
PHOTO GALLERY
Dumb Criminals: Mugshot Gallery