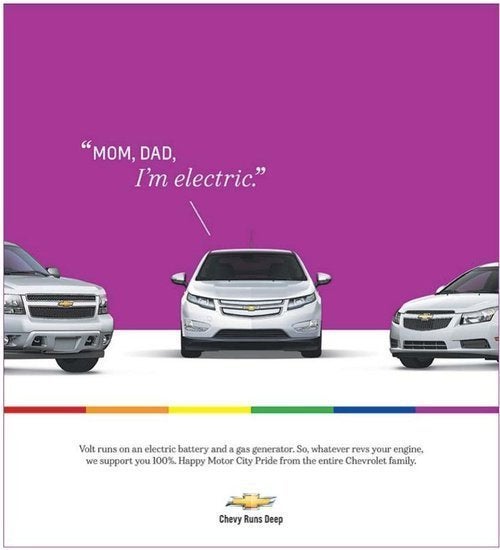 At least that's the gist of a new advertisement for the eco-friendly car that appeared in Between the Lines, a Detroit-based newspaper that targets the city's lesbian, gay, bisexual and transgender (LGBT) community.
Take a look at the new ad below, then scroll down to keep reading: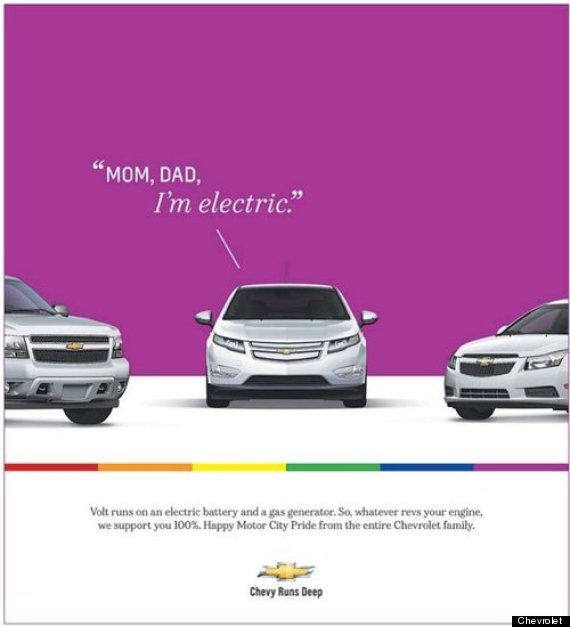 The tongue-in-cheek new ad depicts the silver Chevy Volt as "coming out" to his older-model "parents," along with the text: "Volt runs on an electric battery and a gas generator. So, whatever revs your engine, we support you 100 percent. Happy Motor City Pride from the entire Chevrolet family."
Targeting that community with the humorous Volt ad is being hailed as a particularly strategic move for the car manufacturer. Noting that LGBT shoppers tend to be "significantly more eco-friendly than the rest of the population," The Car Connection believes it's smart for Chevy to promote the hybrid electric vehicle to "a predominately sympathetic audience."
"Chevrolet has managed to find an interesting parallel between one of its "outsider" products and a population that, in some ways, still resides on the margins of society," the report states. "That's not just clever, but it makes for good advertising."
Take a look at other LGBT-themed advertisements, many of them controversial, from around the world below:
PHOTO GALLERY
LGBT Themed Advertisements