Police in Aurora, Colorado, were shocked when, during a recent seat-belt enforcement campaign there, officers discovered a gross infraction of the law.
A Facebook photo on the Colorado Department of Transportation's page shows a toddler and gas can sharing a vehicle's back seat. The gas can is securely strapped into a child's safety seat. The toddler? No such luck.
(Scroll down for full photo)
Comments on the picture range from "Is this a joke?" to "I'm surprised the "parent" didn't give the kid a cigarette. What the hell?!!"
A CDOT statement on the photo reads:
We want to make it clear that this photo was NOT staged or altered, except to protect the identity of the child. We take this subject very seriously. We wish this photo wasn't real, but in fact it is a real photo taken after a traffic stop by Aurora Police Department.
According to 7News, Aurora Police issued the driver three citations. Information on proper car seat usage, including laws and regulations, can be found on the CDOT website.
LOOK at this parent's car seat FAIL: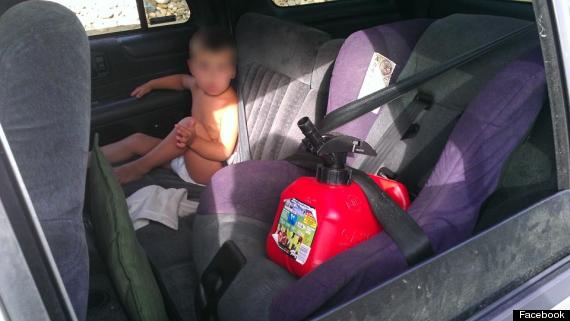 BEFORE YOU GO