Kim Kardashian finally heard our pleas.
After we bemoaned Kim's high-wattage, highly manicured aesthetic, the reality star has finally heeded one of our recommendations: put down the curling iron. Kim's embraced a new, more relaxed hairstyle over the past few weeks, eschewing her ultra-coiffed waves for slicker, straighter strands. The Daily Mail even spotted her with a side part -- praise the hair gods (or Kanye West, who already succeeded in toning down his girlfriend's wardrobe...).
Kim's also toned down the smoky eye, her old standby. So au naturel!
But Kim's not the only one letting her formerly voluminous hair down. Over the past several months, Secretary of State Hillary Clinton has swapped her bouncy, high volume look from years past for a more relaxed 'do, splitting her straight hair down the middle and letting it hang around her shoulders. That is, when it's not in a scrunchie.
To match her unfussy hair style, Hillary's also fully embraced the "no makeup" trend.
And honestly, we couldn't be happier. Who needs high-maintenance haircare when a laid-back, low-fuss look will do?
Check out Kim and Hillary below. Do you prefer the new or old hair?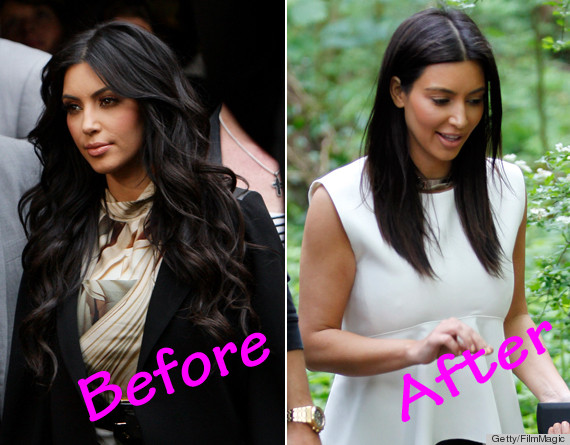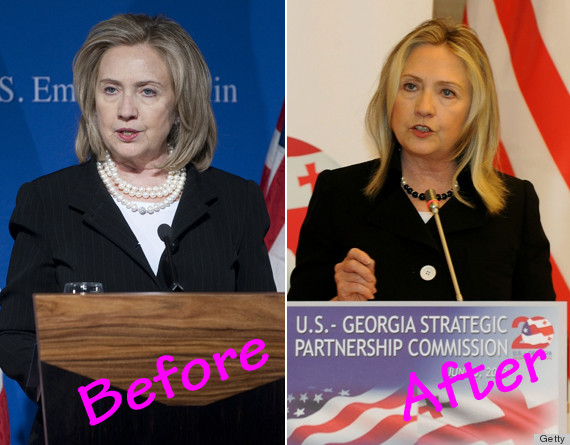 See Hillary's hair over the years...
PHOTO GALLERY
Hillary Clinton's Changing Hairstyles
Want more? Be sure to check out HuffPost Style on Twitter, Facebook, Tumblr and Pinterest.