"The Scream," which recently sold at auction for $120 million, is one of the most recognizable paintings of all time. Though most of us could recognize its ghostly contorted face in our sleep — not that we'd want to — most of us can't recognize the location. Not, that is, until now.
We found the connection thanks to Bob Egan at Pop Spots NYC, a website devoted to seeking out the real-life locations of iconic cultural images.
Egan was able to find a Google image of the location in question -- an overlook of Valhallveien Road on Ekeberg Hill in Oslo. Seeing the tranquil space amplifies the horror of Munch's interpretation, rather than relieving it of its power. Through Munch's eyes, the location appears as a trembling, blood-red hallucination, as frightening as it is nauseating. But to Google street view, the walkway provides a lovely and almost idyllic view, perfect for a quick photo op. Which is what photographer Thomas Arnestad did in 2008 when he created this image of the scene.
Check out the difference between a stressed and tranquil mindset below, and see more "Pop Spots" here: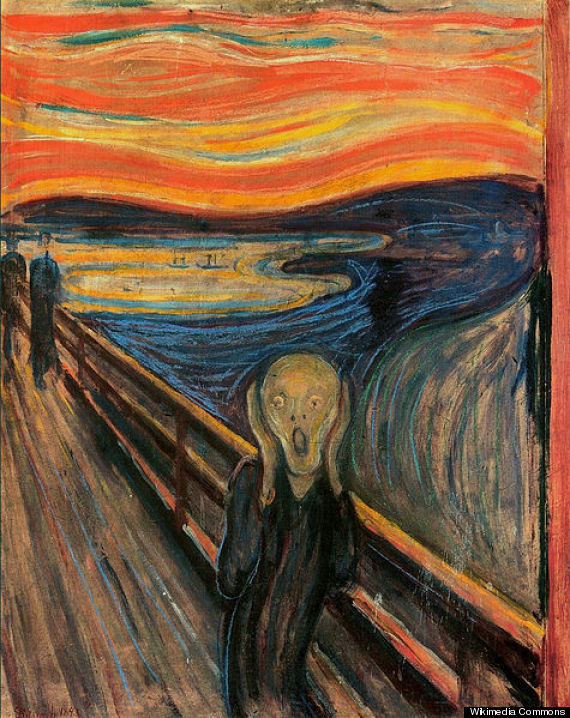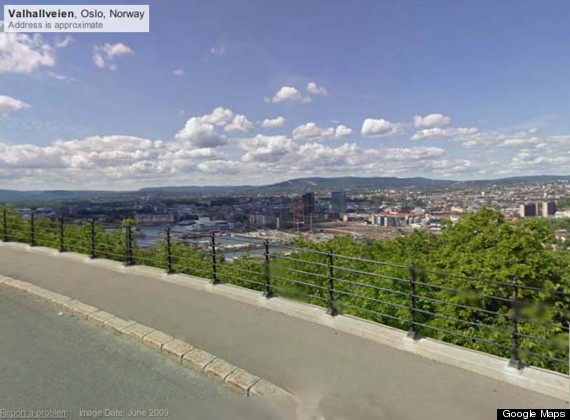 You can see the image superimposed on Egan's website here.
Munch recalls the traumatizing experience that inspired to create the four versions of "The Scream" in the book, "Edvard Munch: Behind the Scream" by Sue Prideaux:
"I was walking along a path with two friends -- the sun was setting -- suddenly the sky turned blood red -- I paused, feeling exhausted, and leaned on the fence -- there was blood and tongues of fire above the blue-black fjord and the city.
My friends walked on, and I stood there trembling with anxiety -- and I sensed an infinite scream passing through nature."
This book by Yale University Press gives valuable insight into what the location was like at the time Munch was experiencing it. Although the scene looks like a bridge overlooking water, it is in fact a path barred by a safety railing. Furthermore, the location was in close proximity to one of the city's main slaughterhouses and a notorious psychiatric institution, making it not unlikely that there were literal screams in the air at the time of Munch's walk with his friends.
Although sensing an infinite scream passing through nature sounds severely unpleasant, the nightmarish sensation spurred a four-version iconic composition which is now an international symbol for modern anxiety. One of the pastels recently sold for $120 million to a private collector at auction, and the others hang in museums around the world. Copied by artists including Andy Warhol and cartoonist Gary Larson, "The Scream" continues to horrify and entrance viewers to this day. So if you ever see a screaming sky that resembles blood and fire, we suggest you pick up those paints and get to work!

BEFORE YOU GO