Got a success story of your own? Send it to us at success.stories@huffingtonpost.com and you could be featured on the site!
Name: Crystal Evans
Age: 28
Height: 5' 1 1/2"
Before Weight: 240 pounds
How I Gained It: Growing up, I always had a tendency to be on the chubby side. It wasn't until high school that I started to really focus on being in shape. At that point I tried every crash diet and even some diet pills to drop the weight. I did not diet properly nor exercise regularly, which resulted in a lot of yo-yo-ing. This behavior continued until I got married in 2002. At that time I started going to a gym regularly and kept myself in decent shape. I always struggled with those last 10 vanity pounds that wouldn't budge.
In May of 2006 I had my daughter, Kara. My pregnancy was very hard, full of complications. I was put on restrictions for the last three months. I had Kara, via C-section, on May 17. I started my pregnancy at 120 pounds and ended it at 240 pounds. I was obese for the first time in my life and had a very hard time getting around and taking care of my infant daughter. The weight was a complete personal depressor and confidence killer; I didn't look or feel good. I didn't want anyone to see me. I'd have a meltdown trying to get ready for any outing. Nothing fit, nothing looked good. All I wanted to do was hide. This antisocial behavior was a total personality change from my normal charismatic, social self.
Breaking Point: I was determined to lose the weight but had no idea how. I struggled with it for a few months on my own when I decided I need help. I started researching weight-loss programs and decided to try Nutrisystem.
How I Lost It: Nutrisystem had the counseling and online community support I was looking for, and it was within my budget. After a year and a half I lost all the weight -- half my size exactly! -- and returned to 120 pounds.
I started by walking to and from the mail box four times a day -- each round trip was about a block. After about a month, I was determined to kick it into "high gear," so I went to a local lake with a wonderful walking and jogging area. I started out speed-walking the inner loop, which was 1.5 miles per lap. I felt like I was going to die the first time I did it. I did two laps, four times a week. I moved up to a loop that is 1.7 miles. Then I added in a huge hill, which made each lap just over two miles. As I started jogging, I went from light pole to light pole, telling myself I could make it.
But I wanted to have one more child. After talking with my doctor, I found out that I'd face the same complications. Knowing this baby would probably be even larger, I decided to go ahead with my second, and last, pregnancy. I knew I had the tools to get back in shape afterward.
My son was born via C-section in March of 2009. He was 10 1/2 pounds, and a month early. Had he gone full term he was expected to be more than 13 pounds! I gained all the weight again, as expected. But I jumped right back on the plan and in 10 months I'd lost the weight, 123 pounds of it this time, from 230 pounds to 107.

I couldn't have lost this weight (twice!) without NS. Now, I can jog for 10 miles! I have added weights to my workouts to fine-tune my new shape. I still continue to do cardio at home on my elliptical or with the kids in the jogging stroller. My goal is to gain some lean muscle and get that definition I want. I try to make everyday activities as much like a workout as possible. When I load the dishwasher, I do squats every time I put something in, or calf raises as I put the dishes up in cupboards.
I want people to know that even me, an average mother of two, can lose weight. You don't have to be a star with a personal trainer to achieve this.
After Weight: 107 pounds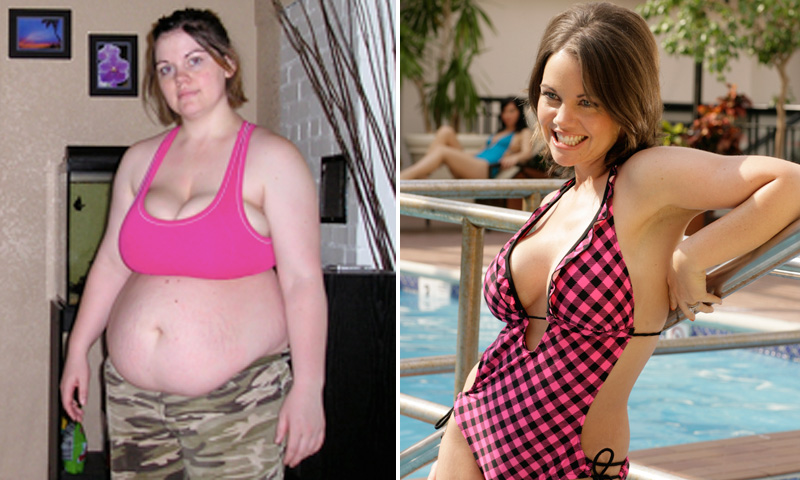 Check out more of our inspiring weight loss stories below:
PHOTO GALLERY
Weight Loss Success Stories
For more on weight loss, click here.